Saudi Arabia has the most number of OFW populations in the Middle East. It is in fact a home to thousands of fellow Kabayans who have been staying in this country to try their luck to help their families. As a Filipino in this Saudi, You might wonder where to go if you need to process Philippine government-related documents. You can go directly to Riyadh where you can see the Philippine Consulate. This is where you can process your passport applications, notaries, clearances, certificates etc.
The Philippine Overseas Labor Office is also located in the same location which is also open for your related inquiries.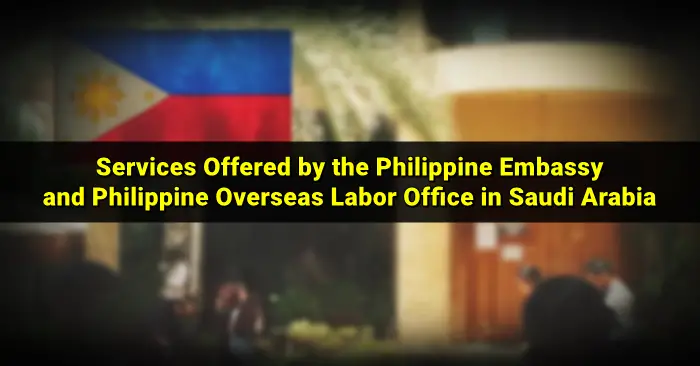 Philippine Embassy Services – Riyadh
If you are looking to process passport renewal, report your marriage or for clearances, you may go directly to the Embassy. Below are other embassy services that you can take advantage:
Other Services:
Passport – Application, Renewal, Extension or Replacement
Civil Registry – Birth Certificate, Marriage Certificate & Death Certificate
Notarial Services – Authentication of Documents, Certification & Special Power of Attorney
Foreign Nationals Applying for Philippine Visa
Voter's Registration
Retention / Re-acquisition of Philippine Citizenship
Embassy Contact Information:
The Philippine Embassy Riyadh KSA
Address: Diplomatic Quarter, Ummayah Abu As-Salat Street
P.O. 94366, Riyadh 11693
Offfice Hours: Sundays thru Thursdays 8:00AM to 5:00PM
Contact Numbers: 482-3559 , 482-0507, 482-1577 Fax (96611) 488-3945
Website : http://riyadhpe.dfa.gov.ph
Philippine Overseas Labor Office Services
The POLO office is always ready to help you regarding your labor-related issues. Below are their services in Saudi:
1. Employment Promotion – Verification of employment documents submitted by Saudi employers hiring Filipino workers.
2. Workers Protection – POLO will help you regarding your labor complaints e.g., salary issues, maltreatment, sexual harassment, unfavorable working conditions and issuance of Iqama or Exit visa.
3. Community Networking – will help you to be involved in the Filipino community activities
4. Issuance of OECs – They will issue your Overseas Employment Certificate for travel requirements.
IMPORTANT POLO CONTACT NUMBERS
POLO Hotline : 00966-545917834
Landlines: (01) 483-2201, (01) 483-2202, (01) 483-2203 Fax: (01) 483-2204 (fax number)
Filipino Workers' Resource Center-Bahay Kalinga : (01) 481-6448
Labor Attaché for Eastern Region
TEL (013) 894-1846, 894-2890 Mobile: 0501269742 Email: polo-eastern@riyadhpe.com / polo_alkhobar@yahoo.com / polo-eastern@philembassy-riyadh.org