Many Filipinos travel to Riyadh, Saudi Arabia for work or leisure – you may ask a family member; they'll know someone who's been here! This is not surprising given that Saudi Arabia is a country with a rich culture, a progressive society, and a sizable Filipino community. Furthermore, this country provides a plethora of chances for individuals seeking employment or relocating.
However, if you're travelling for the first time, it can be challenging to find accurate information and make contact with the Filipino community. The good news is that you can seek aid and advice from the Philippine Embassy for a variety of issues. But, before you go, make sure you know why you need to go, where you need to go, what to do before and during your visit, and what to expect during your visit – all of these subjects will be covered in this guide.
The first step toward understanding how you could benefit from the Philippine government-assigned mission is to gather all of the information you'll need to visit, contact, and request assistance from the Philippine Embassy in Riyadh, Saudi Arabia. If this is the case, make sure you continue reading. You can discover all of the basic information you need about the Philippine Embassy in Riyadh, Saudi Arabia, as well as tips on how to use their services more effectively, right here.
What is the Purpose of the Philippine Embassy In Riyadh, Saudi Arabia?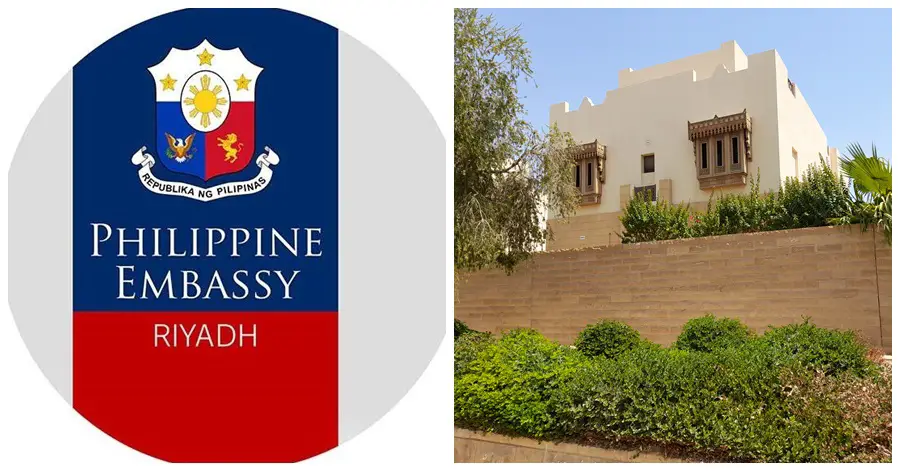 The Filipino Embassy in Saudi Arabia provides consular services to its local and international citizens. Aside from these, the embassy also offers a variety of other services such as education, sports, and cultural advice.
Filipinos in Saudi Arabia are either migrants or descendants of Filipinos who have settled in Saudi Arabia. Saudi Arabia is now the top employer of Overseas Filipino Workers (OFWs) and has the Middle East's largest Filipino community. Filipinos are the fourth-largest foreigner group in Saudi Arabia and the second-largest source of remittances to the Philippines.
Those who are in any of these regions are under the jurisdiction of the Philippine Embassy in Riyadh, Saudi Arabia:
Riyadh region
Eastern region
(Includes: Al-Ahsa, Abqaiq, Jubail, Ras Tanura, Qatif, Khobar, Dhahran, Dammam, Hafar Al-Batin, Khafji, Nariyah, Qariat Ulya)
Qassim region
(Includes: Buraidah)
Hail region
(Includes: Ha'il, Baqa'a, Al-Ghazalah, Ash-Shnan, Sumaira'a, Mawqaq, Ash-Shamli, Al-Sulaimi, Al-Hayet)
Northern border region
(Includes: Ar'ar, Rafha, Turayf)
Al-Jouf region
(Includes: Sakakah, Qurayyat, Dumat Al-Jandal)
There are many Filipinos in Saudi Arabia who are descendants of those who have already settled in the country. These Filipinos comprise the fourth-largest group of overseas Filipino workers in the Middle East.
What are the services offered by the Philippine Embassy In Riyadh, Saudi Arabia?
The Philippines has embassies and consulates in a number of countries, including Saudi Arabia and in the Middle East. They act as international intermediaries for the country's interests.
The goal of the embassy is to provide specialized services to both local inhabitants and visitors from all around the world.
The Philippine Embassy in Riyadh, Saudi Arabia, offers a number of services, including consular services (Authentication Services, Notarial Services, Other Consular Documents, Authentication of Consular Documents Issued in the Philippines, and NBI Form Fingerprinting), as well as the following:
Passport Services
The Filipino population, particularly those in Riyadh and nearby towns, is served by the Philippine Embassy in Riyadh. These services include the following:
Passport renewal for adults (18 years of age and older);
Passport renewal for juvenile applicants (17 and under);
New passport application for newborns born in Saudi Arabia to Filipino parents; and
Passport replacement for lost or damaged passports.
Due to the pandemic, all passport applicants are required to book an appointment online at https://riyadhpe.dfa.gov.ph/index.php/component/content/article/93-pages/1289 before visiting the Embassy. Furthermore, everyone is expected to complete and precisely fill out the passport application forms, as well as present complete and legal documents. It should be noted that both supplying false information and submitting fake documents are unlawful. Once you have a timetable, make sure to employ the service that you require because it might be difficult to acquire a slot, especially as the expiration date of your passport approaches.
Visa Services
Nationals of the countries listed below are allowed to enter the country without a visa for a stay of not exceeding 30 days provided they have valid tickets for their return trip to their respective countries and their passports are valid for at least six months.
Note: Saudi nationals do not need a visa for entry to the Philippines when stay is 30 days or less.
Nationals of the following countries may enter the Philippines without a visa for stays of thirty (30) days or less:
Andorra              
Angola 
Antigua and Barbuda
Argentina           
Australia             
Austria
Bahamas             
Bahrain Barbados
Belgium               
Belize   
Benin
Bhutan
Bolivia  
Botswana
Brazil*  
Brunei Darussalam         
Bulgaria
Burkina Faso     
Burundi                Cambodia
Cameroon          
Canada Cape Verde
Central African Republic               
Chad     
Chile
Colombia            
Comoros             
Congo
Congo, Democratic Republic      
Costa Rica           
Cote d'Ivoire
Croatia 
Cyprus 
Czech Republic
Denmark            
Djibouti
Dominica
Dominican Republic       
Ecuador               
El Salvador
Equatorial Guinea           
Eritrea  
Estonia
Ethiopia               
Fiji         
Finland
France 
Gabon 
Gambia
Germany            
Ghana  
Greece
Grenada             
Guatemala         
Guinea
Guinea Bissau   
Guyana Haiti
Honduras           
Hungary              
Iceland
Indonesia           
Ireland 
Israel*
Italy      
Jamaica
Japan
Kazakhstan        
Kenya  
Kiribati
Korea (ROK)      
Kuwait 
Kyrgyzstan
Laos      
Latvia   
Lesotho
Liberia  
Liechtenstein    
Lithuania
Luxembourg     
Madagascar       
Malawi
Malaysia             
Maldives             
Mali
Malta   
Marshall Islands               
Mauritania
Mauritius            
Mexico
Micronesia
Monaco              
Mongolia            
Morocco
Mozambique    
Myanmar           
Namibia
Nepal   
Netherlands      
New Zealand
Nicaragua           
Niger    
Norway
Oman   
Palau    
Panama
Papua New Guinea        
Paraguay            
Peru
Poland 
Portugal              
Qatar
Romania             
Rwanda
Russia
Saint Kitts and Nevis      
Saint Lucia          
Saint Vincent and the Grenadines
Samoa 
San Marino        
Sao Tome and Principe
Saudi Arabia      
Senegal                Seychelles
Singapore           
Slovak Republic Slovenia
Solomon Islands              
South Africa      
Spain
Suriname            
Swaziland           
Sweden
Switzerland       
Tajikistan            
Tanzania
Thailand              
Togo     
Trinidad and Tobago
Tunisia 
Turkey 
Turkmenistan
Tuvalu  
Uganda
United Arab Emirates
United Kingdom of Great Britain and Northern Ireland (UK)        
United States of America (USA)
Uruguay
Uzbekistan        
Vanuatu              
Vatican
Venezuela         
Vietnam              
Zambia
Zimbabwe
Civil Registry
Aside from passport services, the embassy also provides a variety of civil registry services, such as birth certificates, delayed registration of births, and marriage certificates, among many others.
Other civil registration services provided by the embassy include re-acquisition of citizenship, death certificate, and shipment of remains.
Notarial Services
Aside from legal assistance, the embassy also provides notarial and authenticated services for documents such as authenticity certificates, passports, and powers of attorney.
A birth certificate, a marriage certificate, a certificate of no marriage, a transcript of records, a diploma, an employment certificate, and other papers may be required.
The following papers can be validated at the Embassy:
Affidavits. If your passport was lost or damaged, you may require an Affidavit for Lost or Damaged Passport. For this purpose, you may require an Affidavit of Support and Consent to Travel, an ASG, or a Joint Affidavit.
Certificates. You may need NBI approval to enter the country for both job and travel purposes. A No Objection Certificate can also be obtained for your visa application.
These certificates are issued by the Philippine Embassy and can be verified on the Embassy's website. The embassy also attests and authenticates all of these documents.
Certificate of  Residency and Unemployment,

Certificate of Appearance,

Certificate of Equivalency for College,

Certificate of Equivalency for High School,

Certification for Lost Passport, and

Certification for No Philippine National Identification.

Special Power of Attorney. This type of document can be used for a variety of objectives, including getting specific paperwork and procedures linked to your business, such as obtaining an NBI clearance. The Philippine embassy can also attest and certify it.
The Embassy's authentication function/services are carried out in the context of The Vienna Convention on Diplomatic Relations 1963.
done in the presence of a local notary public official authorised to perform such tasks,
backed up by a public seal,
made public by a competent magistrate's authority,
certified as a duplicate of a public register,
The Department of Foreign Affairs has authenticated it.
Upon the authentication of the documents, the receiving embassy or consulates or other foreign legal entities are assured that these documents have been processed in accordance with the procedures established for their use.
The Embassy authentication verifies the legitimacy of the signature on the attached certification. It gives credence to the official acts of a certifying officer or notary public in a foreign country.
Police Clearance
For persons in Riyadh and any other province in the Eastern Region, the Embassy of the Kingdom of Saudi Arabia will endorse their application for Police Clearance to the Office of the Director of the Police Department in Riyadh/Eastern Region, through an Endorsement Certificate.
NBI Clearance
Online clearance applications are accepted by the Philippine National Bureau of Investigation. For further information, go to the National Bureau of Investigation's website. The Philippine embassy or consulate can only help with the fingerprinting process.
As a result, anyone seeking an NBI clearance can seek assistance from the Philippine Embassy with fingerprinting. Before filing their application, they must first obtain clearance from their local agent.
An officer will assist the applicant in rolling their fingerprints and highlighting the required spots.
Assistance To Nationals
Many Filipinos have been repatriated to their home countries as a result of the pandemic. This includes people in the United Arab Emirates and other regions of the world. Filipinos in such situations, as well as those in other difficulties, can seek aid from the Philippine Embassy.
If you or someone you know needs to be repatriated, you must have the following paperwork ready:
your personal information sheet,
Affidavit, and
Repatriation Investigation Form,
along with copies of your passport data page and visa page.
You can complete these tasks and submit them to the Philippine Embassy online.
Travel Document
For Filipino people who have lost their passports or are unable to obtain one, the Philippine Embassy may issue a Travel Document in lieu of a standard passport. Those who need to return to their home country may benefit from this material. An adult applicant may apply for this document in person on behalf of their minor kid.
Overseas Voting Registration
All Filipinos living abroad who are not prohibited by law, are at least eighteen (18) years old on May 9, 2022, and are registered overseas voters are eligible to vote in the National and Local Elections under Republic Act No. 9189, as amended by Republic Act No. 10590.
OFW ID Application
The OFW e-CARD is a new identity card that serves as both an OWWA membership confirmation and an OFW OEC.
It will replace the iDOLE OFW ID card, which was chastised for having confusing eligibility criteria and a photo of President Rodrigo Duterte on it.
To gain access to OWWA services and initiatives, simply present the ID card to the OWWA Regional Welfare Office, Philippine Overseas Labor Office (POLO), Department of Foreign Affairs, Philippine Overseas Employment Administration (POEA), Bureau of Immigration, and Philippine embassies or consulates in the countries where they work.
Where Is the Location of the Philippine Embassy in Riyadh, Saudi Arabia?
In Riyadh, Saudi Arabia, the Philippine Embassy is housed in Alradeef St، Al Safarat, Riyadh 12512, Saudi Arabia
If you're coming from the Museum of Illusions in Riyadh, one of the city's most popular city landmarks, there are a few options for getting to the Philippine Embassy in Riyadh, Saudi Arabia:
By walking via al Tareeq al-Da'iri al-Gharbi, Prince Ahmed Bin  Abdulaziz Street (2hr 56mins, approx. 14.6 km)
By Car via 535  (24 mins, approx. 12.8 km)
What is the Contact Number of the Philippine Embassy in Riyadh, Saudi Arabia?
The Philippine Embassy in Riyadh, Saudi Arabia can be reached via a dedicated trunk line (0096611) 482-3559 and fax (0096611) 488-3945. You can also contact them by email at rype@riyadhpe.com. They also have several lines of business for the following sections:
Consular Section (Passports, Visas, Notarials, Marriage Solemnization, Police Clearance)
Tel:  011-482-3816 (8:00AM – 5:00PM)
Tel:  011 482-3559 (5:00PM – 8:00AM)
Fax: 011 488-3945
Email: consular@philembassy-riyadh.org
Assistance to Nationals Section (Police Cases, Detention, Remains, and Other Non-Labor Cases)
Hotline 056-989-3301 or 059-298-8747
011 – 480-1918 (8:00AM – 5:00PM)
011 – 482-3559 (5:00PM – 8:00AM)
POLO – Riyadh (Welfare Cases related to Employment, Recruitment and Hiring Filipinos, and other matters related to employment or welfare and concerns with companies and employers including unpaid salaries, delays in salary, issuance of iqama by the employer, etc.)
Mobile:  050 285 0944
Website: https://poloksa-ph.com
Book an Appointment at https://appoint.poloksa.com/services/1 (For direct appointment booking for Balik Manggagawa, contract verification for skilled workers, and employer transfer.)
Email: riyadh@owwa.gov.ph – For labour and welfare matters, this covers aid requests, questions, and case endorsement.
POLO Al Khobar
Mobile: 054 566 4964
Email: poloero_ksa@yahoo.com
What is the Website of the Philippine Embassy in Riyadh, Saudi Arabia?
Visit the Philippine Embassy's official website at https://riyadhpe.dfa.gov.ph/ to learn more about their services in Riyadh, Saudi Arabia. Aside from the services available on their website, you can also receive vital government updates and notifications.
They list the following Services & Programs on their website:
Consular Services
Passport Services
Visa Services
Civil Registry Services

Correction of Clerical Error / Change of First Name or Nickname

Notarial Services
Other Services
Assistance to Nationals
Retention / Reacquisition of Philippine Citizenship
What is the Facebook Page of Philippine Embassy in Riyadh, Saudi Arabia?
The Philippine Embassy in Riyadh, Saudi Arabia, has an official Facebook page (facebook.com/PHLinKSA) where they may communicate with more Filipinos in the nation as well as those interested in visiting for jobs or other purposes.
How to Make an Appointment to Visit the PH Embassy?
The Philippine Embassy in Riyadh, Saudi Arabia, put a limit on the number of people who can visit at any given time. As a result, the Philippine Embassy in Riyadh established several channels for booking appointments for certain services supplied by the Embassy. These are:
Passport Appointment (https://riyadhpe.dfa.gov.ph/index.php/component/content/article/93-pages/1289)
Important Reminders:
All individuals need to do is submit their details and wait for an email confirmation of their embassy appointment.

At the gate, they must present a paper copy of the email confirmation.

Appointments are also non-transferable.

According to officials, passport appointments are free of charge. They asked Filipinos to report anyone selling passport appointment times so that they could face legal prosecution.

Additionally, as previously stated, passport appointments can be scheduled for free. The public is encouraged to report "fixers" who sell passport appointment spaces so that legal action can be taken if necessary.
How To Plan Your Visit At The Embassy
The Embassy strives to give each applicant with the best possible assistance and a stress-free experience. At the same time, we appeal for your assistance by following the recommendations below:
If you're applying for Consular Services, make sure you have all of the required documentation before visiting the Embassy.
Check the hours of operation of the consular office you will be visiting before you travel.
Avoid visiting the Embassy with incomplete or no requests to avoid wasting your time.
Make the necessary number of copies to avoid long queues.
Forms can be downloaded online if they meet the requirements of the document.
The Philippine Embassy only accepts cash.
Dress Code
Visitors are advised to dress appropriately when visiting the Embassy. Please refrain from wearing sleeveless shirts, shorts, slippers, or other inappropriate apparel.
Important Reminders
• On the day of your visit, bring a copy of your appointment schedule (printed/screenshot) to the embassy. Also, don't be late – remember, Philippine time DOES NOT apply! That said, arrive at least 10 minutes before your booked appointment time so that you can be instructed on what to do when you arrive.
• If you need to settle an embassy transaction, make sure you pay the exact amount, no more, no less. It is important to note that the embassy only takes cash payments.
• Because there are still some societal limits in Saudi Arabia, make sure you adhere to the following guidelines:
Bring alcohol or wet wipes for decontamination.
Wear a face mask while on the grounds of the Philippine Embassy in Riyadh.
Always observe social distancing.
Video: Visiting The Philippine Embassy in Saudi Arabia
In this video we have two Filipinas going to the Philippine Embassy to settle some transactions. So before they went there, they hailed a taxi and haggled with the driver to get the best fare to get to their destination.
This is quite common in the country because drivers can ask their passengers how much they would like to pay and they are allowed to charge how much they think is the fare (not a big fan of taxi meters, right? Don't be surprised). And if they agree with the price you give, then they would allow you to get on. However, if they don't agree with the price, the driver can choose not to accept the passengers hailing the ride.
And so once the driver agreed with their price offer, they went off to the Philippine Embassy which is located in a compound, where all the different embassies from all over the world can be found. So as you can imagine, this place is heavily guarded; there are lots of checkpoints on the outside and the perimeter is highly secure.
So you wouldn't feel any threat when you go to this place. However, be careful not to do something illegal or violate any rules when you are inside this location. Because as you can imagine, you might get into trouble with authorities. So there will be a very big country so getting around is not quite easy. You must plan for your trip to the country because going places here is not that accessible.
Most people take a cab or if you can book a ride through a mobile app then you can do that, too. So you have to understand that public transportation is not that accessible in the country. But there are buses that you can get on to get around. Still, it's best if you plan ahead and find the best route that you can take so that you won't have to settle for the most convenient ride, which could also be the most expensive of them all. And when visiting the Philippine Embassy, please be guided that you need to have an appointment first for whatever purpose you may have to visit there. They are very strict when it comes to allowing people inside the facility.
Unless you have a printed copy of your appointment or schedule, you won't be allowed to enter through the gate. And once you enter you might also have to wait in a queue for your turn to process your documents. According to the vlogger in this video. They went in at around 9:44 in the morning and finished sometime after lunch around 1 pm. So that's how long it took them to finish everything on their trip to the Philippine Embassy.
That said, when you're planning to visit, make sure that you are full. You can also bring bottled water and some snacks so that you won't get too hungry while waiting to finish your transaction. Be sure to only eat your food in places where you are allowed to do so. Otherwise, just keep it to yourself and eat it when you can do so. Perhaps at a cafeteria or outside of the building, if it's possible.
So there you have it. Visiting the Philippine Embassy is very important for Filipinos based in Saudi Arabia because it's hard not to keep your documents updated, especially your contract. This is true for your passport and work visas, as well. You have to always keep these documents updated so that you won't get into trouble with the law.
Summary
Visiting the Philippine Embassy in Riyadh, Saudi Arabia is a must for all Filipinos who want to work in this country. As you know, Saudi Arabia is among the top countries where you can find the most Overseas Filipino workers. And the Philippine Embassy is that one place where Filipinos can go whenever they need to process their legal documents and seek assistance for anything that has to do with their Filipino residency.
This is also the place where employers check the Filipinos who are legally allowed to work in the country. So both Filipinos and foreign nationals benefit from the services offered by the Philippine Embassy in Riyadh.
Now, if it's your first time visiting this embassy, make sure to have a copy of this guide and go through all of its parts, especially the services that are offered by this embassy. Through that, you will know what you need to prepare and the specifics of what you have to do before, during, and after visiting.
Also, it's crucial that you plan ahead because as we've mentioned, earlier Saudi Arabia is a huge country. It's not that easy to get around places here. And if it's your first time, it could get quite confusing and it can be quite costly to go from one place to another without a plan on hand. So make sure to plan ahead before you decide to go to the Philippine Embassy.
There aren't many places that you can go to in the country, to be honest. This is mainly because there's still so much land that has yet to be developed. With this in mind, you really need some kind of plan if you want to go around here. That is so you don't waste your money and time, as well. And finally, make sure to book an appointment when you're visiting the Philippine Embassy.
As always, if you need to find Filipinos and receive help from the Filipino community in Saudi Arabia, you can go to the Philippine Embassy through an appointment and seek resistance so that they can help you connect with a community where you can be part of and take part of their activities and so on.
READ NEXT: 5 Steps to Renewing Your Philippine ePassport in Saudi Arabia
Contact Information
Address: Alradeef St، Al Safarat, Riyadh 12512, Saudi Arabia
Telephone Number: +966114823559
Email: rype@riyadhpe.com
Google Map Location: