The Philippine Consulate General in Jeddah, Saudi Arabia, serves as a vital link between the Philippine government and the Saudi government. Because of this strong foundation that's been established by the two countries, Filipinos have flocked this country by hundreds and thousands for work even before the turn of the 21st century. That's how long this relationship has been, and the Philippines mission in Jeddah has made this possible.
For OFWs in Riyadh, you may contact our Philippine Embassy by going to this link – How to Contact Philippine Embassy in Riyadh, Saudi Arabia
The Philippine Consulate can help Filipinos in Jeddah with a range of issues. However, before you go, make sure you understand why you need to go, where you need to go, what to do before and during your visit, and what to expect when you get there – all of these topics will be covered in this guide.
Therefore, the first step in determining how you could profit from the Philippine government-assigned mission in Jeddah, Saudi Arabia, is to gather all of the information you'll need to visit, contact, and request assistance from the Philippine Consulate. Keep on reading to know about all the fundamental information you need about the Philippine Embassy in Riyadh, Saudi Arabia, as well as tips on how to use their services more conveniently, can be found right here.
What is the Purpose of the Philippine Consulate General In Jeddah, Saudi Arabia?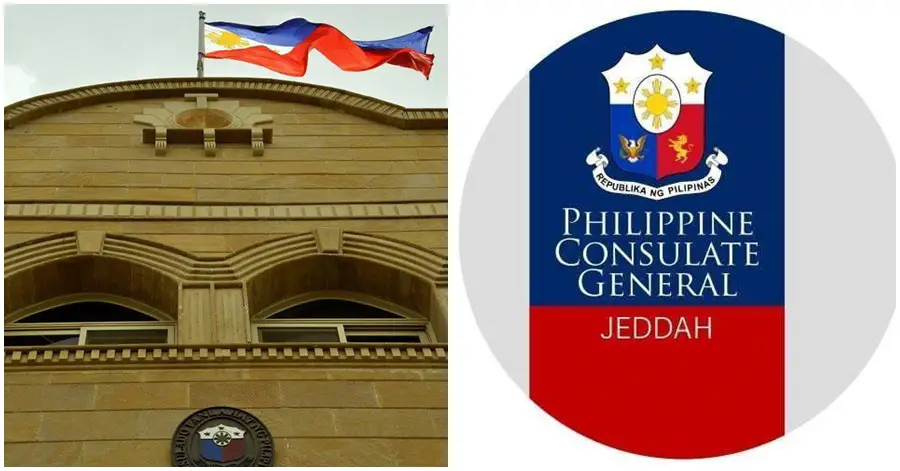 The first Philippine Mission was opened in Jeddah, Kingdom of Saudi Arabia on December 23, 1973.By Royal Decree on September 29, 1983 of the Custodian of the Two Holy Mosques, King Fahd bin Abdulaziz Al-Saud, all diplomatic missions in the Kingdom of Saudi Arabia would be moved from Jeddah to Riyadh. The Royal Decree enjoined all diplomatic missions to construct their respective chanceries and residences in the Diplomatic Quarter in Riyadh within two years from the transfer.
The first Philippine mission in the Kingdom of Saudi Arabia was opened on December 23, 1973. A Royal Decree was then issued on September 29, 1983, which moved all diplomatic missions from Jeddah to Riyadh.
Filipinos in Saudi Arabia are a combination of migrants and descendants of Filipinos in the country. They are the largest group of Filipinos in the Middle East.
In line with its commitment to service, the Consulate has seven regions in the Kingdom under its jurisdiction, which are:
Makkah Al-Mukarramah Region
Madinah Al Munawarah Region
Assir Region
Jizan Region
Najran Region
Al- Baha Region
Tabuk Region
Many Filipinos in Saudi Arabia are descended from those who have already lived in the kingdom. These Filipinos are the Middle East's fourth-largest group of overseas Filipino workers.
If you or any of your relatives are based in the above listed regions, you may contact the Philippine Consulate to request and avail of their services, as outlined in the following sections.
What are The Services Offered By The Philippine Consulate General In Jeddah, Saudi Arabia?
The Philippines maintains embassies and consulates in several countries, including Saudi Arabia and the Middle East. They serve as international go-betweens for the country's interests.
The consulate's mission is to provide specialized services to both local residents and visitors from all around the world.
The Philippine Consulate General in Jeddah, Saudi Arabia, provides a variety of services, including consular services (Authentication Services, Notarial Services, Other Consular Documents, Authentication of Consular Documents Issued in the Philippines, and NBI Form Fingerprinting) and the following:
Passport Services
The Philippine Consulate General serves the Filipino community, notably those in Jeddah and nearby regions. Among these services are the following:
Passport renewal for adults (18 years of age and older);
Passport renewal for juvenile applicants (17 and under);
New passport application for newborns born in Saudi Arabia to Filipino parents; and
Passport replacement for lost or damaged passports.
Passport renewal is a popular service that Filipinos in Saudi Arabia use. If your passport is due to expire, please submit the following requirements:
Original old or expired passport.
Complete passport application form.
Photocopy of your passport's data page
Photocopy of your permanent resident card, a record of landing, and work permit.
Passport processing fee
Visa Services
Nationals of the countries mentioned below are permitted to visit the nation without a visa for a stay of no more than 30 days if they have valid return tickets to their respective countries and passports valid for at least six months.
Saudi nationals do not require a visa to enter the Philippines for stays of 30 days or less.
Nationals of the following countries are not required to obtain a visa to enter the Philippines for stays of thirty (30) days or less:
Andorra
Angola
Antigua and Barbuda
Argentina
Australia
Austria
Bahamas
Bahrain Barbados
Belgium
Belize
Benin
Bhutan
Bolivia
Botswana
Brazil*
Brunei Darussalam
Bulgaria
Burkina Faso
Burundi Cambodia
Cameroon
Canada Cape Verde
Central African Republic
Chad
Chile
Colombia
Comoros
Congo
Congo, Democratic Republic
Costa Rica
Cote d'Ivoire
Croatia
Cyprus
Czech Republic
Denmark
Djibouti
Dominica
Dominican Republic
Ecuador
El Salvador
Equatorial Guinea
Eritrea
Estonia
Ethiopia
Fiji
Finland
France
Gabon
Gambia
Germany
Ghana
Greece
Grenada
Guatemala
Guinea
Guinea Bissau
Guyana Haiti
Honduras
Hungary
Iceland
Indonesia
Ireland
Israel*
Italy
Jamaica
Japan
Kazakhstan
Kenya
Kiribati
Korea (ROK)
Kuwait
Kyrgyzstan
Laos
Latvia
Lesotho
Liberia
Liechtenstein
Lithuania
Luxembourg
Madagascar
Malawi
Malaysia
Maldives
Mali
Malta
Marshall Islands
Mauritania
Mauritius
Mexico
Micronesia
Monaco
Mongolia
Morocco
Mozambique
Myanmar
Namibia
Nepal
Netherlands
New Zealand
Nicaragua
Niger
Norway
Oman
Palau
Panama
Papua New Guinea
Paraguay
Peru
Poland
Portugal
Qatar
Romania
Rwanda
Russia
Saint Kitts and Nevis
Saint Lucia
Saint Vincent and the Grenadines
Samoa
San Marino
Sao Tome and Principe
Saudi Arabia
Senegal Seychelles
Singapore
Slovak Republic Slovenia
Solomon Islands
South Africa
Spain
Suriname
Swaziland
Sweden
Switzerland
Tajikistan
Tanzania
Thailand
Togo
Trinidad and Tobago
Tunisia
Turkey
Turkmenistan
Tuvalu
Uganda
United Arab Emirates
United Kingdom of Great Britain and Northern Ireland (UK)
United States of America (USA)
Uruguay
Uzbekistan
Vanuatu
Vatican
Venezuela
Vietnam
Zambia
Zimbabwe
*  Brazilian and Israeli nationals are given fifty-nine (59) days stay based on existing agreements.
Civil Registry
Apart from passport services, the consulate also offers a wide range of civil registry services, including birth certificates, delayed registration of births, and marriage certificates, among many others.
The consulate also offers re-acquisition of citizenship, death certificates, and shipment of remains as civil registration services.
Notarial Services
In addition to legal aid, the consulate offers notarial and certified services for documents such as authenticity certificates, passports, and powers of attorney.
Birth certificates, marriage certificates, certificates of no marriage, transcripts of records, diplomas, job certificates, and other documents may be required.
The Consulate can validate the following documents:
Affidavits. You may need an Affidavit for Lost or Damaged Passport if your passport was lost or damaged. You may need an Affidavit of Support and Consent to Travel, an ASG, or a Joint Affidavit for this purpose, as well.
Certificates. You may require NBI authorisation to enter the country for both work and travel. You can also receive a No Objection Certificate for your visa application.
The Philippine Consulate issues these certifications, which can be confirmed on the Embassy's website. The following documents are also attested and authenticated by the consulate.
Certificate of Residency and Unemployment,
Certificate of Appearance,
Certificate of Equivalency for College,
Certificate of Equivalency for High School,
Certification for Lost Passport, and
Certification for No Philippine National Identification.
Special Power of Attorney. This type of document can be used to achieve a range of goals, including obtaining specialized paperwork and procedures related to your firm, such as an NBI clearance. It can also be attested and certified by the Philippine Consulate General.
The authentication function/services provided by the Consulate are carried out in accordance with the Vienna Convention on Diplomatic Relations of 1963.
After the papers have been authenticated, the receiving embassy, consulate, or other foreign legal bodies are guaranteed that they have been processed in line with the protocols established for their usage.
The Consulate authentication validates the signature on the accompanying certification. It validates the official acts of a certifying officer or notary public in another country.
Saudi Police Clearance
Normally, applying for a police clearance while still in Saudi Arabia takes at least a week, but it takes longer and is more problematic when the applicant is already living outside the Kingdom.
The Philippine Consulate General in Jeddah reminds Filipinos who believe they may require a police clearance in the future to obtain one before departing or traveling on their "Final Exit" from the Kingdom.
The following steps must be taken:
The applicant must obtain a Letter of Endorsement from the Saudi police authorities. This can be done by presenting a copy of your valid passport and paying the non-certification fee of SAR 100.00.
The Letter of Endorsement should be submitted to the Saudi Ministry of State Foreign Affairs (SMFA).
After securing the Saudi Ministry's approval, the applicant should present the Letter of Endorsement along with his or her ID at the police station of the city where he or she lives.
Typically, the police clearance is obtained within a week.
NBI Clearance
Online clearance applications are accepted by the Philippine National Bureau of Investigation. Visit the National Bureau of Investigation's website for further information. The Philippine embassy or consulate can only assist with fingerprints.
As a result, anyone seeking an NBI clearance can obtain fingerprinting help from the Philippine Consulate General. They must first seek clearance from their local agent before filing their application.
An officer will help the applicant roll their fingerprints and indicate the relevant areas.
Assistance To Nationals
As a result of the pandemic, many Filipinos have been deported to their home countries. People from the Saudi Arabia and other parts of the world are included. Filipinos in such situations, as well as those who are experiencing additional hardships, can seek assistance from the Philippine Consulate.
If you or someone you know requires repatriation, you must have the following documents ready:
your individual information sheet,
An affidavit, and
Form for Repatriation Investigation,
Copies of your passport data page and visa page are also required.
These duties can be completed and submitted to the Philippine Consulate online.
Travel Document
The Philippine Consulate General may provide a Travel Document in lieu of a conventional passport to Filipinos who have lost their passports or are unable to obtain one. Those who need to return to their home country may find this material useful. An adult applicant may apply in person for this document on behalf of their minor child.
Overseas Voting Registration
Under Republic Act No. 9189, as modified by Republic Act No. 10590, all Filipinos living abroad who are not barred by law, are at least eighteen (18) years old on May 9, 2022, and are registered overseas voters are eligible to vote in the National and Local Elections.
OFW ID Application
The OFW e-CARD is a new identity card that functions as an OWWA membership confirmation as well as an OFW OEC.
It will take the place of the iDOLE OFW ID card, which was ridiculed for having ambiguous eligibility rules and a photo of President Rodrigo Duterte on it.
Simply present the ID card to the OWWA Regional Welfare Office, the Philippine Overseas Labor Office (POLO), the Department of Foreign Affairs, the Philippine Overseas Employment Administration (POEA), the Bureau of Immigration, and Philippine embassies or consulates in the countries where they work to gain access to OWWA services and initiatives.
Where Is the Location of the Philippine Consulate General In Jeddah, Saudi Arabia?
The Philippine Consulate General in Jeddah, Saudi Arabia is located at 4663 Fajr St., Al Rehab District 6, Jeddah, Kingdom of Saudi Arabia
If you're visiting the Philippine Consulate in Jeddah, Saudi Arabia by car or taxi from Masjid Al Noor, one of the city's most popular city landmarks, it'll take about 53 mins, which is 74 km away. Shocking, right? That's how big Saudi's land area is!
What is the Contact Number of the Philippine Consulate General In Jeddah, Saudi Arabia?
The Philippine Consulate General in Jeddah, Saudi Arabia, can be reached by phone at +966 55 521 9613 or +966 55 521 9614. You can also email them at pc.jeddaj@gmail.com. They also have various business lines in the following areas:
Assistance to Nationals Section
Tel. Nos: +966 55 521 9613, +966 55 521 9614
Email: ans@pcjeddah.org
Philippine Overseas Labor Office / Overseas Workers Welfare Administration
Tel. No: +966 56 981 9720
Email: philippinelaboroffice.jeddah@gmail.com, owwa_jeddah@yahoo.com
Office of the Social Welfare Attache (Under the Department of Social Welfare and Development)
Tel. No: +966 54 901 7782
PAG-IBIG
Tel. No: +966 56 628 9554
Email: popjeddah@pagibigfund.gov.ph
SSS
Tel. No: +966 53 850 1047
Email: jeddah@sss.gov.ph
Trade Assistant (Under the Department of Trade and Industry Representative)
Email: jeddah@dti.gov.ph
The consulate is open from Sunday to Thursday, except Holidays, 8:00 a.m. – 5:00 p.m.
What is the Website of the Philippine Consulate General In Jeddah, Saudi Arabia?
To discover more about the Philippine Consulate General services in Jeddah, Saudi Arabia, go to https://jeddahpcg.dfa.gov.ph/. In addition to the services provided on their website, you can receive important government updates and notifications.
They list the following Services & Programs on their website:
Consular Services
Passport Services
Civil Registry Services

Report of Birth
Report of Marriage (Marriages Solemnized Outside of the Consulate)
Report of Conversion to Islam
Petition for Correction of Clerical Error
Supplemental Report

Notarial and Authentication Services
Visa Services
Retention / Re-acquisition of Filipino Citizenship
Fingerprinting Services (For NBI / FBI Forms)
Saudi Police Clearance
What is the Facebook Page of Philippine Consulate General in Jeddah, Saudi Arabia?
The Philippine Consulate General in Jeddah, has an official Facebook page (facebook.com/PHLinJeddah/) where they may contact with more Filipinos in the country as well as those who want to travel for work or other reasons.
How to Make an Appointment to Visit the PH Embassy?
The Philippine Consulate General in Jeddah, Saudi Arabia, limits the number of visitors at any given time. As a result, the Philippine Mission has created an appointment system, which can be navigated through the following steps:
Go to https://jeddahpcg.appointlet.com;
Pick your desired service;
Choose your preferred date and time of appointment;
Provide the information requested from the application (email address, name, and phone number), and
Examine the booking details before confirming it.
Note: Applicants will be notified by email when their appointment has been confirmed. On the planned date and time, a printout of the email confirmation or as presented on their mobile device, along with an ID, will serve as their entry permit. Applicants should appear at the Consulate no later than fifteen (15) minutes before their appointment.
Important Reminders:
All that is required of individuals is to provide their information and wait for an email confirmation of their consular appointment.
They must provide a printed copy of the email confirmation at the gate.
Appointments are non-transferable as well.
Passport appointments, according to officials, are free of charge. They have invited Filipinos to report anyone selling passport appointment times so that they can be prosecuted.
Additionally, as previously noted, passport appointments are free of charge. The general public is encouraged to report "fixers" who sell passport appointment slots so that legal action can be taken if necessary.
How To Plan Your Visit At The Consulate
The Consulat makes every effort to provide each candidate with the best possible service and a stress-free experience. Simultaneously, we request your cooperation by following the guidelines below:
Before visiting the Consulate, make sure you have all of the necessary papers if you are applying for Consular Services.
Before you travel, check the hours of operation of the consulate office you will be visiting.
To avoid wasting time, avoid visiting the Embassy with incomplete or no requests.
Make as many copies as you need to avoid long delays.
Forms that meet the document's standards can be downloaded online.
The Philippine Consulate accepts only cash.
Dress Code
When visiting the Embassy, visitors are recommended to dress accordingly. Please do not wear sleeveless shirts, shorts, slippers, or other improper clothing.
Important Reminders
Bring a copy of your appointment schedule (printed/screenshot) to the embassy on the day of your visit. Also, don't be late – keep in mind that Philippine time DOES NOT APPLY! As a result, arrive at least 10 minutes before your scheduled appointment time so that you can be educated on what to do.
If you need to settle a consular transaction, pay the precise amount, no more, no less. It should be noted that the embassy only accepts cash payments.
Because there are still some societal boundaries in Saudi Arabia, please follow the following guidelines:
Bring disinfection materials such as alcohol or wet wipes.
While on the grounds of the Philippine Consulate in Jeddah, wear a face mask.
Always maintain social distance.
Video: Renewing Your Passport At the PCG In Jeddah
In this video, the OFW shared some tips on how to renew your passport easily at the Philippine Consulate General in Jeddah, Saudi Arabia. He shares some tips that will make your visit much more convenient and hassle free. There are actually several things that you need to do to accomplish this.
For one, you first have to book an appointment and secure a schedule. Of course, you need to print out a copy of the schedule and present it at the entrance of the consulate. Next, you need to download, print, and fill out the application form for the transaction that you need to accomplish. Prepare all of the requirements needed. Do not forget to bring valid IDs, such as your driver's license and your iqama. Next would be to bring cash because the consulate will only accept cash payments for other transactions it provides. And last, but most important, is to arrive earlier than your schedule.
As you know Saudi Arabia is a huge country. And getting around isn't that easy. Especially if you don't have a car. So you have to manage your time efficiently so that you wouldn't be late for your schedule to constantly. Moreover, Saudi nationals can be quite strict in adhering to rules and protocols, so you don't want to make a poor impression even as you transact some services in our own consulate.
These are just some of the things that you need to remember before your visit at the consulate. You may also refer to the above sections of this guide for other tips and reminders before visiting the consulate in Jeddah.
Final Thoughts
Visiting the Philippine consulate in Jeddah Saudi Arabia is more common than you think for most Filipinos in the kingdom. For one, this is where you get your documents authorized and approved by the government. If you need assistance or help from the Philippine government, they will be able to extend help through the Assistance to Nationals program by the Philippine Consulate. And lastly, if you need to connect with the Filipino community in Saudi Arabia, they will be able to direct you to certain organizations and groups in the country. Through these groups, you can receive assistance or specific services that you may need while staying in the country.
Hopefully you've learned a lot from this guide. We've made it as comprehensive as possible so that all of your questions will be answered in one place. And let us know what you think about your experience visiting the Philippine consulate in Jeddah by leaving a comment in the section below.
READ NEXT: 5 Steps to Renewing Your Philippine ePassport in Saudi Arabia
Contact Information
Address: 4663 Fajr St., Al Rehab District 6, Jeddah, Kingdom of Saudi Arabia
Telephone Number: +966 55 521 9614 / +966 55 521 9613
Email: pc.jeddaj@gmail.com
Google Map Location: