UPDATE: To all those who are travelling to the Philippines, please note that the One Health Pass system is no longer active. You need to process an etravel Registration card upon arrival instead. Please follow this guide for reference – E-Travel Registration Online for Traveling to Philippines
Despite the pandemic that has kept the majority of the world inside their homes for nearly two years now, things are now starting to look up. Travel restrictions are starting to ease up as new cases show a downward trend – hopefully, things will finally get back to normal soon. For now, it is worth noting that positive developments are in store for Filipinos based in Saudi Arabia. This is because the kingdom has been listed by the Philippine government under its green list countries.
Philippine Elections is coming up. Planning to vote? As an OFW in Saudi, please check if you are qualified to vote here – List of Certified Filipino Voters in Saudi for 2022 National Elections
Those coming from green list countries will no longer have to undergo the mandatory quarantine process. While many have welcomed this positive development, there are still certain protocols set in place for travellers, whether a Filipino or foreign national. This includes the use of the One Health Pass website. This will prove to be crucial for you if you will be traveling back home to the Philippines this holiday season or even in the near future.  If you want to know more about the new online registration system, be sure to read until the end of this guide.
Guide in One Health Pass Registration for Filipinos Based in Saudi Arabia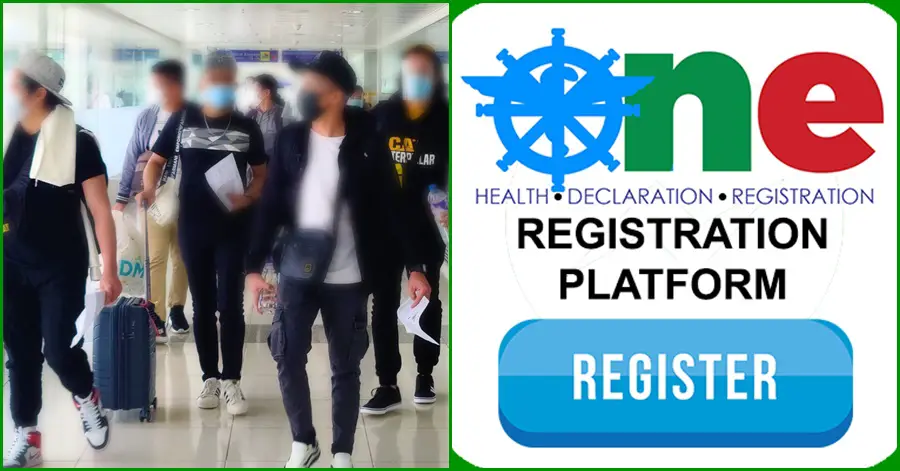 You might be among the many Filipinos in Saudi Arabia and in other parts of the world who were unable to come home during this pandemic. The good news is, you can do so now, and without having to undergo quarantine at that, too! Just be guided on the travel requirements and protocols set in place for travel entry by the Philippine government. This includes the use of the One Health Pass system.
Filipinos will be able to easily enter and depart the country – thanks to this new simplified travel system.
This system will allow you to travel between Saudi Arabia and the Philippines conveniently and efficiently. It will also aid in monitoring the safety and well-being of Filipino workers from different countries during this pandemic.
What is the One Health Pass?
The One Health Pass is a one-of-a-kind system that allows travelers to submit their health information online in a convenient and safe manner.
Because everything will be done online, this approach reduces the need for passengers to deal with additional paperwork. As a result, the technology can help reduce the risk of tourists becoming infected with the virus, particularly at the airport or during flight.
What are the Requirements?
The foundation of this innovative and timely system for tourists and Filipinos departing or returning to the Philippines is data gathering and management. This is extremely beneficial to all parties involved, including the national and local governments, as well as the person, because it eliminates the delays and hassles associated with manually creating or managing large volumes of data.
By providing your information, you allow the authorities to use and collect information about you for the interest of the local government.
The health declaration and registration form can also be submitted via the One Health Pass website.
You will also be required to present your travel papers, such as your passport and airline ticket, in line with this.
Qualifications
To avoid being stranded, any Filipino planning to return or visit overseas beginning September 1, 2021, must register with the Bureau of Quarantine (BOQ). This also applies to all travelers, whether Filipino or foreign citizens, who will be visiting the Philippines throughout the system's operational term or until travel safety standards are implemented during the pandemic.
Features and Benefits
There are several compelling reasons why authorities need all travelers to utilize the One Health Pass. Here are a few examples:
The One Health Pass removes the need for travelers to carry with them several paper documents.
Restricting their movement within the airport also helps reduce contact with others and exposure to the virus.
Because the airport and other necessary agencies have access to this digital platform, travelers may save time and money on processing procedures.
The system contains a number of features that enable you to track and store all of your data in a secure cloud. This reduces the amount of human labor required to collect and evaluate all relevant data. It also permits you to concentrate on getting ready for your travel or return to work.
How to Register via the One Health Pass (7 Steps)
Now that we've established the significance and benefits of the new system, here are the procedures for registering online:
Pre-Departure
Step 1: Anyone traveling to or from the Philippines should register at least three (3) days in advance on the One Health Pass website (https://www.onehealthpass.com.ph/e-HDC/) to obtain a transaction number.
Note: Non-OFWs and international citizens arriving from yellow or red list countries must make a ten-day Quarantine Hotel reservation. Go to www.onehealthpass.com.ph/quarantinehotels/ to obtain a list of authorized hotels. OFWs, on the other hand, will be not be required to perform this step because the OWWA will take care of their hotel booking.
Step 2: Take a snapshot of your record after it has been produced by the system. Authorities will need you to show this information before entering the Philippines.
Step 3: A health declaration checklist must be completed within 24 hours of your flight or before boarding.
Upon Arrival
Step 4: When you arrive, provide your OHP personal QR code for verification and hotel assignment. Following that, you will be escorted to an immigration official-led orientation before being granted immigration clearance and directed to your transportation service or quarantine hotel.
Step 5: Proceed to the Immigration Bureau, then to baggage claims and customs inspection to clear your arrival.
The One Health Pass System will notify your local government unit of your travel status and if you are now authorized to travel internationally for work or pleasure.
Step 6: You will then be instructed to use a pre-arranged or certified method of transportation.
Step 7: [For those who must be quarantined] Once your quarantine time is over, you will be issued your COVID-19 test result as well as a quarantine certificate.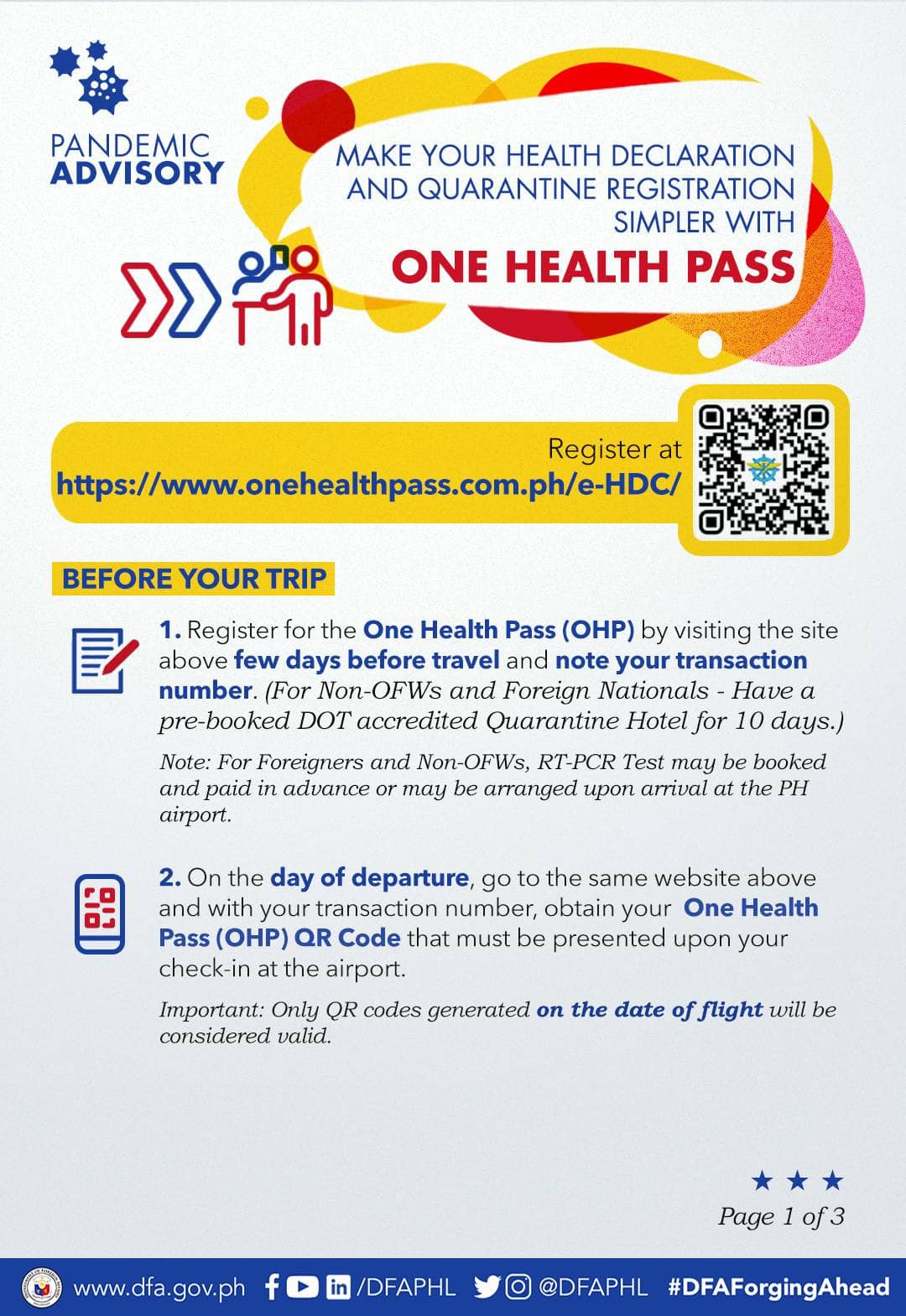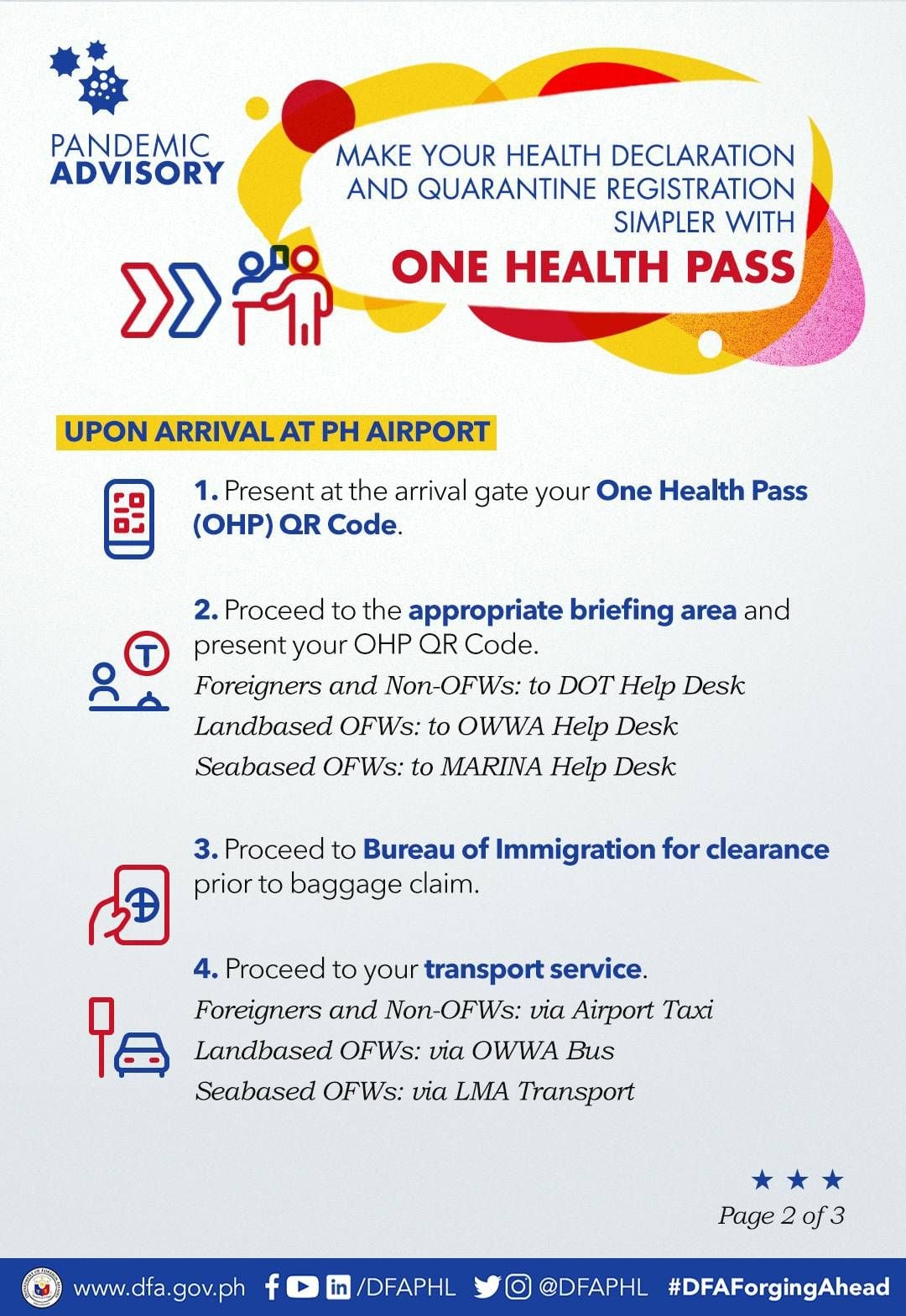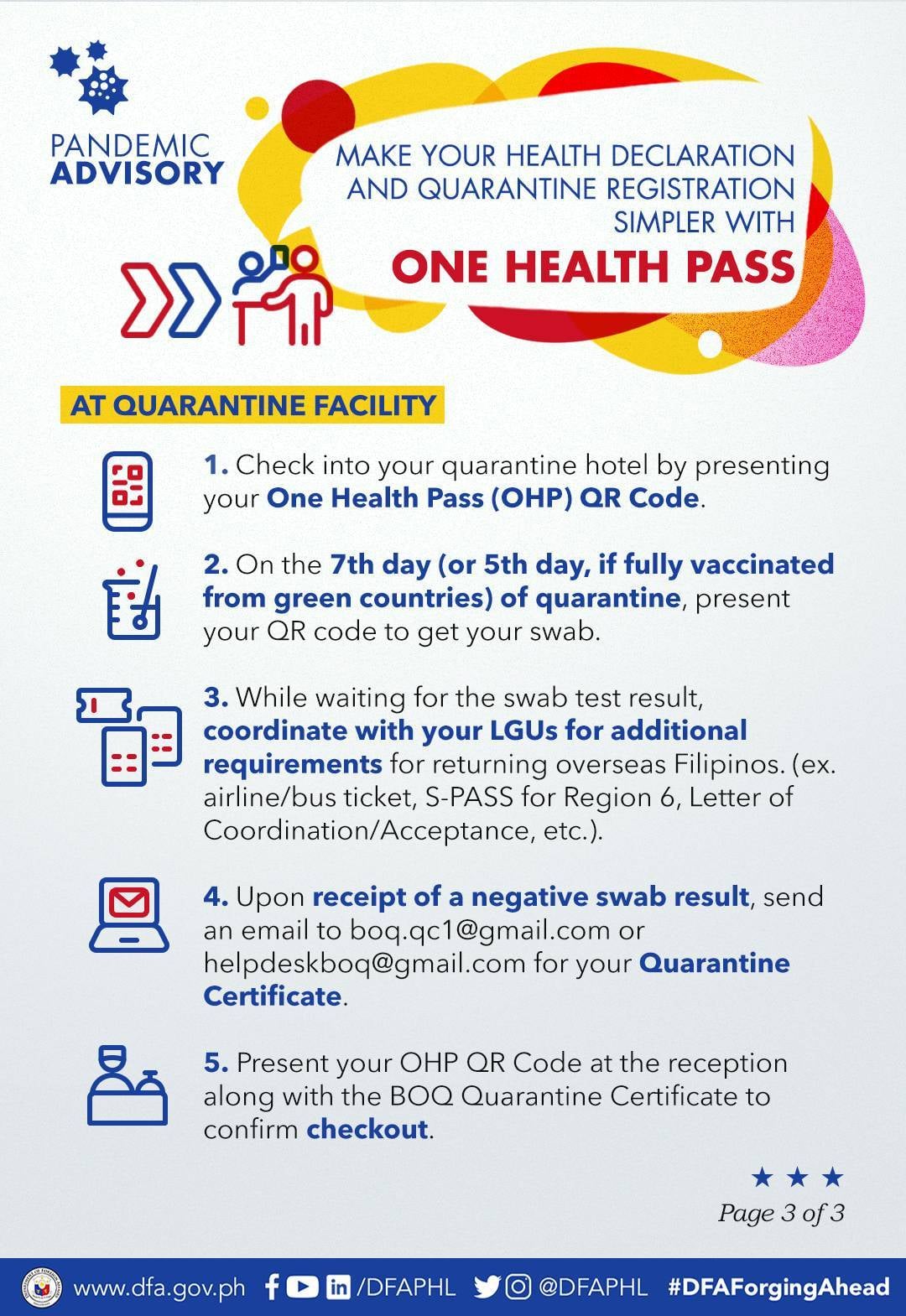 Video: How to Register Using the One Health Pass
A Pinoy YouTuber describes the One Health Pass's numerous requirements and eligibility in this video. The video also shows how to sign up for the pass and acquire a QR code.
The new online system, which was implemented in September 2021, would require all OFWs, overseas Filipinos, and foreign visitors to register.
In addition to applying for the One Health Pass, you must also complete other requirements before traveling to the Philippines. When traveling to and from the country, as well as at your local destination, you should be aware of the various travel and health protocols so you won't be held off.
Frequently Asked Questions (FAQs) Regarding the One Health Pass (OHP)
Because the OHP is still a new system, we've created a list of commonly asked questions regarding it.
Is there any fee for registering in the OHP system?
No, there are no fees associated with registering on the system. You will only need to give information online and submit your data for national and local record-keeping, tracking, and monitoring reasons when your return to or leave from the country. As a result, you must provide up-to-date and accurate information about your job, health, and status as an OFW/Filipino citizen.
When is the optimum time to enroll in the OHP system?
Fill out the registration and health declaration forms on the One Health Pass website up to three days before your travel to prevent wasting time at the airport. You can still fill them out at the airport, but it's better to do so ahead of time and in the comfort of your own home so you don't feel rushed or pressed to do so on the spot.
What other documentation do I need to carry with me when I arrive at the airport?
Typical documentation like passports, airline tickets, and now your immunization certificate must be shown at the airport upon arrival. It is vital that you fill out the registration and health declaration forms on the One Health Pass website to lessen your time at the airport, but you may still complete these forms upon arrival. That said, better do it early and in the comfort of your own home (up to three days before your arrival in the Philippines).
Is it required to install an app on my smartphone in order to register?
No. The OHP is a mobile-optimized information system that operates across several devices with ease. It offers an easy and secure method of accessing information, and it is meant to function smoothly across several devices.
I am not an OFW, but rather an abroad Filipino on holiday. Is it also essential for me to register?
Yes, all visitors entering or departing the Philippines, whether on business or for pleasure, must fill out the online form. OFWs must use caution when mentioning a quarantine facility/hotel on their documentation, since the OWWA will assign them to one. All other passengers must state on their forms that they are traveling to the Philippines on their own initiative and that they will be responsible for any charges incurred as a consequence, according to local government legislation.
Final Thoughts
It's a wonderful thing that restrictions are being eased up, especially here in Saudi Arabia. This implies that people who have not yet left their homes, particularly OFWs based overseas, may now book flights back home to be reunited with their families and loved ones. However, certain guidelines and conditions must be followed in order for your travel to go smoothly. One of these is signing up on the One Health Pass. We hope that through the help of this guide, our kababayans in Saudi Arabia will be able to travel to and from the Philippines with ease, especially now that the holiday season is upon us all.
READ NEXT: Vaccinated Travelers Entering Saudi Exempt from Quarantine