The Philippine National Elections in 2022 for OFWs will take place between April 10 and May 9, 2022. That being said, Filipinos living in Saudi Arabia can vote quickly and safely in the next elections by checking their names against the list of certified overseas voters at the Philippine Embassy or Consulate-General offices.
Do note that the Kingdom of Saudi comprises one of the world's largest landmass. Thus, you need to make sure that you know where you'll need to go for the overseas absentee voting. That being said, it is critical that registered overseas Filipinos understand the procedures and requirements for overseas absentee voting in their host nations.
However, bear in mind that this may vary from one location to another, so make sure you follow each foreign post's specific requirements. Overseas voters in Saudi Arabia are encouraged to double-check their information on the Philippine Foreign Post's website before proceeding with the overseas voting procedure.
To get started, utilize this guide to discover the step-by-step process for a smooth and trouble-free overseas voting experience in the kingdom.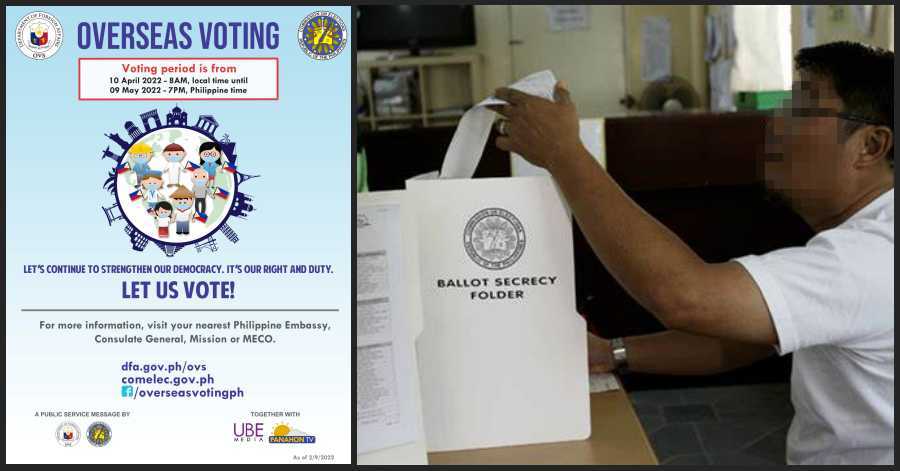 Voting Guidelines in Saudi Arabia for the 2022 Philippine Elections
Filipinos in Saudi Arabia who are registered voters may now vote quickly and securely. After verifying their name on the country's list of certified overseas voters (CLOV), the next step is to schedule a trip to the Philippine foreign post for the overseas voting procedure between April 10 and May 9 (one month).
Of course, no one likes to spend a long time standing in line or to have their plans disrupted on any given day. Having stated that, it is best for overseas Filipino employees and Saudi residents to prepare their schedules for the overseas voting session. Here's how to get going.
Step by Step Procedure of Voting as a Filipino in Saudi Arabia
Please follow the guidelines below on the process of voting if you are based in Riyadh or Jeddah, or other regions in Saudi:
Step 1 – Check if your name is on the list of registered voters in Saudi Arabia here.
Step 2 – Vote wisely.
You should know who to vote for at this point, including the candidates' job history and political background, as well as their policies for employment, health, foreign workers and immigration, to name a few.
Step 3 – Cast your ballot in the vote-counting machine or VCM (formerly known as PCOS machine).
This will enable a timelier examination and recording of the votes. Also, make sure that you have darkened all relevant sections of the ballot so that you do not miss any names for whom you intend to vote.
Step 4 – Get the indelible ink marked on your index finger.
When you leave the embassy, this will serve as proof that you voted earlier. That's it! You may now exit the poll to go home, to work, enjoy the day with your friends, or relax by yourself.
Overseas Filipino Voting Schedule in Saudi Arabia
The voting period for the overseas elections is from 8 a.m. local time to 7 p.m. Philippine time from April 10, 2022, to May 9, 2022.
Throughout this time, walk-ins are welcome at the embassy. You must, however, authenticate your details on-site to guarantee that you are qualified to vote in the ongoing overseas absentee voting.
Here's a post from the PH Embassy in Riyadh regarding the voting process in Saudi for Filipinos:
Where to Vote in Saudi?
The PH Embassy in Riyadh has released the tentative schedules for each voting venue location and they are as follows:
Philippine Embassy in Riyadh
International Philippine School in Al Khobar (IPSA)
Philippine International School in Buraidah (PISB)
Embassy-on-Wheels (EOW) in Hafar Al Batin
Embassy-on-Wheels (EOW) in Al Jouf
Embassy-on-Wheels (EOW) in Hail
Embassy-on-Wheels (EOW) in Al Ahsa
Note: For overseas voters who want to vote in a different voting venue from where they are registered, please email your request to overseasvoting2022@riyadhphe.com. Attach a copy of your passport's information page and indicate your place of registration as well as where you want to vote.
All requests will be endorsed to and must first be approved by the COMELEC before an overseas voter will be allowed to vote in a venue different from his/her place of registration.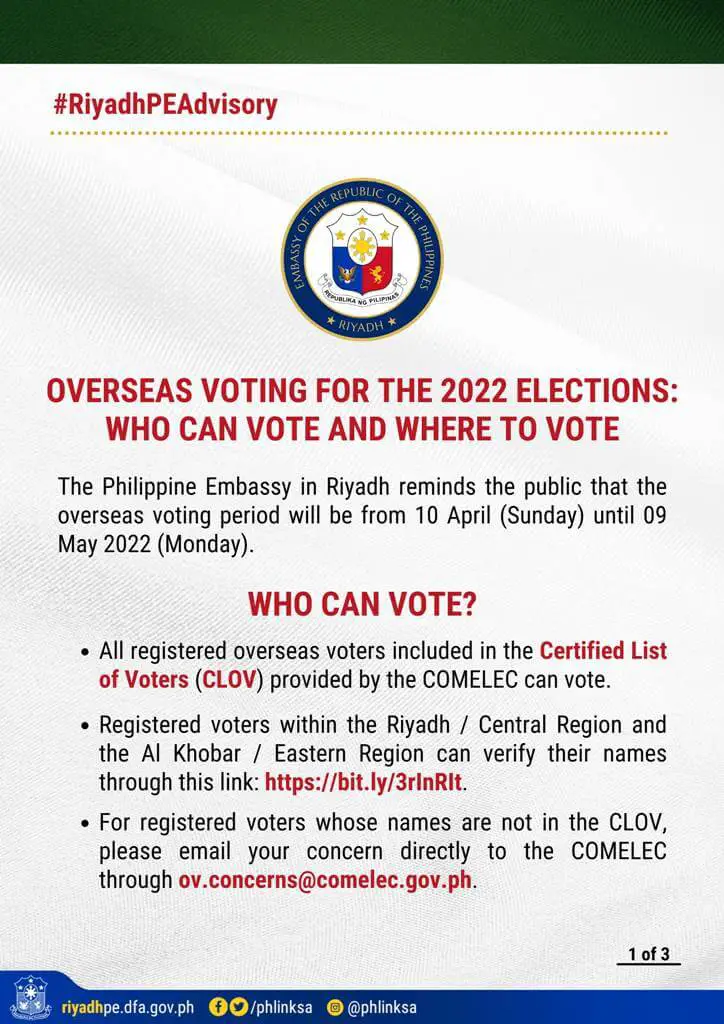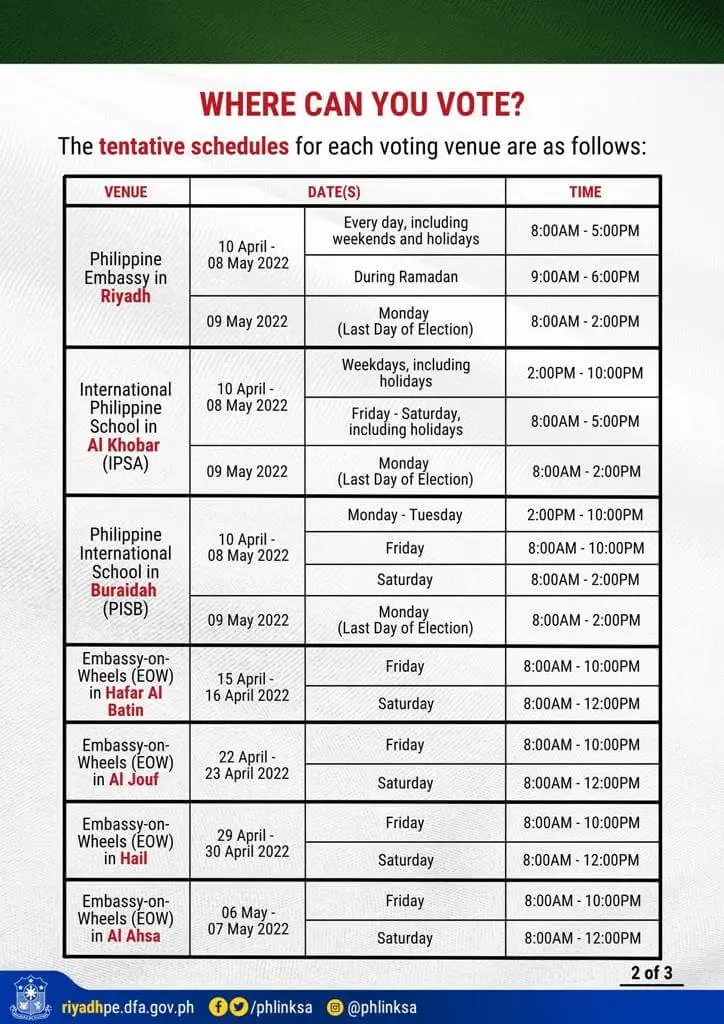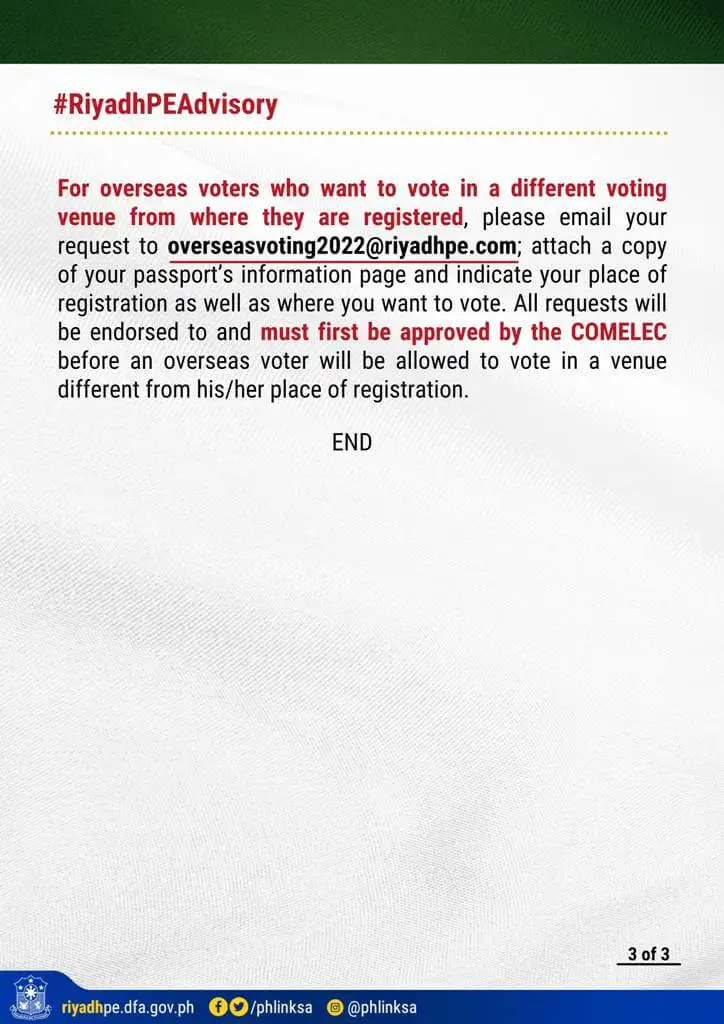 Video: HALINA'T BUMOTO!
The DFA has published a video about the upcoming overseas elections. More information on the overseas voting procedure may be found here.
Every OFW and Filipino immigrant in Saudi Arabia must vote overseas in order to fulfil their right and commitment to the country as Filipino citizens.
It is critical for all Filipinos, wherever they may be in the world, to educate themselves on what to do and expect on election day.
Overseas Filipinos have an entire month to vote in this election. This should give voters enough time to plan and research who they should vote for as the country's future leader. Following their decision, staff from the Philippine Embassy in Saudi Arabia will work with them to ensure they vote accurately and consistently.
Frequently Asked Questions
What do I need to be able to vote in the 2022 National Elections?
During the voting season, Filipino citizens must carry their original passports or mariners' books to the polls. Residents with dual citizenship must also provide their ID card or authorization document in order to vote.
How do I know if I am a registered voter in Saudi Arabia?
The list of voters based in Saudi, as well as Filipino seafarers, may be found on the Commission on Elections (COMELEC) website or at the Philippine foreign posts in Saudi Arabia. Only registered Filipino voters will be eligible to vote in the 2022 elections.
How does COMELEC decide on which voter records to deactivate?
The records of voters who did not vote in at least two elections were deactivated by the Commission on Elections (COMELEC).
When can applicants collect their Voter's ID?
Due to the implementation of Republic Act 11055, or the National ID System, the Commission on Elections has halted the distribution and production of voter identification cards across the country.
The Philippine Statistics Authority is actively putting the National ID system in place in the country. It is scheduled to be implemented in all foreign service posts by 2022.
Where can I find important information and updates on overseas voting?
Filipinos in Saudi Arabia are advised to follow the Philippine Foreign Post's various social media platforms to remain up to date on election news.
Summary
The Philippine Missions in Saudi Arabia aim to make the overseas voting process as simple and comfortable as possible for all Filipinos living in the country. As a result, they ask Filipinos in the nation to verify their information against the list of certified overseas voters (CLOV) before going to the embassy or consulate to vote starting April 10.
Contact Information
Address: Diplomatic Quarter, C3 Alradeef St. P.O. 94366, Riyadh 11693
Office hours: 8:00 AM to 5:00 PM (Sunday to Thursday)
TEL: (0096611) 482-3559
Fax: (0096611) 488-3945
Email: rype@riyadhpe.com
Google Map Location – Riyadh PH Embassy
Workdays: Sunday to Thursday, except Holidays
Service Hours: 8:00 a.m. – 5:00 p.m.
Address: 4663 Fajr St., Al Rehab District 6, Jeddah, Kingdom of Saudi Arabia
Tel. No: +966126696303
Fax: +966 (0) 12 669-6797
E-mail: pc.jeddah@gmail.com
Google Map Location – Jeddah PH Consulate