Filipinos and foreigners traveling to the Philippines, non-machine readable passports will no longer accepted by 2017. So to those who have the old passports and travel documents, kindly make sure to update them to avoid any hassle when travelling to the Philippines in the future.
The Philippine Embassy in Riyadh, KSA has posted an advisory on their website intended to the Filipino community and all concerned applicants for Philippine travel visa to help inform that the old non-machine ready passports and travel docs will be phased out.
Related Post: How to Renew your Passport at the Philippine Embassy in Riyadh, KSA
So if you plan to visit the Philippines or travel outside with these outdated docs, you will not be allowed to enter or exit. Please be advised.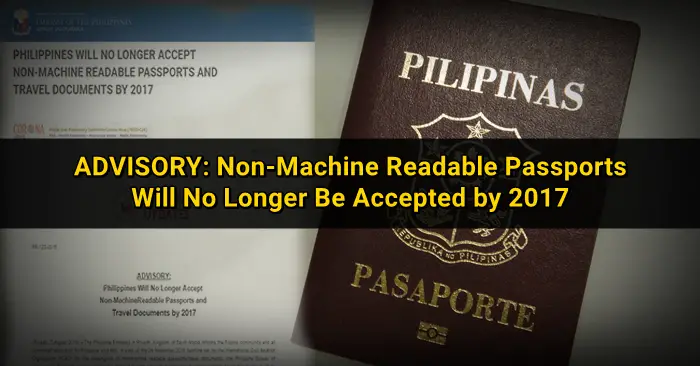 ADVISORY: Non-Machine Readable Passports Will No Longer Be Accepted by 2017
Below is a transcript of the said PDF advisory from the Philippine embassy in Riyadh.
ADVISORY: Philippines Will No Longer Accept Non-Machine Readable Passports and Travel Documents by 2017

(Riyadh, 7 August 2016) – The Philippine Embassy in Riyadh, Kingdom of Saudi Arabia informs the Filipino community and  all concerned applicants for Philippine visa that, in view of 24 November 2015 deadline set by the International Civil Aviation Organization (ICAO) for the phasing-out of non-machine readable passports/travel documents, the Philippine Bureau of Immigration (BI) shall no longer allow the entry of foreign national holding non-machine readable travel documents in all its international airports and seaports by the 1st quarter of 2017.

In this connection, The Philippine Embassy will no longer accept non-machine readable passports/travel documents for all Visa applicants effective October 1, 2016.

This directive will be applied to all types of passports, including ordinary, official, diplomatic and/or service documents, except for temporary travel documents designed for emergency situations as per ICAO guidelines and subject to approval of concerned Philippine authorities.

Source: http://riyadhpe.dfa.gov.ph/newsroom/advisories/2804-pr-122-2016