The Philippine Embassy announced that it will hold a two-day consular outreach mission, dubbed as "Embassy on Wheels" (EOW) in Dammam on August 23 and 24.
The initiative was launched as part of President Rodrigo Duterte's commitment to overseas Filipino workers (OFWs) in the Eastern Province of the Kingdom through the efforts of the Philippine Overseas Labour Office of the Philippine Embassy in Saudi Arabia. Those who are interested to join will be required to bring documents for any of the consular services they wish to avail on those dates.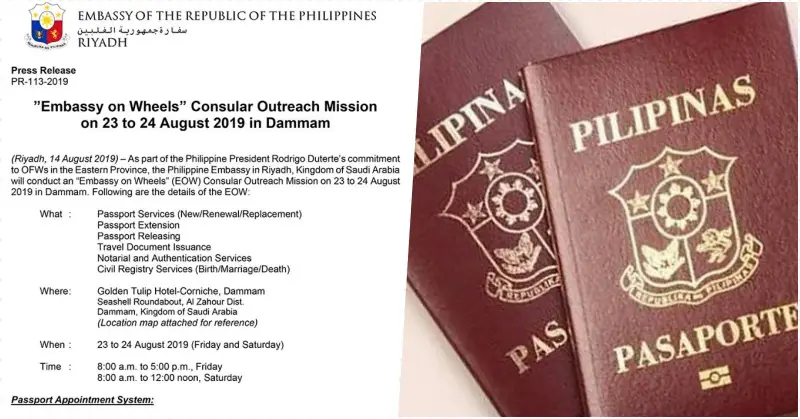 Consular Services Offered via "Embassy on Wheels" in Dammam
As per the announcement of the Philippine Embassy in Saudi Arabia, the services to be offered during the mission dates include:
Passport Services
Passport Extension
Passport Releasing
Travel and Document Issuance
Notarial and Authentication Services
Civil Registry Services (Birth/ Marriage/ Death)
Those who would like to avail of passport services at the consular mission must have set an appointment at the Embassy's website using their personal email.
Exemptions to this procedure will be the following:
Children seven (7) years old and below;
Pregnant women
Physically challenged applicants;
Certified off-shore workers; and
Applicants whose passports have been declared, damaged, or lost.
Following these cases, applicants who require assistance will be allowed to bring one companion inside the venue. Also, those who do not have any appointment or transactions during the consular mission will not be allowed entry at the venue.
All passport applicants will also be required to bring current/old passport and a photocopy of their passport's data page, as well as the passport appointment confirmation. The passport renewal or application fee is SAR 240.00.
As per the release of passports, those who will claim their documents must bring the official receipt for their transaction and old passports for cancellation. Additionally, an authorization letter with proof of identity will also be required from those who are unable to personally claim their document on-site.
Of note, those who are claiming their new passports which were applied for in another site – whether in other locations in Saudi Arabia, in the Philippines, or in other Foreign Service Posts are advised to make an official request through the Consular Section of the Philippine Embassy by calling 482-3816 and/or sending an email to consular@philembassy-riyadh.org.
Meanwhile, that availing of other consular services, applicants will be entertained on a first-come, first-serve basis. Also, priority will be given to those with special needs as listed above.
To know more information about this outreach mission, and to get updates from the Philippine Embassy in Saudi Arabia in the future, you can visit the Philippine Embassy website.
ALSO READ: Services Offered by the Philippine Embassy in Saudi Arabia and Overseas Labor Office