Overseas Filipino workers in the western region of the Kingdom of Saudi Arabia got a glimpse of the Philippine government's reintegration programs with the launch of a mobile forum last September 26 and 27.
The initiative underscores the Philippine Consulate General in Jeddah's efforts to raise awareness about the reintegration for OFWs by introducing he mobile forum for the Filipino community in the kingdom's Asir Region, at the sidelines of their regular Consular Mobile Services (CMS) mission.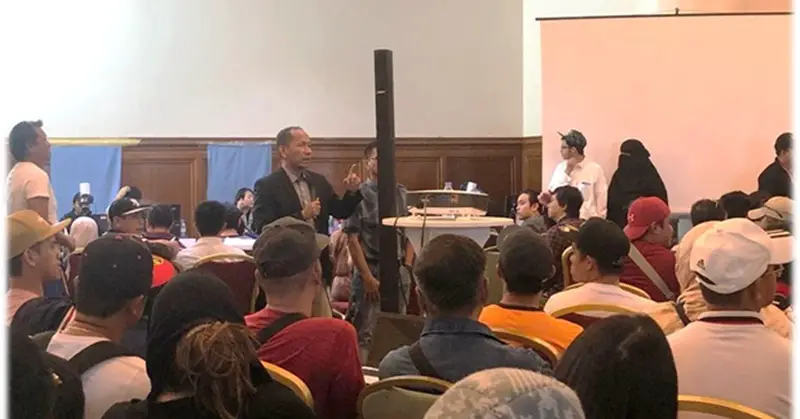 PH Embassy in KSA Launches Mobile Forum on PH Reintegration for OFWs
As per Consul General Ed Badajos, the Mobile Forum on Philippine Reintegration is the latest project of the Consulate General for Filipinos outside of Jeddah, but within its area of jurisdiction in the Western Region, as shared in a Facebook post by the PCG in Jeddah, KSA.
He shared that the mobile forum aims to educate the Filipinos in the region regarding the reintegration programs of the Philippine government. Among the presentations shared were audio-visual lectures by a representative of SSS, Pag-IBIG and the Philippine Trade and Investment Center (PTIC) for the Consulate's clients while waiting for their turn to be served.
As per the Consulate, it will likewise bring the mobile forum in its succeeding consular missions to other key cities in the Western Region, namely, Tabuk, Taif, Yanbu, Jizan and Najran.
Furthermore, the Consulate General's reintegration campaign will target to teach OFWs in the kingdom on how to invest and save their hard-earned money, mostly through a livelihood training to help them continue a stable living back in the Philippines.
Information campaigns such as these will be of great help among OFWs as they will gain useful knowledge on financial literacy as well as on how to put up a profitable investment such as a business, should they decide to return back home for good.
Meanwhile, the Philippine Embassy in Riyadh has announced last September 26, that it will conduct an "Embassy on Wheels" (EOW) Consular Mission in Dhahran on October 11 to 12.
Among the services to be offered include passport services, passport extension, passport releasing, travel document issuance, notarial and authentication services, Civil registry Services (Birth/Marriage/Death).
For more information, you may check out the Philippine Embassy in Riyadh's Facebook post here.
The upcoming EOW is part of the Philippine President Rodrigo Duterte's commitment to OFWs based in the Eastern region of Saudi Arabia, and the mobile forum underscores the President's vision to provide the necessary support to OFWs all over the Kingdom, as well.
ALSO READ: Services Offered by the Philippine Embassy in Saudi Arabia and Overseas Labor Office