KSA is the where most of OFW in the Middle East live. Since there is approximately 1.8 million (as per 2015) Filipinos living in the kingdom, this made KSA one of the countries in the world where you can find huge population of OFWs.
KSA as everyone knows is very strict to personal identification like your passport. It is a must that you have a valid passport to avoid any trouble with authorities and even your travel plans out of KSA.
Application of New Passport / Renewal  of your Passport in KSA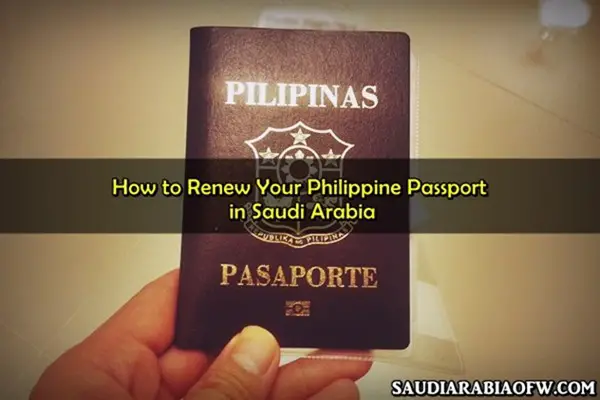 Below is a guide on how you can apply/renew your Philippine passport in Saudi Arabia.
Tip:
Please note that PE Riyadh KSA also conducts " Embassy on Wheels " They visit other cities and accept walk-ins for documents related transactions. You can see the schedule of the consular outreach mission on this link.
This article only discuss the procedure for the PE Riyadh Office, for further information for other consular offices in KSA please visit the PE website on this link .
Requirements for e-Passport Renewal
Ø Personal appearance
Original old passport
Photocopy of old passport (data page only)
Duly accomplished passport application form (download here) or obtained from Window 1 of the Consular Section or at the Information Desk at the Embassy lobby (no photo needed)
ePassport fee SR240.00
No appointment, Not Entry, No Processing of Passport
STEP 1: BOOK AN APPOINTMENT. You must book your appointment with the Embassy for your renewal or else you will not be entertained. You can click here to see the next available date for your appointment.
STEP 2: APPOINTMENT DAY. Bring all the requirements. It is always wiser to be at the embassy earlier than your appointment time as it is expected that there are other Kabayans who will process theirs too. Please note that the steps and the procedures inside the embassy may change from time to time. In my experience back in 2013, You have to be there on time as they do roll-call of list of people who have an appointment at that specific time at the gate. Depending on how many people are scheduled that time, that will determine how fast you can do the process.
STEP 3. DATA ENCODING, PHOTO TAKING & PAYMENT. Inside the embassy, you will give your documents to the reception and wait for their instruction. Names will be called out from designated windows for Data Encoding, Photo-Taking & Payment. You will be given a claim stub on the release date of your passport. I finished the entire process for
Tip: Double check all the information that you have provided and the one that the staff have encoded to avoid any errors and hassle in the process.
STEP 4. RELEASE OF PASSPORT. After 30 days, You can go to the Embassy website (http://riyadhpe.dfa.gov.ph/) so you can check of your passport is ready to release.
Tip: It is always wiser to be early on the day you will pick up the passport as definitely there will be long queue line for this.
Other Useful Articles:
Embassy Information:
The Philippine Embassy Riyadh KSA
Website : http://riyadhpe.dfa.gov.ph
Address: Diplomatic Quarter, Ummayah Abu As-Salat Street – Location Map
P.O. 94366, Riyadh 11693
Offfice Hours: Sundays thru Thursdays 8:00AM to 5:00PM
Contact nos: 482-3559 , 482-0507, 482-1577 Fax (96611) 488-3945
Article Source:
The Philippine Embassy Riyadh KSA – http://riyadhpe.dfa.gov.ph