The Philippine Embassy in the Kingdom of Saudi Arabia has announced that it will be running a series of system tests in an attempt to accommodate all passport applications without an appointment for the entire month of November.
The aim of the system pilot testing is to explore the possibility of removing the appointment system and implementing a walk-in scheme for all passport services.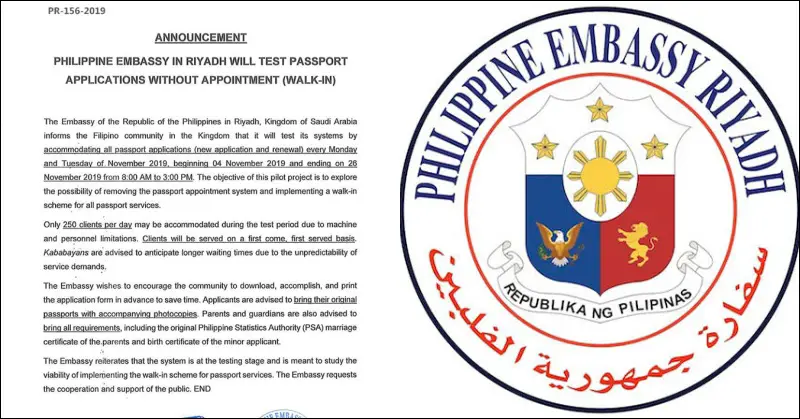 PH Embassy Tests Passport Applications w/o Appointment in Saudi Arabia 
According to the announcement, the project will allow passport applicants to submit their applications via a first-come-first-served basis walk-in every Monday and Tuesday of the month, starting November 4 until 26, 2019, from 8 AM to 3 PM.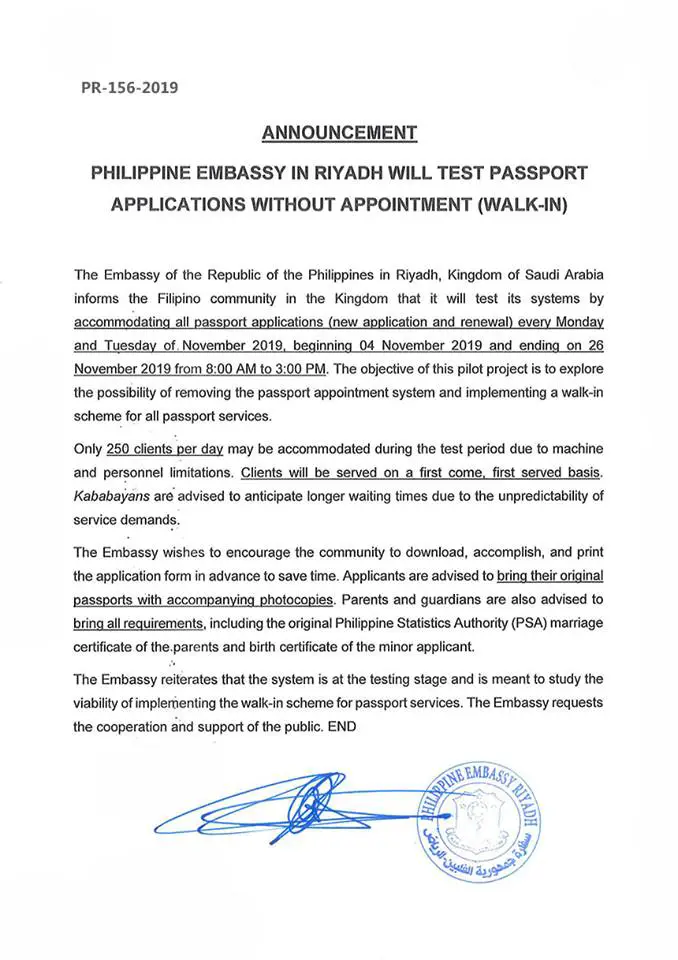 Furthermore, the Embassy noted that it will accommodate only 250 clients during the trial period due to machine and personnel limitations. They also advised Filipinos to anticipate longer waiting times due to the unpredictability of service demands. They also instructed applicants to accomplish the forms in advance to save time, prepare original passports with photocopies, and bring all the other necessary requirements.
Since its introduction in the Kingdom back in 2017, the passport appointment system has been fully implemented and adopted by the Philippine Embassy in the region to ensure and guarantee that passport applicants will be prioritized and served. 
However, in order to provide convenience and accessibility to Filipinos in the Kingdom, the Philippine Embassy is also now looking into the possibility of removing the appointment system and implementing a walk-in scheme for all passport services through the use of the latest data handling technologies and support.
Setting an appointment provides a systematic way of entertaining passport applicants given that the Embassy has limited resources and manpower. It also eliminates the cause for disorder on who to be prioritized when availing of this important service offered by the Embassy. 
However, though systematic and more organized, going through the appointment system can also be a hassle, especially when slots offered on one's preferred date of appointment (as in weekends or special holidays) can be easily filled up delaying one's access to passport services at the time they need it the most.
In regard to this, the Embassy stressed that the system is at the testing stage, and aims to study its viability in the future. With that, Filipinos in the Kingdom can expect that the test will take place with some (or several) setbacks, as part of the process to refine and improve the system for this particular purpose. 
ALSO READ:  Services Offered by the Philippine Embassy in Saudi Arabia and Overseas Labor Office