The Philippine Embassy in Riyadh has issued a statement regarding the mauling incidents that recently took place near the Philippine Overseas Labor Office (POLO) in the Saudi Arabian capital. The said incidents involved Filipino nationals.
ALSO READ: 10 Things That Could Land You in Prison in Saudi Arabia
"We regret that these incidents happened as they cast Filipinos in a bad light and expose those involved to criminal prosecution by Saudi authorities," the statement read. More details are given below…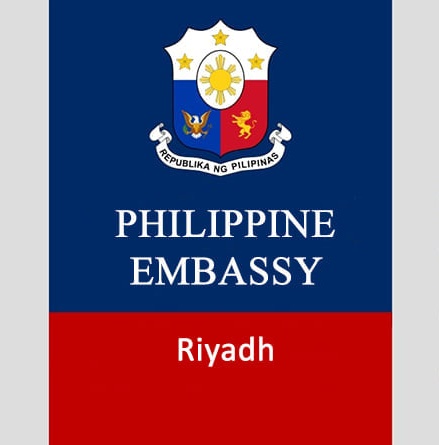 PH Embassy Calls on Filipino Community to Respect the Law
On February 9 and 11, 2021, mauling incidents took place near POLO Riyadh. Filipino nationals had been involved, although the Philippine Embassy did not reveal their identities, Manila Bulletin reported.
Consequently, the Embassy released a statement regarding the incidents, calling on everyone to "exercise restraint and sobriety." It also urged members of the Filipino community in Saudi Arabia to respect the law at all times.
"We assure the Filipino community that the safety and security of the personnel and clients of the Embassy and its attached agencies remain a priority," the statement continued. "The Embassy is already coordinating with police authorities to prevent other unlawful incidents within the vicinity of POLO Riyadh."
Below is a copy of the statement, as shared on the Philippine Embassy in Riyadh's official website: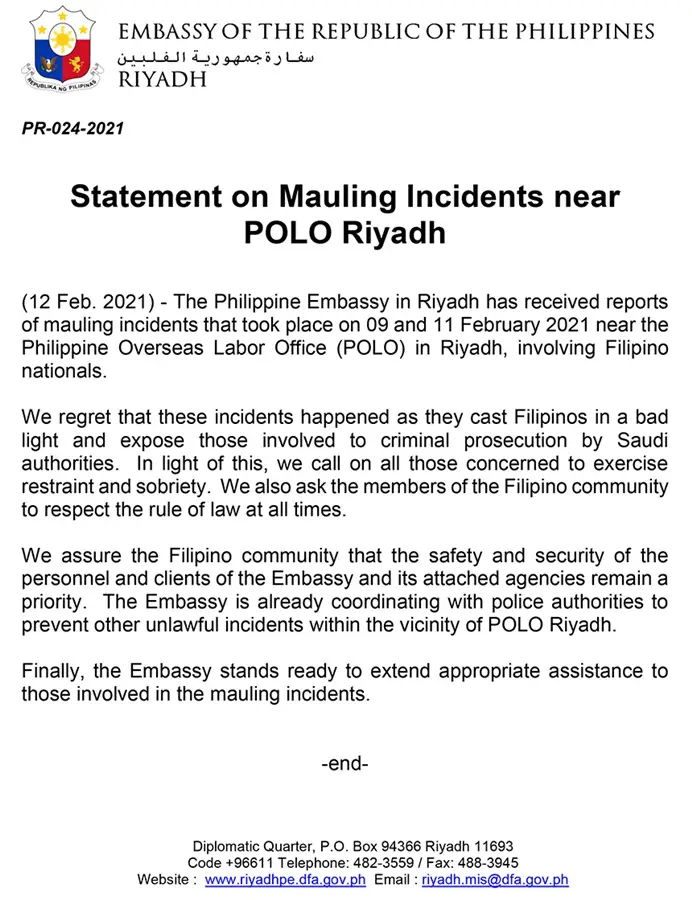 Meanwhile, the Philippine Ambassador to Saudi Arabia has also commented on the matter. "We will not allow the mob mentality of some to hamper the delivery of services to our OFWs," Ambassador Adnan Alonto declared via his Twitter account.
We will not allow the mob mentality of some to hamper the delivery of services to our OFWs https://t.co/LPRfNRZ6W6

— Adnan Alonto (@adnanalonto) February 13, 2021
According to sources at the Department of Foreign Affairs (DFA), they are looking at the possibility that the said incidents could be related to the recent dismissal of a top labor officer, as well as to the filing of libel charges against an OFW couple.
Let us stay tuned for more updates regarding this matter. In any case, let us also remember to respect the law – wherever we may be – to avoid getting into trouble.
READ NEXT: Things to Know About Saudi Arabia's 'Public Decency Law'