Ireland is known for its beautiful landscapes, historic castles, and World Heritage Sites. If you've always wanted to go there, then we've got fantastic news! The Embassy of Ireland, in coordination with VFS Global, recently launched three new centres in Saudi Arabia!
Today, citizens as well as expatriate residents of the Kingdom of Saudi Arabia can apply for visas to Ireland through VFS Global centres in Riyadh, Al Khobar, and Jeddah. These new centres make it possible to apply for a visa without having to visit the Embassy of Ireland.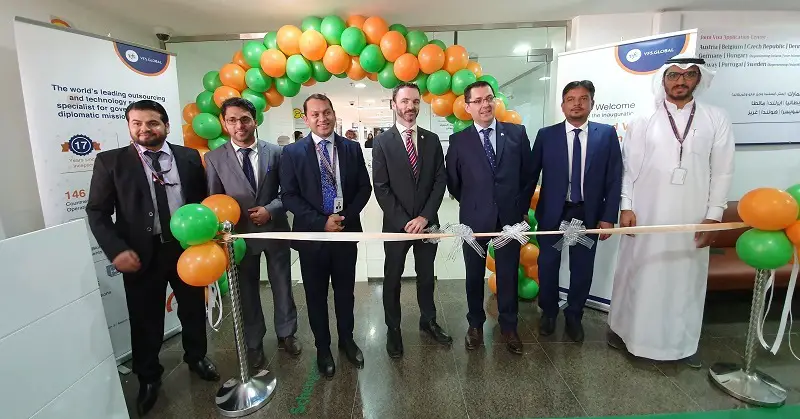 Ireland Embassy Launches Visa Centers in Saudi Arabia
According to a press release, visitors from Saudi Arabia comprise about 33 percent of all Middle East visitors to Ireland. Last year, around 6000 visitors from the Kingdom travelled to Ireland. Hence, the opening of three new centres comes at a great time, indeed!
"We are pleased to announce an extended partnership with VFS Global to open new centers to provide seamless visa application services to a greater number of travelers from Saudi Arabia," stated His Excellency, Mr. Gerard McCoy, Ambassador of Ireland to the Kingdom of Saudi Arabia, during the inauguration of the new visa application centre in Riyadh.
"Ireland is recognised the world over for the hospitality of its people, its beautiful landscape, and its cultural richness," he added. "With the opening of these new centers, we welcome travellers from Saudi Arabia to experience the beauty and hospitality of Ireland."
Likewise, the VFS Global Regional Group COO for Middle East, South Asia, and China, Vinay Malhotra, commented: "With inspiring countryside and vibrant cities, Ireland is a big attraction and destination for Saudi Arabian tourists. Ireland has introduced the Hidden Heartlands to its geographical offering, which complements its east and west coast initiatives by opening up the relatively unexplored midlands region."
"Opening of three new centers in key locations of the Kingdom is part of VFS Global's plans to enhance cooperation with the Government of Ireland and offer a convenient and secure visa application platform to outbound travellers," he shared.
You will find the new visa application centres in the following locations:
VFS Global Ireland in Riyadh
Address: 2591, Al Hada District (beside Courtyard Marriott Hotel)
Google Map:
VFS Global Ireland in Al Khobar
Address: 2nd Floor, Unified Visa Application Center (opposite SABB Bank), Al Rakka
Google Map:
VFS Global Ireland in Jeddah
Address: Al Etimad Visa Center, TasHeel Commercial Plaza, Ground Floor – Suwaid Bin Sakher Street, off Jundub Bin Kaab Street (off Prince Sultan Street), Al Mohammadiyah District 1
Google Map:
To make a query or set an appointment with any of these centres, you may contact their call center number at +920011355, send an email to info.irelandksa@vfshelpline.com, or visit the VFS Global website.
Indeed, getting a visa to go to Ireland is now much easier, thanks to these new centres! Meanwhile, if you are planning to travel around the Kingdom, here is a list of places to visit in Saudi Arabia, which you shouldn't miss seeing with your family and friends!