A visit to the National Museum in Riyadh is a pleasant experience that you cannot afford to miss, during your trip to Saudi Arabia. As you step inside this state-of-the-art museum, you will be able to see man's history unfold through a systematized display of documentary films, manuscripts, documents and antiques that date back since pre-historic times. Known as one of the top attractions in the city of Riyadh, this treasure trove also has eight halls that will give you a deep insight of the Arabian Peninsula.
From prehistoric discoveries to informative documentaries, the museum offers a ton of exhibits that will surely please your senses. Below are some of best sights and highlights of this treasury.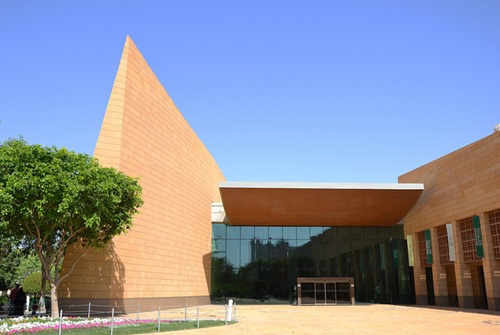 Riyadh National Museum
Photo by Sammy Six
A Visit to the National Museum in Saudi Arabia
Man and the Universe
Located on the museum's ground floor, the Man and the Universe gallery is truly one of the biggest and most mesmerizing visual highlights of this sensational Arabian treasury. Here, you get to feast your eyes on a dazzling collection of artifacts that represent the ecosystems, geological eras, time periods as well as the fossilized trees and types of wildlife in the country. What's more, it flaunts a plethora of prehistoric ceramics that were made more than 5,000 years ago in Mesopotamia and eastern Arabia. To top it all off, the gallery showcases the ancient technologies used by prehistoric man, including his tools and primal survival techniques.
Arabian Kingdoms
Arabian Kingdoms is a 1,500-square meter gallery that depicts the rise of the kingdoms and civilizations in Arabia from 4,000 BC to 4 AD. As far as I'm concerned, the most captivating exhibit in this gallery is the Tayma Wall model, which is made up of the natural stones from the actual wall itself. Aside from this wall model, visitors may also lay eyes on other intriguing artifacts, such as the old Islamic scripts, Thamudic writings, the glorious Thaj Golden Treasure.
Prophet's Mission Hall
The Prophet's Mission Hall is a solemn gallery illustrating the teachings and colorful life of Mohammad. As you wander around this hall, you get to know more about his family, marriage, lineage as well as some of the major events in his life, including his childbirth in Makkah and his journey to Madinah. As for the exhibits, visitors can take a close look at his paintings, used road maps and Holy Quran manuscripts.
Hajj and the Two Holy Mosques
The Hajj and the Two Holy Mosques is the museum's eighth gallery, which is also located on its ground floor. Of course, the gallery was designed to portray the historic routes, related antiquities, rituals and pilgrims of Hajj. By the way, a can't-miss sight here is the Makkah model.