The NCB or National Commercial Bank in the Kingdom of Saudi Arabia. It is one of the biggest financial institutions in the area. This bank was established in the year 1953. It was formed from Saudi Arabia's biggest currency exchange houses.
Also Read: List of National Commercial Bank Branches and ATMs in Jeddah
NCB's hard work throughout the many years of providing financial services resulted in many awards and recognitions. This bank never fails to address its client's needs to achieve its ambitions or goals. Their management values integrity and professionalism.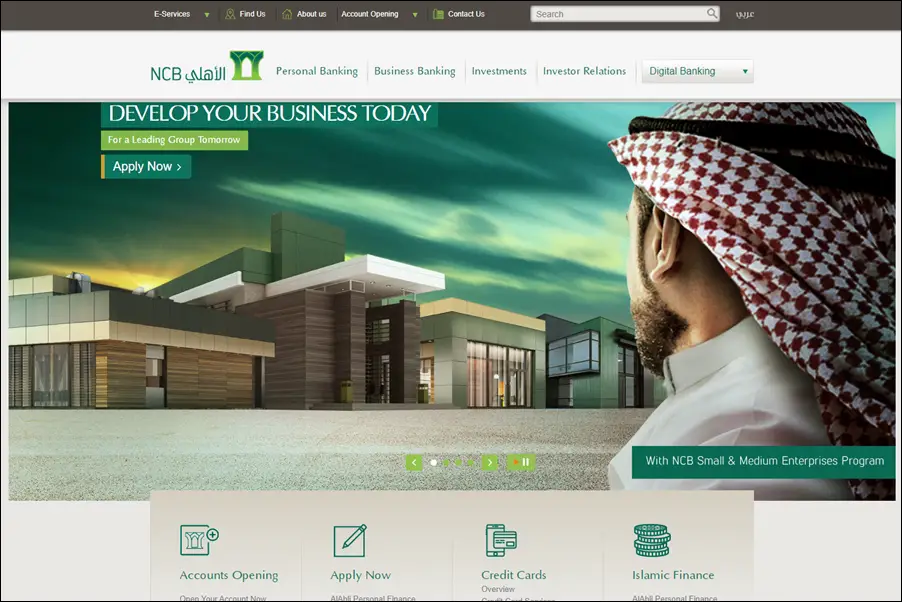 National Commercial Bank Branches And ATM Machines In Riyadh, Saudi Arabia
Below is the list of National Commercial Bank found in Riyadh, Saudi Arabia, including their address location. So it will be easier for you to check if the branch is in your area, please do a "CTRL+F" search on your keyboard and type the bank name or location.
Al Hamra – RIYADH
Location: King Abdullah Branch Rd, Al Hamra,
Riyadh 13214, Saudi Arabia
Sunday – Thursday: 9:30 AM – 4:30 PM
Ghernata Dist. – RIYADH
Location: Ash Shuhada, Ghirnatah,
Riyadh 13241, Saudi Arabia
Sunday – Thursday: 9:30 AM – 4:30 PM
Qurtoba Dist. – RIYADH
Location: Dammam Branch Rd, Qurtubah,
Riyadh 13244, Saudi Arabia
Sunday – Thursday: 9:30 AM – 4:30 PM
Al Wadi Dist. – RIYADH
Location: Northern Ring Branch Rd, Al Wadi,
Riyadh 13313, Saudi Arabia
Sunday – Thursday: 9:30 AM – 4:30 PM
Hasan Ibn Al Hussain – RIYADH
Location: King Faisal Dt.,
Riyadh 13215, Saudi Arabia
Sunday – Thursday: 9:30 AM – 4:30 PM
Al Nuzha Dist. – RIYADH
Location: King Abdullah Rd, An Nuzhah,
Riyadh 12471, Saudi Arabia
Sunday – Thursday: 9:30 AM – 4:30 PM
Al Rawdah – RIYADH
Location: 2928-2908 Al Qadi Al Ashbili, Ar Rawdah,
Riyadh 13211, Saudi Arabia
Sunday – Thursday: 9:30 AM – 4:30 PM
Al Maseef – RIYADH
Location: Al Imam Saud Ibn Abdul Aziz Branch Rd, Almasiaf,
Riyadh 12465, Saudi Arabia
Sunday – Thursday: 9:30 AM – 4:30 PM
Khalid Ibn Al Waleed – RIYADH
Location: Khalid Ibn Al Walid St, Ar Rawdah,
Riyadh 13211, Saudi Arabia
Sunday – Thursday: 9:30 AM – 4:30 PM
Al Yarmouk Dist. – RIYADH
Location: 6523 النسار، اليرموك الرياض 13251 3888،
Riyadh 13251 3888, Saudi Arabia
Sunday – Thursday: 9:30 AM – 4:30 PM
Al Munsiyah
Location: Al Munsiyah,
Riyadh 13253, Saudi Arabia
Sunday – Thursday: 9:30 AM – 4:30 PM
Al Mursalat – RIYADH
Location: King Abdul Aziz Branch Rd, Al Muruj,
Riyadh 12467, Saudi Arabia
Sunday – Thursday: 9:30 AM – 4:30 PM
King Abdulaziz Road – RIYADH
Location: Salahuddin,
Riyadh 12434, Saudi Arabia
Not specified
Khurais Mall SSS – RIYADH
Location: 4260 Kharis Branch Rd,
Riyadh 13212 6823, Saudi Arabia
Sunday – Thursday: 1:00 PM – 9:00 PM
Sunday: 5:00 PM – 9:00 PM
Saturday: 1:00 PM – 9:00 PM
Al Worood – RIYADH
Location: 3020 Ihjar Ath Thamam, Al Wurud,
Riyadh 12253 8034, Saudi Arabia
Sunday – Thursday: 9:30 AM – 4:30 PM
Al Morouj Dist. – RIYADH
Location: Al Ibadilah, Al Muruj,
Riyadh 12281, Saudi Arabia
Sunday – Thursday: 9:30 AM – 4:30 PM
Al Rabee'a Dist. – RIYADH
Location: شارع الملك عبد العزيز، حي الربيع، Ar Rabi,
Riyadh 13315, Saudi Arabia
Sunday – Thursday: 9:30 AM – 4:30 PM
Al Rayan Branch
Location: Ar Rayyan,
Riyadh 14211, Saudi Arabia
Sunday – Thursday: 9:30 AM – 4:30 PM
Al Rayyan – RIYADH
Location: Prince Majed Bin Abdulaziz Rd,
Ar Rayyan, Riyadh 14211, Saudi Arabia
Sunday – Thursday: 9:30 AM – 4:30 PM
West Al Nasseem – RIYADH
Location: An Nasim Al Gharbi,
Riyadh 14223, Saudi Arabia
Sunday – Thursday: 9:30 AM – 4:30 PM
King Fahd Dist. – RIYADH
Location: Prince Nayef Rd, King Fahd,
Riyadh 12273, Saudi Arabia
Not Specified
Al Naseem – RIYADH
Location: Saad Ibn Abi Waqas, An Nasim Al Gharbi,
Riyadh 14231, Saudi Arabia
Sunday – Thursday: 9:30 AM – 4:30 PM
Al Rahmaniya – RIYADH
Location: Al Wurud,
Riyadh 12215, Saudi Arabia
Sunday – Thursday: 9:30 AM – 4:30 PM
Al Mahmadiya Branch
Location: طريق الملك فهد الفرعي، Al Mohammadiyyah,
Riyadh Saudi Arabia
Sunday – Thursday: 9:30 AM – 4:30 PM
Al Ahsa St. – RIYADH
Location: 7593 Al Ihsa, 2948,
Riyadh 12813 2948, Saudi Arabia
Sunday – Thursday: 9:30 AM – 4:30 PM
Ladies Main – RIYADH
Location: طريق الملك فهد الفرعي، Al Mohammadiyyah,
Riyadh Saudi Arabia
Sunday – Thursday: 9:30 AM – 4:30 PM
Al Mohammadeya – RIYADH
Location: 4545 As Subah, Al Mohammadiyyah,
Riyadh Saudi Arabia
Sunday – Thursday: 9:30 AM – 4:30 PM
Air Force Headquarters – RIYADH
Location: As Sulimaniyah,
Riyadh 12233, Saudi Arabia
Sunday – Thursday: 8:00 AM – 3:00 PM
Al Sulaimaneya – RIYADH
Location: شارع الفتح، As Sulimaniyah,
Riyadh 12241, Saudi Arabia
Sunday – Thursday: 9:30 AM – 4:30 PM
King Fahad Road
Location: Ar Rahmaniyyah, 7516 طريق الملك فهد الفرعي، 4157،
Riyadh 12341 4157, Saudi Arabia
Sunday – Thursday: 9:30 AM – 4:30 PM
Military Hospital – RIYADH
Location: Prince Musaad Bin Abdulaziz St, As Sulimaniyah,
Riyadh 12233, Saudi Arabia
Sunday – Thursday: 9:30 AM – 4:30 PM
Al Sahafa Dist. – RIYADH
Location: 4506 Al Imam Saud Ibn Faysal Rd, As Sahafah,
Riyadh 13315, Saudi Arabia
Sunday – Thursday: 9:30 AM – 4:30 PM
Al Orouba – RIYADH
Location: Al Urubah Branch Rd, Al Olaya,
Riyadh 12333, Saudi Arabia
Sunday – Thursday: 9:30 AM – 4:30 PM
Al Olaya – RIYADH
Location: 7189 Ar Ruwaiti, As Sulimaniyah,
Riyadh 12221, Saudi Arabia
Sunday – Thursday: 9:30 AM – 4:30 PM
Old Airport Road – RIYADH
Location: Umm Ruman, Ad Dhubbat,
Riyadh Saudi Arabia
Sunday – Thursday: 9:30 AM – 4:30 PM
Al Aqeeq – RIYADH
Location: King Fahd Branch Rd, Al Aqiq,
Riyadh 13515, Saudi Arabia
Sunday – Thursday: 9:30 AM – 4:30 PM
Security Forces Hospital – RIYADH
Location: 4609 طريق صلاح الدين الأيوبي،، Ad Dhubbat, 7538،
Riyadh 12625 4609, Saudi Arabia
Sunday – Thursday: 9:30 AM – 4:30 PM
Al Rabwah – RIYADH
Location: Prince Matab Ibn Abdul Aziz, Ar Rabwah,
Riyadh 12839, Saudi Arabia
Sunday – Thursday: 9:30 AM – 4:30 PM
Al Malaz – RIYADH
Location: Talhat Ibn Malik, Al Malaz,
Riyadh 12831, Saudi Arabia
Sunday – Thursday: 9:30 AM – 4:30 PM
Al Malaz Branch
Salah Ad Din Al Ayyubi Rd, Al Malaz,
Riyadh 12831, Saudi Arabia
Sunday – Thursday: 9:30 AM – 4:30 PM
Al Salam Dist. – RIYADH
Location: As Salam,
Riyadh 14226, Saudi Arabia
Sunday – Thursday: 9:30 AM – 4:30 PM
Al Ma'athar St. – RIYADH
Location: 7308 Al Amir Abdul Aziz Ibn Musaid Ibn Jalawi Branch, As Sulimaniyah,
Riyadh 12621 2419, Saudi Arabia
Sunday – Thursday: 9:30 AM – 4:30 PM
Takhassusi – RIYADH
Location: Al Olaya,
Riyadh 12314, Saudi Arabia
Sunday – Thursday: 9:30 AM – 4:30 PM
Al Khaleej – RIYADH
Location: Al Olaya,
Riyadh 12314, Saudi Arabia
Sunday – Thursday: 9:30 AM – 4:30 PM
Om Al Hamam – RIYADH
Location: 8190-8080 Umm Al Hamam St, Umm Al Hamam Al Gharbi,
Riyadh 12327, Saudi Arabia
Sunday – Thursday: 9:30 AM – 4:30 PM
Air Force Base – RIYADH
Location: Al Malaz,
Riyadh 12629, Saudi Arabia
Sunday – Thursday: 8:00 AM – 3:00 PM
University St. – RIYADH
Location: Ibrahim Al-Maqdessi, Al Malaz,
Riyadh 12629, Saudi Arabia
Sunday – Thursday: 9:30 AM – 4:30 PM
Al Jamiah Branch
Location: Al Malaz,
Riyadh 12641, Saudi Arabia
Sunday – Thursday: 9:30 AM – 4:30 PM
Prince Abdul Mohsen St. – RIYADH
Location: Prince Abdul Muhsin Bin Abdulaziz Rd, Al Malaz,
Riyadh 12841, Saudi Arabia
Sunday – Thursday: 9:30 AM – 4:30 PM
Al Fayha'a – RIYADH
Location: Al Fayha,
Riyadh 14254, Saudi Arabia
Sunday – Thursday: 9:30 AM – 4:30 PM
Al-Nadwa
Location: النظيم،،
Riyadh 14813, Saudi Arabia
Sunday – Thursday: 9:30 AM – 4:30 PM
Al Nasseriyah – RIYADH
Location: An Namudhajiyah,
Riyadh 12734, Saudi Arabia
Sunday – Thursday: 9:30 AM – 4:30 PM
Industrial Estate – RIYADH
Location: Al Sina'iyah,
Riyadh 11561, Saudi Arabia
Sunday – Thursday: 9:30 AM – 4:30 PM
Omar Al Mokhtar St. – RIYADH
Location: 2373-2427 Omar Al Mukhtar, Thulaim,
Riyadh Saudi Arabia
Sunday – Thursday: 9:30 AM – 4:30 PM
Industrial City Center
Location: Al Madinah Al Munawwarah Rd, Al Sina'iyah,
Riyadh 12871, Saudi Arabia
Sunday – Thursday: 9:30 AM – 4:30 PM
Al-Sulay
Location: As Sulay,
Riyadh 14267, Saudi Arabia
Sunday – Thursday: 9:30 AM – 4:30 PM
Al Khazan St. – RIYADH
Location: Al Imam Faisal Ibn Turki Ibn Abdullah, Ad Dirah,
Riyadh 12745, Saudi Arabia
Sunday – Thursday: 9:30 AM – 4:30 PM
Al Shemaisy – RIYADH
Location: As Sulay,
Riyadh Saudi Arabia
Sunday – Thursday: 9:30 AM – 4:30 PM
AL BATHA MAIN – RIYADH
Location: Al Imam Turki Ibn Abdullah Ibn Muhammad, Ad Dirah,
Riyadh 12652, Saudi Arabia
Sunday – Thursday: 9:30 AM – 4:30 PM
Ergah – RIYADH
Location: Irqah,
Riyadh 12532, Saudi Arabia
Sunday – Thursday: 9:30 AM – 4:30 PM
Al Moaiqaliya – RIYADH
Location: 2498 Al Imam Turki Ibn Abdullah Ibn Muhammad, Ad Dirah,
Riyadh 12633 6951, Saudi Arabia
Sunday – Thursday: 9:30 AM – 4:30 PM
Al Deerah – RIYADH
Location: 6722-6694 Ash Shaikh Muhammad Ibn Ibrahim, Al Wusaita, Riyadh 12652, Saudi Arabia
Sunday – Thursday: 9:30 AM – 4:30 PM
Al Mansoura Dist. – RIYADH
Location: Southern Ring Rd, Al Mansourah,
Riyadh 12693, Saudi Arabia
Sunday – Thursday: 9:30 AM – 4:30 PM
Al Hijaz Road – RIYADH
Location: 2915 Umm Sidrah, Al Yamamah,
Riyadh Saudi Arabia
Sunday – Thursday: 9:30 AM – 4:30 PM
Airport Terminal – RIYADH
Location: Access Departure Level، King Khalid International Airport, Riyadh 13458, Saudi Arabia
Sunday – Monday: 24 hours
Al Aziziyah – RIYADH
Location: العزيزية،،
Riyadh Saudi Arabia
Sunday – Thursday: 9:30 AM – 4:30 PM
Al Aziziyah Dist,
Location: 3140 Mohammad Rashid Rida, Al Aziziyah,
Riyadh 14515 8385, Saudi Arabia
Sunday – Thursday: 9:30 AM – 4:30 PM
Al Hazam Dist,
Location: Alhazm,
Riyadh 14964, Saudi Arabia
Sunday – Thursday: 9:30 AM – 4:30 PM
Al Oraija – RIYADH
Location: 3652 Bilal Ibn Rabah, Aluraija Al Gharbiyah,
Riyadh 14921, Saudi Arabia
Sunday – Thursday: 9:30 AM – 4:30 PM
Al Salam Mall SSS – RIYADH
Location: Alawali,
Riyadh 14924, Saudi Arabia
Sunday – Thursday: 1:00 PM – 9:00 PM
Sunday: 5:00 PM – 9:00 PM
Saturday: 1:00 PM – 9:00 PM
Al Shefa – RIYADH
Location: Dirab Branch Rd, Ash Shifa,
Riyadh 14713, Saudi Arabia
Sunday – Thursday: 9:30 AM – 4:30 PM
Al Suwaidi – RIYADH
Location: As Suwaidi Al Am, Sultanah,
Riyadh 12777, Saudi Arabia
Sunday – Thursday: 9:30 AM – 4:30 PM
Aysha Bint Abi Bakr St. – RIYADH
Location: Aishah Bint Abi Bakr, Az Zahrah,
Riyadh 12985, Saudi Arabia
Sunday – Thursday: 9:30 AM – 4:30 PM
Badr Dist. – RIYADH
Location: 7229-7267 Ibn Taymeeyah Rd, Badr,
Riyadh 14713, Saudi Arabia
Sunday – Thursday: 9:30 AM – 4:30 PM
Dahrat Laban Dist
Location: 7229-7267 Ibn Taymeeyah Rd, Badr,
Riyadh 14713, Saudi Arabia
Sunday – Thursday: 9:30 AM – 4:30 PM
Dhahrat Al Badee'ah – RIYADH
Location: 7159-7141 Rabea Ibn Khowailed, Dhahrat Al Badi'ah,
Riyadh 12972, Saudi Arabia
Sunday – Thursday: 9:30 AM – 4:30 PM
King Abdulaziz Military City – RIYADH
Location: Al Deriaa 13958,
Saudi Arabia
Sunday – Thursday: 8:00 AM – 3:00 PM
Prince Naif – RIYADH
Location: Al Janadriyyah,
Riyadh Saudi Arabia
Sunday – Thursday: 8:00 AM – 3:00 PM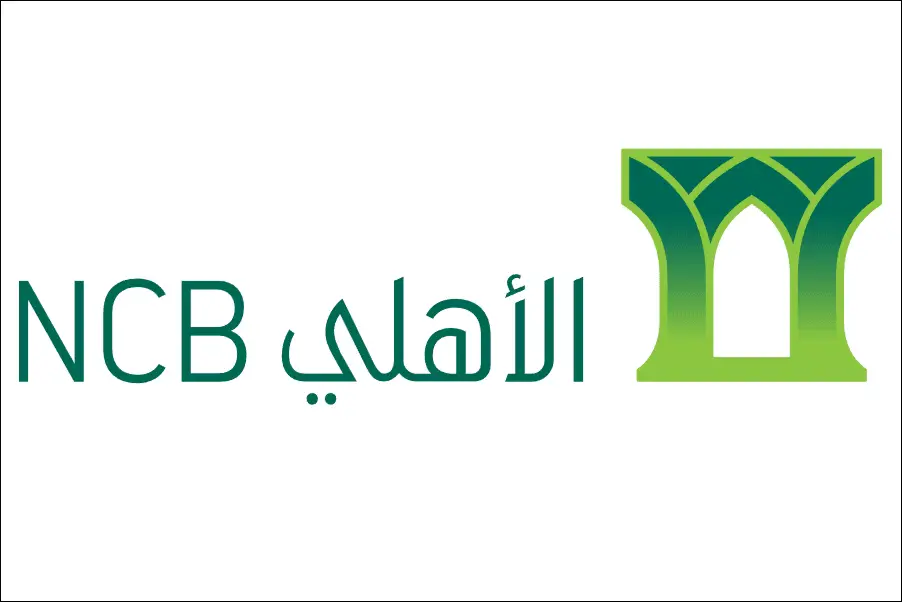 National Commercial Bank ATMs Locations in Riyadh, Saudi Arabia
Rawdah
8010 Khalid Ibn Al Walid St, Ghirnatah, Riyadh Saudi Arabia
Qurtoba Dist. – RIYADH
Dammam Branch Rd, Qurtubah, Riyadh 13244, Saudi Arabia
Al Wadi Dist. – RIYADH
Northern Ring Branch Rd, Al Wadi, Riyadh 13313, Saudi Arabia
Qortubah
Said Ibn Zayd Rd, Qurtubah, Riyadh 13247, Saudi Arabia
Khalid Ibn Al Waleed – RIYADH – Ladies
Khalid Ibn Al Walid St, Ar Rawdah, Riyadh 13211, Saudi Arabia
Al Yarmouk Dist. – RIYADH
6523 النسار، اليرموك الرياض 13251 3888، Riyadh 13251 3888, Saudi Arabia
Al Khalej St
3257 An Naaim, Al Khaleej, Riyadh 13224 6109, Saudi Arabia
Al Mwansiah
طريق الدمام الفرعي، حي المونسية، Al Munsiyah, Riyadh 13253, Saudi Arabia
King Fahd Dist. – RIYADH
Prince Nayef Rd, King Fahd, Riyadh 12273, Saudi Arabia
Muroj
Al Muruj, Riyadh 12281, Saudi Arabia
SulymaniaRIYADH
3398 شارع الامير ممدوح بن عبدالعزيز، السليمانية، الرياض 12245، Saudi Arabia
Al Naseem
An Nasim Al Gharbi, Riyadh 14231, Saudi Arabia
King Fahad Road
Ar Rahmaniyyah, 7516 طريق الملك فهد الفرعي، 4157، Riyadh 12341 4157, Saudi Arabia
Military Hospital – RIYADH
Prince Musaad Bin Abdulaziz St, As Sulimaniyah, Riyadh 12233, Saudi Arabia
Al Askri
Prince Musaad Bin Abdulaziz St, As Sulimaniyah, Riyadh 12232, Saudi Arabia
Yasmeen 2
Anas Ibn Malik Rd, Alyasmin, Riyadh 13326, Saudi Arabia
Al Rawabi
7385-7413 Al Imam Ash Shafii, As Salam, Riyadh Saudi Arabia
Al Olaya – RIYADH
7189 Ar Ruwaiti, As Sulimaniyah, Riyadh 12221, Saudi Arabia
Al Malaz
Umar Ibn Abdul Aziz Rd, Az Zahra, Riyadh Saudi Arabia
Al Aqeeq – RIYADH – Ladies
King Fahd Branch Rd, Al Aqiq, Riyadh 13515, Saudi Arabia
Al Aqeeq – RIYADH
King Fahd Branch Rd, Al Aqiq, Riyadh 13515, Saudi Arabia
RIYADH
No. 14, As Sulimaniyah, Riyadh 12211, Saudi Arabia
Al Salam Dist. – RIYADH – Ladies
As Salam, Riyadh 14226, Saudi Arabia
Al Ma'athar St. – RIYADH
7308 Al Amir Abdul Aziz Ibn Musaid Ibn Jalawi Branch, As Sulimaniyah, Riyadh 12621 2419, Saudi Arabia
Wazzrat
6899-6959 Ash shaikh Abdul Rahman Ibn Hasan, Al Wizarat, Riyadh 12626, Saudi Arabia
Al Aqeeq
3291 Imam Saud Bin Faisal Rd, Al Aqiq, Riyadh 13515 8371, Saudi Arabia
Takhassusi – RIYADH – Ladies
Al Olaya, Riyadh 12314, Saudi Arabia
University St. – RIYADH
Ibrahim Al-Maqdessi, Al Malaz, Riyadh 12629, Saudi Arabia
Om Alhamam
Umm Al Hamam Al Sharqi, Riyadh 12325, Saudi Arabia
Al Jamiah Branch
Al Malaz, Riyadh 12641, Saudi Arabia
Naseem Industrial
Prince Saad Ibn Abdulrahman Al Awal Rd, As Saadah, Riyadh 14257, Saudi Arabia
Al Fayhah
2193 Abu Ubaydah Amir Ibn al Jarrah, As Sulay, Riyadh 14263 7827, Saudi Arabia
Al Nasseriyah – RIYADH
An Namudhajiyah, Riyadh 12734, Saudi Arabia
Al Batha 2
Khalaf Ibn Saad، Al Amal, Riyadh 12643, Saudi Arabia
Al Natheem
النظيم،، Riyadh 14814, Saudi Arabia
Batha
شارع الإمام فيصل بن تركي بن عبدالله، Ad Dirah, Riyadh 12634, Saudi Arabia
Al Margab
Ad Dirah, Riyadh 12633, Saudi Arabia
Intustrial Area 1
2898-2844 Al Anuz, Al Sina'iyah, Riyadh 12873, Saudi Arabia
Al Shomaisy
7825-7855 Al Ghamas, Umm Salim, Riyadh 12745, Saudi Arabia
Al Dereiah
6848 Al Harith Ibn Umair, Al Khalidiyah, Ad Diriyah 13713, Saudi Arabia
Ateeqah
6203 Prince Abdullah Ibn Abdulrahman Ibn Faisal, Manfouhah Al Jadidah, Riyadh 12655 2546, Saudi Arabia
Al Yasmeen 1
شارع القوات الخاصة، Al Aarid, Riyadh 13344, Saudi Arabia
Al Mansoura Dist. – RIYADH
Southern Ring Rd, Al Mansourah, Riyadh 12693, Saudi Arabia
Airport Terminal – RIYADH
Access Departure Level، King Khalid International Airport, Riyadh 13458, Saudi Arabia
Al Aziziah
Al Haeer Rd, Almasani', Riyadh 14714, Saudi Arabia
Al Badeaa
Tuwaiq, Riyadh 14914, Saudi Arabia
Al Oraija – RIYADH
3652 Bilal Ibn Rabah, Aluraija Al Gharbiyah, Riyadh 14921, Saudi Arabia
Al Shifa
Ibn Taymeeyah Rd, Badr, Riyadh 14724, Saudi Arabia
Al-Eraija
Bilal Ibn Rabah, Tuwaiq, Riyadh 14923, Saudi Arabia
Aysha Bint Abi Bakr St. – RIYADH
Aishah Bint Abi Bakr, Az Zahrah, Riyadh 12985, Saudi Arabia
Badr Dist. – RIYADH
7229-7267 Ibn Taymeeyah Rd, Badr, Riyadh 14713, Saudi Arabia
Dahrat Laban
3279 Asir St, Dhahrat Laban, Riyadh 13782 7848, Saudi Arabia
Dahrat Laban Dist,
8525 Balhamar, Dhahrat Laban, Riyadh 13784 3512, Saudi Arabia
Intustrial Area 2
8044, New Industrial Area, Riyadh 14331 2533, Saudi Arabia