The National Commercial Bank or NCB is one of the top banks in the Saudi Arabian bank and one of the leading financial institutions in the region. This bank was formed from a merger of Saudi Arabia's biggest currency exchange houses. A mutual fund product was launched by NCB in the year 1979.
Also Read: List of National Commercial Bank Branches and ATMs in Riyadh
This bank received many awards and recognitions throughout its many years of service. These are achieved with the bank's efforts by providing professional services to their clients or customers. They offer many financial products and services that meet the goals of their clients.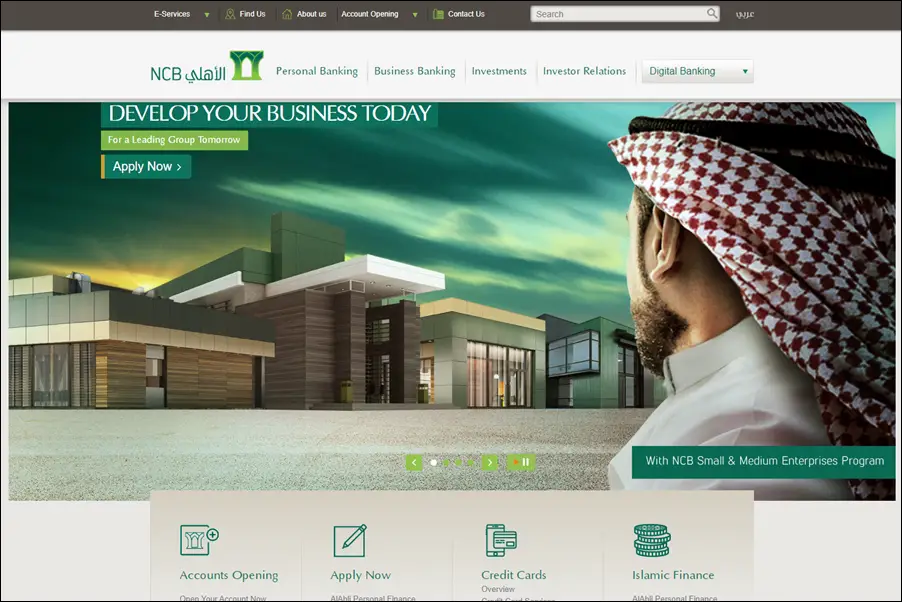 National Commercial Bank Branches And ATM Machines In Jeddah, Saudi Arabia
Below is the list of National Commercial Bank found in Jeddah, Saudi Arabia, including their address location. So it will be easier for you to check if the branch is in your area, please do a "CTRL+F" search on your keyboard and type the bank name or location.
Air Base – JEDDAH
Location: King Abdulaziz International Airport,
Jeddah 23631, Saudi Arabia
Sunday – Thursday: 8:30 AM to 3:30 PM
Air Defence Military School – JEDDAH
Location: 83CF+HC As Sahil,
Jeddah, Saudi Arabia, Red Sea
Sunday – Thursday: 8:30 AM to 3:30 PM
Airport Terminal – JEDDAH
Location: King Abdulaziz International Airport,
Jeddah 23631, Saudi Arabia
Sunday – Monday: 24 Hours
Al Balad – JEDDAH
Location: King Abdul Aziz, Al-Balad,
Jeddah 22233, Saudi Arabia
Sunday – Thursday: 8:30 AM to 3:30 PM
Al Darajah Branch
Location: Al Faisaliyyah,
Jeddah 23442, Saudi Arabia
Sunday – Thursday: 9:30 AM to 4:30 PM
Al Darraja Square – JEDDAH
Location: Al Faisaliyyah,
Jeddah 23442, Saudi Arabia
Sunday – Thursday: 9:30 AM to 4:30 PM
Al Hendawia – JEDDAH
Location: King Khalid Road, Al-Qurayat,
Jeddah 22324, Saudi Arabia
Sunday – Thursday: 9:30 AM to 4:30 PM
Al Iskan – JEDDAH
Location: Al Sharafeyah,
Jeddah 23217, Saudi Arabia
Sunday – Thursday: 9:30 AM to 4:30 PM
Al Iskan – JEDDAH
Location: Al Amir Fawwaz Al Junoobi,
Jeddah 22441, Saudi Arabia
Sunday – Thursday: 9:30 AM to 4:30 PM
Al Iskan – JEDDAH
Location: Al Amir Fawwaz Al Junoobi,
Jeddah 22441, Saudi Arabia
Sunday – Thursday: 9:30 AM to 4:30 PM
Al Iskan – JEDDAH – Ladies
Location: Al Amir Fawwaz Al Junoobi,
Jeddah 22441, Saudi Arabia
Sunday – Thursday: 9:30 AM to 4:30 PM
Al Kandara – JEDDAH
Location: As Sahil,
Jeddah Saudi Arabia
Sunday – Thursday: 9:30 AM to 4:30 PM
Al Khalideya – JEDDAH
Location: Prince Saud Al Faisal, Al Khalidiyyah,
Jeddah 23422, Saudi Arabia
Sunday – Thursday: 9:30 AM to 4:30 PM
Al Khalideya – JEDDAH
Location: Prince Saud Al Faisal, Al Khalidiyyah,
Jeddah 23422, Saudi Arabia
Sunday – Thursday: 9:30 AM to 4:30 PM
Al Khalideya – JEDDAH – Ladies
Location: Prince Saud Al Faisal, Al Khalidiyyah,
Jeddah 23422, Saudi Arabia
Sunday – Thursday: 9:30 AM to 4:30 PM
Al Mahjar Road – JEDDAH
Location: 8051-8075 Umar Nadhir, Ghulail,
Jeddah 22413, Saudi Arabia
Sunday – Thursday: 9:30 AM to 4:30 PM
Al Makarona – JEDDAH
Location: Mishrifah,
Jeddah 23335, Saudi Arabia
Sunday – Thursday: 9:30 AM to 4:30 PM
Al Makarona – JEDDAH
Location: Mishrifah,
Jeddah 23335, Saudi Arabia
Sunday – Thursday: 9:30 AM to 4:30 PM
Al Makarona – JEDDAH
Location: Mishrifah,
Jeddah 23335, Saudi Arabia
Sunday – Thursday: 9:30 AM to 4:30 PM
Al Manar
Location: Al Ajwad,
Jeddah 23466, Saudi Arabia
Sunday – Thursday: 9:30 AM to 4:30 PM
Al Musaedia – JEDDAH
Location: SHAIRCO Building., Al Andalus,
Jeddah 23325, Saudi Arabia
Sunday – Thursday: 9:30 AM to 4:30 PM
Al Naeem
Location: Hira St, As Salamah,
Jeddah 23525, Saudi Arabia
Sunday – Thursday: 9:30 AM to 4:30 PM
Al Naeem – JEDDAH
Location: Hira St, As Salamah,
Jeddah 23525, Saudi Arabia
Sunday – Thursday: 9:30 AM to 4:30 PM
Al Naeem – JEDDAH
Location: Hira St, As Salamah,
Jeddah 23525, Saudi Arabia
Sunday – Thursday: 9:30 AM to 4:30 PM
Al Naeem – JEDDAH – Ladies
Location: Hira St, As Salamah,
Jeddah 23525, Saudi Arabia
Sunday – Thursday: 9:30 AM to 4:30 PM
Al Nuzha – JEDDAH
Location: An Nuzhah,
Jeddah 23534, Saudi Arabia
Sunday – Thursday: 9:30 AM to 4:30 PM
Al Rawdah – JEDDAH
Location: Sari, As Salamah,
Jeddah 23436, Saudi Arabia
Sunday – Thursday: 9:30 AM to 4:30 PM
Al Sabeel Dist. – JEDDAH
Location: Al-Balad,
Jeddah 22233, Saudi Arabia
Sunday – Thursday: 9:30 AM to 4:30 PM
Al Samer – JEDDAH
Location: Al Samer,
Jeddah 23462, Saudi Arabia
Sunday – Thursday: 9:30 AM to 4:30 PM
Al Tahliah – JEDDAH
Location: 2513 شارع الأمير محمد بن عبدالعزيز،، Al Andalus,
Jeddah 23326, Saudi Arabia
Sunday – Thursday: 9:30 AM to 4:30 PM
Al-Ajaweed
Location: Unnamed Road،
Jeddah Saudi Arabia
Sunday – Thursday: 9:30 AM to 4:30 PM
Al-Basateen – JEDDAH
Location: 6974-6948 Ismail Ibn Kathir, Al Basateen,
Jeddah 23719, Saudi Arabia
Sunday – Thursday: 9:30 AM to 4:30 PM
Al-Marwa
Location: المروة،،
Jeddah 23544, Saudi Arabia
Sunday – Thursday: 9:30 AM to 4:30 PM
Al-Sanabel
Location: 2891, Al Sanabel,
Jeddah 22434 7998, Saudi Arabia
Sunday – Thursday: 9:30 AM to 4:30 PM
Al-Shatea Dist. – JEDDAH
Location: 7224 King Abdul Aziz Rd, Al Murjan District, حي المرجان, Jeddah 23713, Saudi Arabia
Sunday – Thursday: 9:30 AM to 4:30 PM
Al-Waha Dist
Location: Osama bin Zaid Al Laithi, Al Waha,
Jeddah 23353, Saudi Arabia
Sunday – Thursday: 9:30 AM to 4:30 PM
Al-Zahra Dist.
Location: Al Zahra,
Jeddah 23521, Saudi Arabia
Sunday – Thursday: 9:30 AM to 4:30 PM
Bab Makkah – JEDDAH
Location: Ahl Al-Suhaifah, Al-Suhaifah,
Jeddah 22237, Saudi Arabia
Sunday – Thursday: 9:30 AM to 4:30 PM
Bahrah
Location: Bahrah,
Jeddah 22843, Saudi Arabia
Sunday – Thursday: 9:30 AM to 4:30 PM
Bani Malik – JEDDAH
Location: Bani Malik,
Jeddah 23232, Saudi Arabia
Sunday – Thursday: 9:30 AM to 4:30 PM
Bin Ladin St. – JEDDAH
Location: Bin Ladin, Al Rawabi,
Jeddah 22345, Saudi Arabia
Sunday – Thursday: 9:30 AM to 4:30 PM
Hail St. – JEDDAH
Location: Al-Baghdadiyah Al-Gharbiyah,
Jeddah 22231, Saudi Arabia
Sunday – Thursday: 9:30 AM to 4:30 PM
Industrial Estate – JEDDAH
Location: Al Mahjar,
Jeddah 22424, Saudi Arabia
Sunday – Thursday: 9:30 AM to 4:30 PM
JEDDAH MAIN
Location: Al-Balad,
Jeddah Saudi Arabia
Sunday – Thursday: 9:30 AM to 4:30 PM
Jeddah Seaport
Location: Jeddah Islamic Seaport,
Jeddah 22311, Saudi Arabia
Sunday – Thursday: 9:30 AM to 4:30 PM
Khaldiyah Branch
Location: Prince Saud Al Faisal, Al Khalidiyyah,
Jeddah 23421, Saudi Arabia
Sunday – Thursday: 9:30 AM to 4:30 PM
Khalid Ibn Al Waleed – JEDDAH
Location: 7284-7232 خالد ابن الوليد، Al Sharafeyah,
Jeddah Saudi Arabia
Sunday – Thursday: 9:30 AM to 4:30 PM
King Abdulaziz Road – JEDDAH
Location: Ash Shati,
Jeddah 23513, Saudi Arabia
Sunday – Thursday: 9:30 AM to 4:30 PM
King Khalid St. – JEDDAH
Location: King Khalid Road, Al Kandarah,
Jeddah 22242, Saudi Arabia
Sunday – Thursday: 9:30 AM to 4:30 PM
Main Branch
Location: Al-Balad,
Jeddah Saudi Arabia
Sunday – Thursday: 9:30 AM to 4:30 PM
Makkah Road
Location: Al Thaghr,
Jeddah 22331, Saudi Arabia
Sunday – Thursday: 9:30 AM to 4:30 PM
Makkah Road Kilo 10 – JEDDAH
Location: 3100 Old Makkah Rd, AR Rawabi District, حي الروابي،،
Jeddah 22348 7838, Saudi Arabia
Sunday – Thursday: 9:30 AM to 4:30 PM
Mall of Arabia SSS – JEDDAH
Location: An Nuzhah,
Jeddah 23532, Saudi Arabia
Sunday – Thursday: 1:00 PM to 9:00 PM
Friday: 5:00 PM to 9:00 PM
Saturday : 1:00 PM to 9:00 PM
Mokhatat 5 – JEDDAH
Location: Aziziyah,
Jeddah 23342, Saudi Arabia
Sunday – Thursday: 9:30 AM to 4:30 PM
Naif RD
Location: Al Amwaj,
Jeddah Saudi Arabia
Sunday – Thursday: 9:30 AM to 4:30 PM
North of Medina Road – JEDDAH
Location: As Salamah,
Jeddah 23437, Saudi Arabia
Sunday – Thursday: 9:30 AM to 4:30 PM
Onaikish Siteen St. – JEDDAH
Location: Ninui, Aziziyah,
Jeddah 23337, Saudi Arabia
Sunday – Thursday: 9:30 AM to 4:30 PM
Palestine Square – JEDDAH
Location: Al-Hamra'a,
Jeddah 23324, Saudi Arabia
Sunday – Thursday: 9:30 AM to 4:30 PM
Prince Naif Street
Location: Al Amwaj,
Jeddah Saudi Arabia
Sunday – Thursday: 9:30 AM to 4:30 PM
Prince Saud Al-Faisal St.
Location: Prince Saud Al Faisal, Ar Rawdah,
Jeddah 23434, Saudi Arabia
Sunday – Thursday: 9:30 AM to 4:30 PM
Prince Sultan St. – JEDDAH
Location: Al Naeem,
Jeddah 23621, Saudi Arabia
Sunday – Thursday: 9:30 AM to 4:30 PM
Red Sea Mall SSS – JEDDAH
Location: Ash Shati,
Jeddah 23612, Saudi Arabia
Sunday – Thursday: 1:00 PM to 9:00 PM
Friday: 5:00 PM to 9:00 PM
Saturday : 1:00 PM to 9:00 PM
Sharafia – Jeddah
Location: Al Sharafeyah,
Jeddah 22234, Saudi Arabia
Um Al Qura St. (Al Halaqa) – JEDDAH
Location: Umm Al Qura, As Safa District،
Jeddah 23455, Saudi Arabia
Sunday – Thursday: 9:30 AM to 4:30 PM
University Road – JEDDAH
Location: 8412 عنوان الامه، جدة 22341 3814 عنوان الامه، Al Thaghr,
Jeddah 22341 3814, Saudi Arabia
Sunday – Thursday: 9:30 AM to 4:30 PM
Writing Center
Location: Prince Mutaib bin Abdulaziz Rd, Al Safa District،
Jeddah 23452, Saudi Arabia
Sunday – Thursday: 9:30 AM to 4:30 PM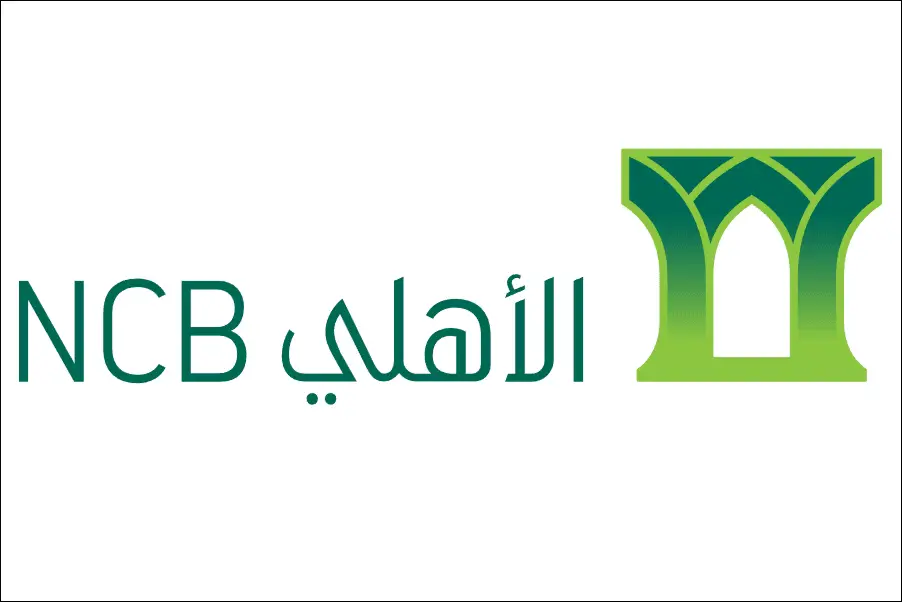 National Commercial Bank ATMs Locations in Jeddah, Saudi Arabia
Al Iskan – JEDDAH
Al Amir Fawwaz Al Junoobi, Jeddah 22441, Saudi Arabia
Al Iskan – JEDDAH – Ladies
Al Amir Fawwaz Al Junoobi, Jeddah 22441, Saudi Arabia
Al Khalideya – JEDDAH
Prince Saud Al Faisal, Al Khalidiyyah, Jeddah 23422, Saudi Arabia
Al Khalideya – JEDDAH – Ladies
Prince Saud Al Faisal, Al Khalidiyyah, Jeddah 23422, Saudi Arabia
Al Musaedia – JEDDAH
SHAIRCO Building., Al Andalus, Jeddah 23325, Saudi Arabia
Al Naeem
Hira St, As Salamah, Jeddah 23525, Saudi Arabia
Al Naeem – JEDDAH
Hira St, As Salamah, Jeddah 23525, Saudi Arabia
Al Naeem – JEDDAH – Ladies
Hira St, As Salamah, Jeddah 23525, Saudi Arabia
Al Rawdah – JEDDAH
Sari, As Salamah, Jeddah 23436, Saudi Arabia
Al Rawdah – JEDDAH – Ladies
Sari, As Salamah, Jeddah 23436, Saudi Arabia
Al Safa – JEDDAH
Prince Saud Al Faisal, Al-Safa, Jeddah 23451, Saudi Arabia
Al Safa – JEDDAH – Ladies
Prince Saud Al Faisal, Al-Safa, Jeddah 23451, Saudi Arabia
Al Tahliah – JEDDAH
2513 شارع الأمير محمد بن عبدالعزيز،، Al Andalus, Jeddah 23326, Saudi Arabia
Al Tahliah – JEDDAH – Ladies
2513 شارع الأمير محمد بن عبدالعزيز،، Al Andalus, Jeddah 23326, Saudi Arabia
Al-Ajaweed
Unnamed Road، Jeddah Saudi Arabia
Al-Basateen – JEDDAH
6974-6948 Ismail Ibn Kathir, Al Basateen, Jeddah 23719, Saudi Arabia
Al-Basateen – JEDDAH – Ladies
6974-6948 Ismail Ibn Kathir, Al Basateen, Jeddah 23719, Saudi Arabia
Al-Marwa
المروة،، Jeddah 23544, Saudi Arabia
Al-Sanabel
2891, Al Sanabel, Jeddah 22434 7998, Saudi Arabia
ALSHERBATLY VILLAGE
Al Marwah, Jeddah 23541, Saudi Arabia
Al-Zahra Dist.
Al Zahra, Jeddah 23521, Saudi Arabia
Bin Ladin St. – JEDDAH
Bin Ladin, Al Rawabi, Jeddah 22345, Saudi Arabia
Hail St. – JEDDAH
Al-Baghdadiyah Al-Gharbiyah, Jeddah 22231, Saudi Arabia
Khaldiyah Branch
Prince Saud Al Faisal, Al Khalidiyyah, Jeddah 23421, Saudi Arabia
King Abdulaziz Airport (Executive Office)
King Abdulaziz International Airport, Jeddah 23631, Saudi Arabia
King Abdulaziz Airport (Executive Office)
King Abdulaziz International Airport, Jeddah 23631, Saudi Arabia
King Abdulaziz Road – JEDDAH
Ash Shati, Jeddah 23513, Saudi Arabia
King Abdulaziz Road – JEDDAH – Ladies
Ash Shati, Jeddah 23513, Saudi Arabia
Main Branch
Al-Balad, Jeddah Saudi Arabia
Makkah Road
Al Thaghr, Jeddah 22331, Saudi Arabia
Makkah Road Kilo 10 – JEDDAH
3100 Old Makkah Rd, AR Rawabi District, حي الروابي،، Jeddah 22348 7838, Saudi Arabia
North of Medina Road – JEDDAH
As Salamah, Jeddah 23437, Saudi Arabia
North of Medina Road – JEDDAH – Ladies
As Salamah, Jeddah 23437, Saudi Arabia
Prince Saud Al-Faisal St.
Prince Saud Al Faisal, Ar Rawdah, Jeddah 23434, Saudi Arabia
Prince Sultan St. – JEDDAH
Al Naeem, Jeddah 23621, Saudi Arabia
Quick Pay – Al Safa
Khaybir Saudi Arabia
Quick Pay – Al-Bawadi
Khaybir Saudi Arabia
Quick Pay – Bin Ladin
Khaybir Saudi Arabia
Quick Pay – Faisaliyah
Khaybir Saudi Arabia
Quick Pay – Hamadaneyah
Khaybir Saudi Arabia
Quick Pay – Hera Street 2
Khaybir Saudi Arabia
Quick Pay – Mahmal Building
Khaybir Saudi Arabia
Saudia Housing
Khadijah Bint Khuwailid Road, Tuwaiq, Riyadh 14923, Saudi Arabia