The ANB or Arab National Bank is a Saud Joint Stock Company. The bank's headquarters is located in the capital city of Riyadh. They have expanded their network here in Jeddah. This bank ranks along 10 other big banks in the Middle East.
Also Read: List of Arab National Bank Branches and ATMs in Riyadh
Arab National Bank seeks to be committed and transparent towards their client's financial needs. Their brand promise is "A Friend Indeed". They have a wide range of financial products and services. And make sure that their client's ambitions and goals are satisfied with Shari'a compliance.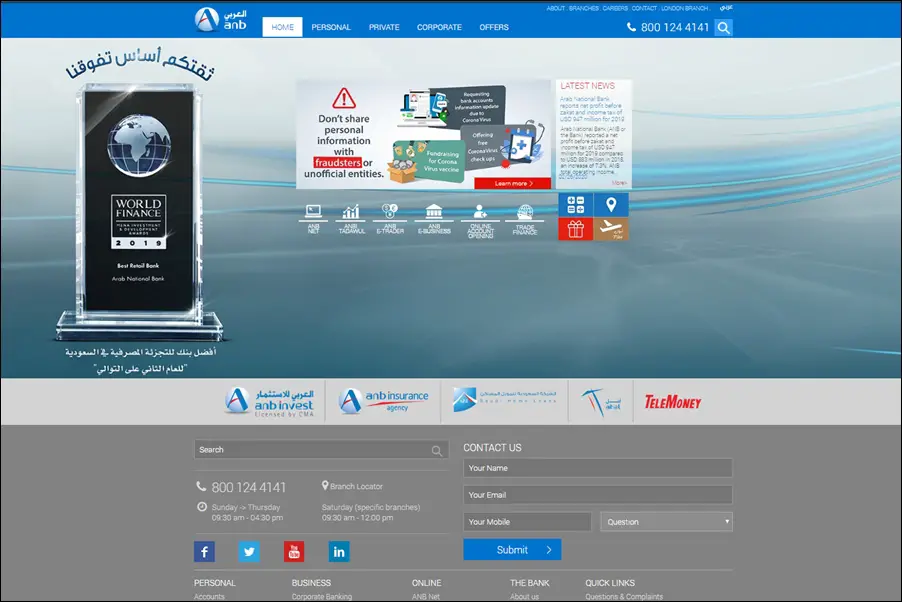 Arab National Bank Branches And ATM Machines In Jeddah, Saudi Arabia
Below is the list of Arab National Bank found in Jeddah, Saudi Arabia, including their address location. So it will be easier for you to check if the branch is in your area, please do a "CTRL+F" search on your keyboard and type the bank name or location.
King / Jeddah
Location: 7481 King Abdul Aziz Rd, AZ Zahra District 2382,
Jeddah 23522, Saudi Arabia
Phone: +966 800 124 4141
Sunday – Thursday: 9:30 AM – 4:30 PM
Salamah/ Jeddah
Location: 2421 Quraysh, As Salamah District,
Jeddah 23437 8115, Saudi Arabia
Phone: +966 800 124 4141
Sunday – Thursday: 9:30 AM – 4:30 PM
Rabuah (1)
Location: King Fahd Rd, Ar Rabwah,
Jeddah 23446, Saudi Arabia
Phone:
Sunday – Thursday: 9:30 AM – 4:30 PM
Sari / Jeddah
Location: Sari Road, Ar Rawdah,
Jeddah 23435, Saudi Arabia
Phone: +966 800 124 4040
Sunday – Thursday: 9:30 AM – 4:30 PM
Saturday: 9:30 AM – 12:00 PM
Al Rahab / Jeddah
Location: Ring Road Express Way, Al Samer,
Jeddah 23461, Saudi Arabia
Phone: +966 800 124 4040
Sunday – Thursday: 9:30 AM – 4:30 PM
Al-Safa / Jeddah
Location: Al-Safa, Prince Majid Rd, (car leasing section),
Jeddah 23451, Saudi Arabia
Phone: +966 12 679 8171
Sunday – Thursday: 9:30 AM – 4:30 PM
Rehab / Jeddah
Location: Prince Mohammed Bin Abdulaziz St, Al-Rehab,
Jeddah 23345, Saudi Arabia
Phone: +966 800 124 4040
Sunday – Thursday: 9:30 AM – 4:30 PM
Tahlia Street / Jeddah
Location: Mansur Ibn Yunus, Al Andalus,
Jeddah 23322, Saudi Arabia
Phone: +966 12 670 5754
Sunday – Thursday: 9:30 AM – 4:30 PM
Prince Majed Street / Jeddah
Location: Al Alam, Mishrifah,
Jeddah 23341, Saudi Arabia
Phone: +966 800 124 4040
Sunday – Thursday: 9:30 AM – 4:30 PM
Makarounah / Jeddah
Location: Aziziyah,
Jeddah 23337, Saudi Arabia
Phone: +966 800 124 4141
Sunday – Thursday: 9:30 AM – 4:30 PM
Andalusia / Jeddah
Location: Al Andalus Branch, Al-Ruwais,
Jeddah 23213, Saudi Arabia
Phone: +966 800 124 4040
Sunday – Thursday: 9:30 AM – 4:30 PM
Makkah Road / Jeddah
Location: 6748 Old Makkah Rd, Ath Thaghr District، 3616،
Jeddah 22331, Saudi Arabia
Phone: +966 800 124 4141
Sunday – Thursday: 9:30 AM – 4:30 PM
ALmahajar / Jeddah
Location: 4764 Al Mahjar, Ghulail District Jeddah 22413 7569 Al Mahjar, Ghulail, Jeddah 22413, Saudi Arabia
Phone: +966 800 124 4141
Sunday – Thursday: 9:30 AM – 4:30 PM
King Abdul Aziz City Medical / Jeddah
Location: King Abdul Aziz Medical City,
Jeddah 22384, Saudi Arabia
Phone:
Sunday – Thursday: 9:30 AM – 4:30 PM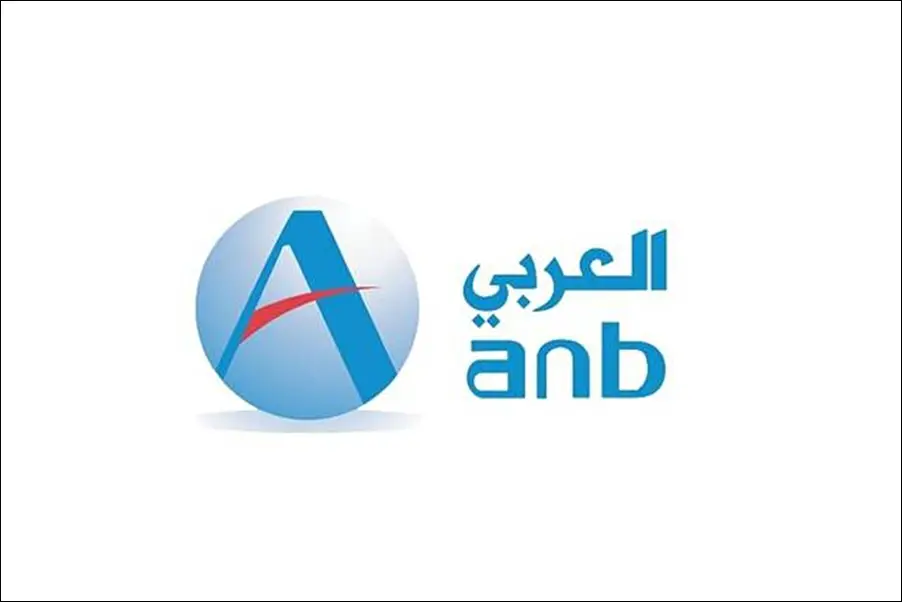 List of Arab National Bank ATMs Locations in Jeddah, Saudi Arabia
Location: King Branch
Location: King Drive Up ATM
Location: In Front Of Giant Store
Location: Hera Mall 2
Location: Hera Mall
Location: Hera Drive Up
Location: Hera Telemoney Center
Location: TELEMONEY -80TH ST
Location: Majd Gas Station Jeddah
Location: Baksh gas station Prnince
Location: Building Abdullah AlShehri / Umm al-Qura Street
Location: Building Awad Al-Zahrani
Location: Alajwad Area
Location: Khalid Alamri Building Harmala Bin Al Waleed Street
Location: Al Ajwaad Market (Al Sama)
Location: AL Samer TMC
Location: Building Abdullah AlShehri / Umm al-Qura Street
Location: Alrefedi AlSamer Area
Location: Al Bashaeir Gas Station
Location: Al Ghamadi Gas Station Al
Location: Al Rabea Branch
Location: Al Shakreen Street
Location: Safa Drive Up
Location: Saffa Telemoney Center
Location: Asalmaa Bulding Bin Hamza St AlSafa Area
Location: Safa Branch
Location: Al Ghamadi Gas Station Al
Location: Shaker Market Drive Up
Location: Al Rawdah Market
Location: Al Salamah Area
Location: Sari Branch
Location: Madina Road Branch Jeddah
Location: Al Rawdah Market
Location: Saffa Telemoney Center
Location: Asalmaa Bulding Bin Hamza St AlSafa Area
Location: Shaker Market Drive Up
Location: Al Serfai Sales Center
Location: Shaker Market Drive Up
Location: Hera Branch
Location: Al Serfai Sales Center
Location: Al Rahab Branch
Location: Al Serfai Sales Center
Location: ALTahleia
Location: Station Solomon Aloql
Location: Makarounah Branch
Location: Al Thahliah Branch
Location: Prince Majed Branch
Location: Al Jabbari Gas Station
Location: Zahrat Al Sitee Gas Stati
Location: Banimalek Telemoney Cente
Location: Western region building
Location: AL Hajj St. TMC
Location: Sharafiyah Telemoney Cent
Location: Alandalus Sales Center
Location: Institute College Jedda
Location: Bab Makkah Branch
Location: Al Balad Telemoney Center
Location: Alharammen st Qwezah area
Location: Alharammen st Qwezah area
Location: Al Saadi Market Drive Up
Location: Al Jam'a Plaza Drive Up
Location: Al Jam'a Plaza ( 2 )
Location: University Circle Area
Location: Makkah Road Branch Jeddah
Location: Univ. Area Branch II
Location: Hey Al Jamma`a Telemoney
Location: Univ. Area Branch I
Location: Najd Gas Station
Location: Building Ali Al-Ghamdi -Qelel
Location: Galeel Area
Location: Mahjer branch 2
Location: Al Rebea Gas Station ( Ki
Location: Al Taiseer Gas Station. K
Location: Aljuaid Car Exhebition
Location: Al Jamoum Main Road
Location: Al Sawreeq Market
Location: Al Amaran Market Sawareeq
Location: PRINCE FAWAZ AREA
Location: Building Hussein Al-Zahrani _ Ajaweed
Location: Jeddah Gate makkah – Jeddah Road
Location: KKNGH Jeddah III
Location: KKNGH Jeddah I
Location: KKNGH Jeddah IIII
Location: NGH National Guard Hospit
Location: Bamarof Gas Station
Location: Bahra Main Road