The Saudi British Bank (SABB) has been in operation in the Kingdom of Saudi Arabia for decades, which is one of the pillars of KSA's economic growth and social development. They offer many kinds of financial products and services and make sure that they meet their client's needs.
Also Read: List of SABB Branches and ATMs in Riyadh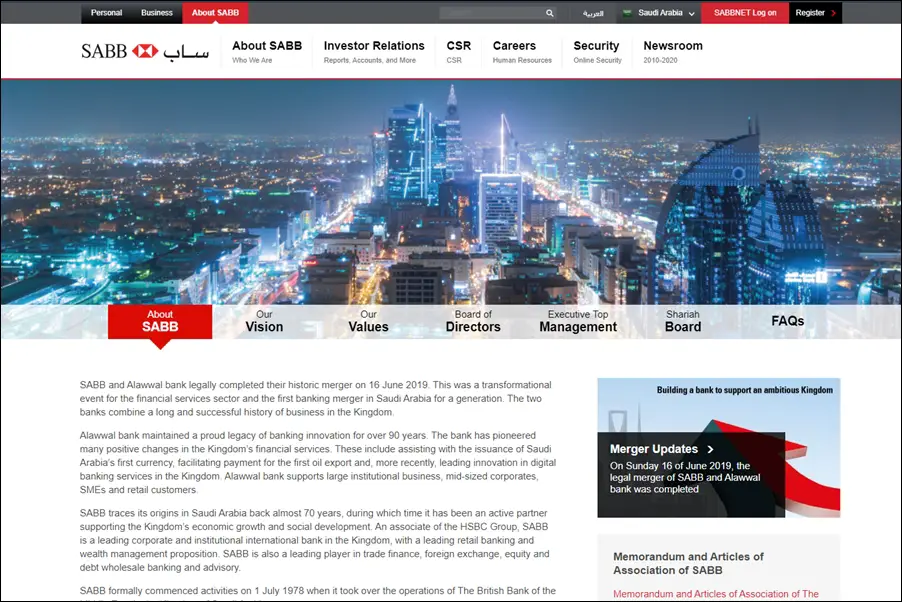 SABB Branches And ATM Machines In Jeddah, Saudi Arabia
Below is the list of SABB found in Jeddah, Saudi Arabia, including their address location. So it will be easier for you to check if the branch is in your area, please do a "CTRL+F" search on your keyboard and type the bank name or location.
Albalad Branch
Location: King Abdul Aziz, street, Albalad, Jeddah Saudi Arabia
Phone: +966 12 642 7008
Sunday – Thursday: 9:00 AM – 1:00 PM
Al Nuzlah ِAlsharqiah Branch
Location: Old Makkah Rd, Al Nuzlah ِAlsharqiah, Jeddah 22335, Saudi Arabia
Phone: +966 12 688 3741
Sunday – Thursday:
Al Fayah Branch
Location: Abdullah Al-Sulaiman Street, Al Sulaymaniyah, Jeddah 22246, Saudi Arabia
Phone: +966 12 260 8480
Sunday – Thursday: 9:30 AM – 4:30 PM
Al Hamra Branch
Location: Palestine Street, Al-Hamra'a, Jeddah 23212, Saudi Arabia
Phone: +966 12 668 2219
Sunday – Thursday: 9:30 AM – 4:30 PM
Al Rehab Branch
Location: Pr. Muteb Street, Al-Rehab, Jeddah 23344, Saudi Arabia
Phone: +966 12 672 9029
Sunday – Thursday:
Al Andlus Branch
Location: Tahlia St, Al Andlus Pr. Mohammed Bin Abdulaziz Street, Jeddah Saudi Arabia
Phone: +966 12 603 5999
Sunday – Thursday: 9:30 AM – 1:00 PM
Al Salamah Branch
Location: Sari street, As Salamah, Jeddah 23436, Saudi Arabia
Phone: +966 12 683 0555
Sunday – Thursday:
Samer Branch
Location: Alhasan Ataymi, Al Samer, Jeddah 23461, Saudi Arabia
Phone: +966 9200 07222
Sunday – Thursday: 9:30 AM – 4:30 PM
List of SABB ATMs Locations in Jeddah, Saudi Arabia
Thogbah Jeddah Street TTW Lobby
Jeddah Street
Toyota Jubail Lobby
Jeddah Street
Farm Rawdah Jeddah
Hamad ALJasser
IKEA Showroom Jeddah
Tahliyah St ( P.Mohammed )
Saudi Business Center Jeddah
Madina Road coming
SWCC Jeddah
SWCC Building
SWCC Yanbu
SWCC Jeddah Highway
Banaja
Jeddah
Almoassasah
Jeddah
King Fahd
Jeddah
King AbdulAziz
Jeddah
King A.Aziz Street
Jeddah
King Abdulaziz
Jeddah
King Abdulaziz
Jeddah