The BAJ or Bank Aljazira is one of the top banks in the Kingdom of Saudi Arabia. It delivers the financial needs of its clients and is also Shari'a compliant. This bank is a joint-stock company and is still growing.
Also Read: List of Bank Aljazirah Branches and ATMs in Riyadh
This bank offers many different financial products and services. They aim to be the customer's first choice when choosing to a bank. While delivering their products and services, they follow the Shari'a to make sure their customers are satisfied.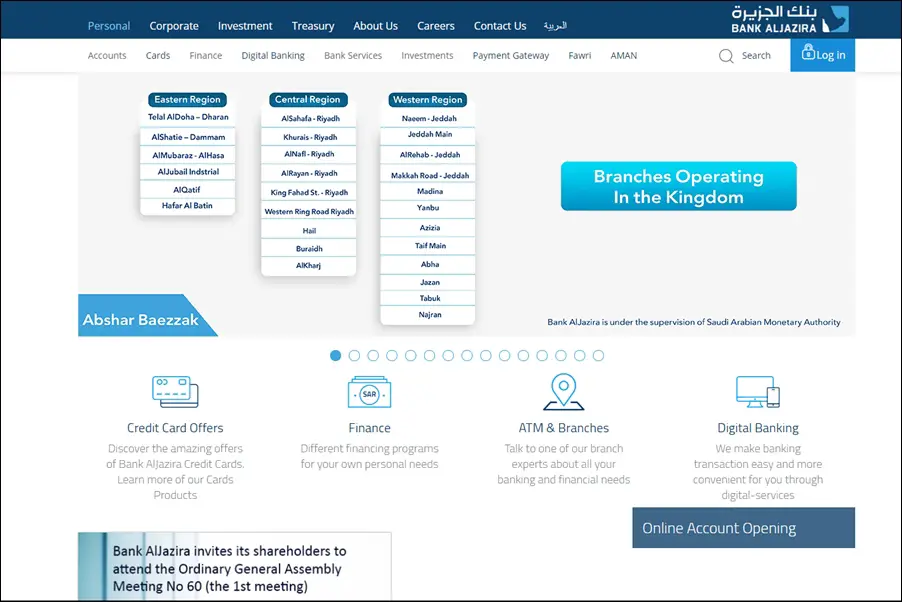 Bank Aljazirah Branches And ATM Machines In Jeddah, Saudi Arabia
Below is the list of Bank Aljazirah found in Jeddah, Saudi Arabia, including their address location. So it will be easier for you to check if the branch is in your area, please do a "CTRL+F" search on your keyboard and type the bank name or location.
Al Balad Branch
Location: Ad Diman, Al-Balad, Jeddah 22233, Saudi Arabia
Phone:+966 12 6485399; +966 12 6484599
Sunday – Thursday: 09:00 am – 5:00 pm
Al Basateen Branch
Location: Al Basateen, Jeddah 23717, Saudi Arabia
Phone: +966 12 6949224
Sunday – Thursday: 09:00 am – 5:00 pm
Directions
Al Neem Branch
Location: Aljazira Bank, Al Naeem, Jeddah 23526, Saudi Arabia
Phone: +966 12 6134333; +966 12 6130401
Sunday – Thursday: 09:00 am – 5:00 pm
Al Rabwah Branch
Location: فنون المدفون, المكرونة فرعي،، Ar Rabwah, Jeddah 23448, Saudi Arabia
Phone: +966 12 6827683
Sunday – Thursday: 09:00 am – 5:00 pm
Al Safa Branch
Location: 6584 Umm Al Qura, As Safa District, Jeddah 23453 4338, Saudi Arabia
Phone: +966 12 6737268
Sunday – Thursday: 09:00 am – 5:00 pm
Al Salamah Branch
Location: 7393 Abdul Rahman Ibn Ahmad As Sidayri, As Salamah District, Jeddah 23436 3547, Saudi Arabia
Phone: +966 12 6919719
Sunday – Thursday: 09:00 am – 5:00 pm
Al Samer Branch
Location: Bank AlJazira, 5, Al Samer, Jeddah 23462, Saudi Arabia
Phone: +966 12 2721870
Sunday – Thursday: 09:00 am – 5:00 pm
Khalid Bin Walid Br Jed
Location: 8369 Ali Ibn Abi Talib, Ash Sharafiyah District, Jeddah 22234 4855, Saudi Arabia
Phone: +966 12 6515350
Sunday – Thursday: 09:00 am – 5:00 pm
Makkah Road Branch
Location: Bank AlJazira 🏦, Bab King Abdul Aziz, Al-Nazlah Al-Sharqiyah, Jeddah 22335, Saudi Arabia
Phone: +966 12 6896600
Sunday – Thursday: 09:00 am – 5:00 pm
OBHUR ALJANOUBIYAH BRANCH
Location: Dunkin' Donuts – دانكن دونتس, Amru Ibn Murah, Abhur Al Junoobiyah, Jeddah 23734, Saudi Arabia
Phone: +966 12 6098752
Sunday – Thursday: 09:00 am – 5:00 pm
Sari St. Branch
Location: Al Khalidiyyah, Jeddah 23423, Saudi Arabia
Phone: +966 12 6901390
Sunday – Thursday: 09:00 am – 5:00 pm
Tahlia Branch
Location: Al Andalus, Jeddah 23322, Saudi Arabia
Phone: +966 12 2610730; +966 12 2610731
Sunday – Thursday: 09:00 am – 5:00 pm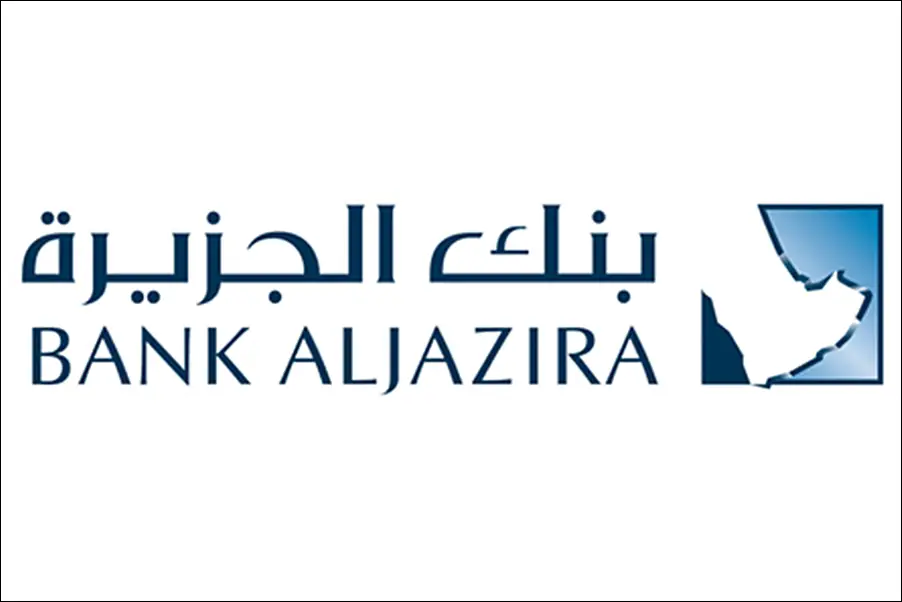 List of Bank Aljazira ATMs Locations in Jeddah, Saudi Arabia
Location: Ad Diman, Al-Balad, Jeddah 22233, Saudi Arabia
Location: 8369 Ali Ibn Abi Talib, Ash Sharafiyah District, Jeddah 22234 4855, Saudi Arabia
Location: Bank Al Jazira, the Head Office, King Abdulaziz Branch Rd, An Nahdah, شارع الملك, مدخل شارع حراء، Jeddah 23523, Saudi Arabia
Location: Al Basateen, Jeddah 23717, Saudi Arabia
Location: 7393 Abdul Rahman Ibn Ahmad As Sidayri, As Salamah District, Jeddah 23436 3547, Saudi Arabia
Location: Bank AlJazira 🏦, Bab King Abdul Aziz, Al-Nazlah Al-Sharqiyah, Jeddah 22335, Saudi Arabia
Location: 6584 Umm Al Qura, As Safa District, Jeddah 23453 4338, Saudi Arabia
Location: Dunkin' Donuts – دانكن دونتس, Amru Ibn Murah, Abhur Al Junoobiyah, Jeddah 23734, Saudi Arabia
Location: Al Makarunah, Mishrifah, Jeddah 23336, Saudi Arabia
Location: ٥٠١ جينس، الملك عبد العزيز، البلد، Al-Balad, Jeddah 22233, Saudi Arabia
Location: Al Andalus, Jeddah 23322, Saudi Arabia
Location: King Abdul Aziz Rd, An Nahdah, Jeddah 23614, Saudi Arabia
Location: Al-Safa, Jeddah 23451, Saudi Arabia
Location: AlJazira ATM, Umar Abu Zarah, An Nuzhah, Jeddah 23532, Saudi Arabia
Location: Al-Balad, Jeddah 22233, Saudi Arabia
Location: Taiba, Jeddah 23831, Saudi Arabia
Location: Zain, Jeddah Airport , South Terminal , Jeddah , Saudi Arabia, Jeddah Saudi Arabia
Location: King Abdulaziz International Airport, Jeddah 23631, Saudi Arabia
Location: Bank AlJazira, 5, Al Samer, Jeddah 23462, Saudi Arabia
Location: فنون المدفون, المكرونة فرعي،، Ar Rabwah, Jeddah 23448, Saudi Arabia
Location: Ar Rabwah, Jeddah 23533, Saudi Arabia
Location: King Abdulaziz International Airport, Jeddah Saudi Arabia
Location: King Abdulaziz International Airport, Jeddah 23721, Saudi Arabia
Location: Taiba, Jeddah 23831, Saudi Arabia
Location: Al Naeem, Jeddah 23526, Saudi Arabia
Location: Al wsm Al mota'leq, الرحمانية،، Jeddah 23763, Saudi Arabia
Location: Saloon al fan al turkey, 4782 بلديه الاربعين, AR Rawabi District, 7355, Jeddah 22345, Saudi Arabia
Location: Al Jami`ah, Jeddah 22345, Saudi Arabia
Location: Al Sharafeyah, Jeddah 23218, Saudi Arabia
Location: Al Rawabi, Jeddah 22346, Saudi Arabia
Location: AlJazira ATM🏧, Amna Bint Wahb St, Al Naeem, Jeddah 23621, Saudi Arabia
Location: Al Fayha'a, Jeddah 22245, Saudi Arabia
Location: 2313 Halimah Alsaadiyah, Al Muhammadiyah District, Jeddah 23623 8921, Saudi Arabia
Location: 6991, Al Waha, Jeddah 23351 2817, Saudi Arabia
Location: 3723-3767 Al Kayyal, Ar Rawdah, Jeddah 23433, Saudi Arabia
Location: 7827-7885 Al Imam Abdul Aziz, Al Faisaliyyah, Jeddah 23442, Saudi Arabia
Location: Abu Al Ala Al Maarri, Al Bawadi, Jeddah 23443, Saudi Arabia
Location: Al Naseem St, An Naseem, Jeddah 23233, Saudi Arabia
Location: 3356-3248 Prince Saud Al Faisal, Al Khalidiyyah, Jeddah 23421, Saudi Arabia
Location: Al Naseem St, An Naseem, Jeddah 23233, Saudi Arabia
Location: وحدات الاناره للكهرباء، شارع البساتين ، حي البساتين، Al Basateen, Jeddah 23718, Saudi Arabia
Location: 5300 Al Imam Al Bukhari, Al Basateen, Jeddah 23718, Saudi Arabia
Location: 9015 At Tasni, An Nahdah District, Jeddah 23523 3714, Saudi Arabia
Location: نبع الروان للمياه الصحية، ، حي، An Nahdah, شارع النجدي، Jeddah Saudi Arabia
Location: 3159-3215 Mawakib An Nasr, As Salamah, Jeddah 23436, Saudi Arabia
Location: Aljazira ATM, Prince Sultan Rd, Al Basateen, Jeddah 23717, Saudi Arabia
Location: 3231 Saqr Quraish, As Salamah District, Jeddah 23436 6946, Saudi Arabia
Location: عيادات الشاكرين المتميزة لطب و تقويم الاسنان, Ash Sheraa District, حي الشراع،, Jeddah 23816, Saudi Arabia
Location: Khalid Ibn Al-Waleed, Al Sharafeyah, Jeddah 22234, Saudi Arabia
Location: 2927, Al Ajwad District, Jeddah 23466 7033, Saudi Arabia
Location: Al-Salehiyah, Jeddah 23763, Saudi Arabia
Location: بنك الجزيرة، Al Hamadaniyah District, حي الحمدانية، 7084, Jeddah 23761, Saudi Arabia
Location: Al Hamadaniyyah, Jeddah 23761, Saudi Arabia
Location: 6951, Al Kawthar District, Jeddah 23743 3050, Saudi Arabia
Location: Al Jazira ATM 🏧, 4124 Al Jawahir, Mishrifah District, Mishrifah District,, Jeddah 23336, Saudi Arabia
Location: Aljazeyra ATM, 3494 Ali Afandi Jamil, As Salamah, Jeddah 23525, Saudi Arabia
Location: فرصة للتسويق، مدائن الفهد، Mada'en Al-Fahd, Jeddah 22347, Saudi Arabia
Location: Alajaweed, Jeddah 22442, Saudi Arabia
Location: Al Khalidiyyah, Jeddah 23421, Saudi Arabia
Location: Mada'en Al-Fahd, Jeddah 22343, Saudi Arabia
Location: فواكه وخضروات الحربي، Al-Safa, شارع الامير ماجد ، الصفا،، Jeddah 23452, Saudi Arabia
Location: بينز كافيه, شارع عابر القارات، ابحر، Jeddah Saudi Arabia
Location: 4363 Asan Hasanain, Ghulail District, Jeddah 22413 7769, Saudi Arabia
Location: Muhammad Nur Fattani، Al Zahra, Jeddah 23424, Saudi Arabia
Location: King Abdulaziz International Airport, Jeddah 23631, Saudi Arabia
Location: الصالة الشمالية لمطار الملك عبدالعزيز الدولي بجدة، مطار الملك عبدالعزيز الدولي،، Jeddah Saudi Arabia
Location: Airport Administration GACA, King Abdulaziz International Airport, Jeddah 23631, Saudi Arabia
Location: Al Sharafeyah, Jeddah 23218, Saudi Arabia
Location: Quraysh, Al Bawadi, Jeddah 23443, Saudi Arabia
Location: Umm Al Qura, Al-Safa, Jeddah 23453, Saudi Arabia
Location: Ismail Ibn Kathir, Al Basateen, Jeddah 23718, Saudi Arabia
Location: 3356-3248 Prince Saud Al Faisal, Al Khalidiyyah, Jeddah 23421, Saudi Arabia
Location: Mishrifah, Jeddah 23336, Saudi Arabia
Location: Al Jamiah, Al Thaghr, Jeddah 22338, Saudi Arabia
Location: Abi Dharr Alghifari St, An Naseem, Jeddah 23234, Saudi Arabia
Location: Al Fayha'a, Jeddah 22246, Saudi Arabia
Location: Bryman, Jeddah 23641, Saudi Arabia
Location: ATM Bank Al Jazira, 6551 Al Makaronah, Mishrifah District, حي مشرفة، Jeddah 23335, Saudi Arabia
Location: Al-Rehab, Jeddah 23344, Saudi Arabia
Location: مجمع الرفيدي، Obhur Al-Shamaliyah, Jeddah 23819, Saudi Arabia
Location: Mada'en Al-Fahd, Jeddah 22347, Saudi Arabia
Location: Abu Al Ala Al Maarri, Al Bawadi, Jeddah 23443, Saudi Arabia
Location: Mouawiyah Al Sulami, Al Ajwad, Jeddah 23466, Saudi Arabia
Location: Al Zahra, Jeddah 23425, Saudi Arabia
Location: Ghulail, Jeddah 22413, Saudi Arabia
Location: Ar Rabwah, Jeddah 23535, Saudi Arabia
Location: Al Kandarah, Jeddah 22242, Saudi Arabia
Location: Ar Rabwah, Jeddah 23533, Saudi Arabia
Location: Al-Hamra'a, Jeddah 23324, Saudi Arabia
Location: شارع جاك، Abruq Ar Rughamah, Jeddah 22262, Saudi Arabia
Location: مؤسسة عالم القمة للتجارة والتوريدات، Al Muntazahat, حي المنتزهات الشرقية، Jeddah 22354, Saudi Arabia
Location: Al Faisaliyyah, Jeddah 23447, Saudi Arabia
Location: Al Amir Fawwaz Al Junoobi, Jeddah 22441, Saudi Arabia
Location: As Saqat, Al-Safa, Jeddah 23455, Saudi Arabia
Location: ATM Bank SABA, سوق الصواريخ الدولي، Jeddah Saudi Arabia
Location: Al Muntazahat, Jeddah 22351, Saudi Arabia
Location: صراف الجزيرة، Al Marwah, Jeddah 23545, Saudi Arabia
Location: Al Adel, Jeddah 22361, Saudi Arabia
Location: Alfadel, Jeddah 22363, Saudi Arabia
Location: 7827-7885 Al Imam Abdul Aziz, Al Faisaliyyah, Jeddah 23442, Saudi Arabia
Location: Al Thaghr, Jeddah 22331, Saudi Arabia
Location: 3384 King Khalid Road, Al-Thaalba, Jeddah 22323, Saudi Arabia
Location: Alfadel, Jeddah 22363, Saudi Arabia
Location: 290, Al Farooq, Jeddah Saudi Arabia
Location: Al Jami`ah, Jeddah 22345, Saudi Arabia
Location: Al Baraah, Al Jami`ah, Jeddah 22341, Saudi Arabia
Location: Al-Hamra'a, Jeddah 23212, Saudi Arabia
Location: 3398-3376 Mohammed Altawel, Mishrifah, Jeddah 23331, Saudi Arabia
Location: محطة الأماني، شارع سلمة الليثي، Al Nakheel, Jeddah 23241, Saudi Arabia
Location: Al Naseem St, An Naseem, Jeddah 23233, Saudi Arabia
Location: أزياء ريزان، شارع احمد بن عسيب، حي النعيمي، Al Naeem, Jeddah 23526, Saudi Arabia
Location: Abu Al Hasan Al Hamadhani, Al Bawadi, Jeddah 23443, Saudi Arabia
Location: Al Tawfiq, Jeddah 23464, Saudi Arabia
Location: Saloon al fan al turkey, 4782 بلديه الاربعين, AR Rawabi District, 7355, Jeddah 22345, Saudi Arabia
Location: AlJazira ATM, 7446 Prince Mutaib bin Abdulaziz Rd, As Safa District, حي الصفا, 3232, Jeddah 23452, Saudi Arabia
Location: Al Rawabi, Jeddah 22346, Saudi Arabia
Location: Ad Dahhak Ibn Rabiah, Al Bawadi, Jeddah 23443, Saudi Arabia
Location: صراف الجزيرة، شارع الأجواد، حي السامر، Al Samer, Jeddah 23462, Saudi Arabia
Location: Hadiqat Rami, As Salamah, Jeddah 23436, Saudi Arabia
Location: zain, Jeddah Airport , South Terminal , Jeddah , Saudi Arabia, Jeddah Saudi Arabia
Location: Quwaizah, Jeddah 22354, Saudi Arabia
Location: China Town, Al Zahra, Jeddah 23522, Saudi Arabia
Location: Bani Malik, Jeddah 23226, Saudi Arabia
Location: Al Khalidiyyah, Jeddah 23423, Saudi Arabia
Location: قطونيل، 7959، حي الحمدانية، جدة 23743 2680، 23743, Saudi Arabia
Location: Bin Ladin, Al Jami`ah, Jeddah 22346, Saudi Arabia
Location: Al Naeem, Jeddah 23621, Saudi Arabia
Location: مودك كافيه، Al Bawadi, Jeddah 23531, Saudi Arabia