The Bank Aljazira or BAJ is one of the leading banks in the Kingdom of Saudi Arabia. This bank is a joint-stock company, it is a growing financial institution which is Shari'a compliant, delivering professional financial products and services.
Also Read: List of Bank Aljazirah Branches and ATMs in Jeddah
This bank follows a competent operation that follows the Shari'a way for its clients. Their mission is to the customer's first choice of bank. BAJ offers exceptional client service, offers tailored products and services and is a trusted advisor.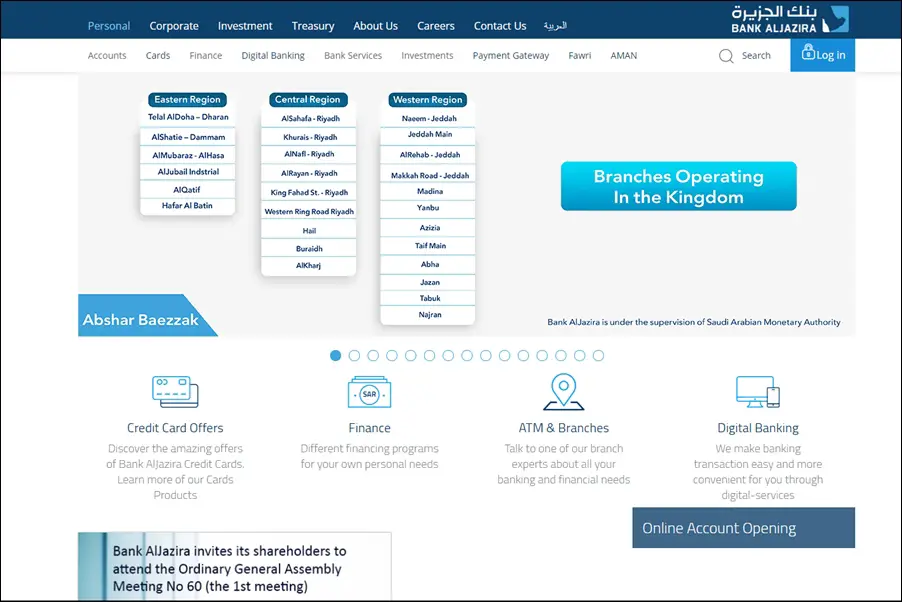 Bank Aljazirah Branches And ATM Machines In Riyadh, Saudi Arabia
Below is the list of Bank Aljazirah found in Riyadh, Saudi Arabia, including their address location. So it will be easier for you to check if the branch is in your area, please do a "CTRL+F" search on your keyboard and type the bank name or location.
Al Malaz Branch
Location: Selat Business Solutions, Ad Dhubbat, Riyadh 12623, Saudi Arabia
Phone: +966 11 2913948
Sunday – Thursday: 09:00 am – 5:00 pm
AL MAZ'AR District BRANCH
Location: Umm Al Hamam Al Sharqi, Riyadh 12721, Saudi Arabia
Sunday – Thursday: 9:30 am – 4:30 pm
Al Muroug Branch – Riyadh
Location: Prince Jalawi Bin Turki Bin Abdulaziz St, Al Muruj, Riyadh 12281, Saudi Arabia
Sunday – Thursday: 9:30 am – 4:30 pm
Al Naseem Branch
Location: Vitamin Medical Center, 8615 Hassan Ibn Thabit, An Nasim Ash Sharqi, Riyadh 14243, Saudi Arabia
Phone: +966 11 2357813
Sunday – Thursday: 09:00 am – 5:00 pm
Al Quds Branch
Location: 3121 King Abdullah Rd, Al Quds, Riyadh 13214 8609, Saudi Arabia
Phone: +966 11 2781416; +966 11 2784331
Sunday – Thursday: 9:30 am – 4:30 pm
Al Rawda Branch
Location: Al Hasan Ibn Ali, Ar Rawdah, Riyadh 13213, Saudi Arabia
Phone: +966 11 2543845; +966 11 2543843
Sunday – Thursday: 09:00 am – 5:00 pm
Al Shefa Branch
Location: Ash Shifa, Riyadh 14713, Saudi Arabia
Phone:
Sunday – Thursday: 09:00 am – 5:00 pm
Almalga Branch
Location: Bank Aljazira, طريق أنس بن مالك، حي الملقا، Al Malqa, Riyadh 13522, Saudi Arabia
Phone: +966 11 4103017
Sunday – Thursday: 09:00 am – 5:00 pm
Al-Sahafa Branch
Location: Spark-Communications ( سبارك )، Ath Thumamah Road, 1st Floor، Riyadh 13315, Saudi Arabia
Phone: +966 11 2250972
Sunday – Thursday: 09:00 am – 5:00 pm
Eshbelyah Branch
Location: Ishbiliyah, Riyadh 13225, Saudi Arabia
Phone:+966 11 8124276
Sunday – Thursday: 09:00 am – 5:00 pm
Hetten Branch
Location: 7872 Prince Turki Ibn Abdulaziz Al Awwal Rd, Hittin, Riyadh 13513 4876, Saudi Arabia
Phone:+966 11 2145324
Sunday – Thursday: 09:00 am – 5:00 pm
Khorais Branch
Riyadh
Location: Ar Rawdah, Riyadh 13211, Saudi Arabia
Ollaya Branch
Location: خياط الركائز, النسيم، Riyadh 12251, Saudi Arabia
Phone: +966 11 2157000; +966 11 2157016
Sunday – Thursday: 09:00 am – 5:00 pm
Qurdoba Branch
Location: Bread Talk, طريق سعيد ابن زيد، حي، Riyadh Saudi Arabia
Phone:+966 11 8108059
Sunday – Thursday: 09:00 am – 5:00 pm
Western Ring Road Branch
Location: Az Zahrah, Riyadh 12983, Saudi Arabia
Phone:+966 11 4338441; +966 11 4303574
Sunday – Thursday: 09:00 am – 5:00 pm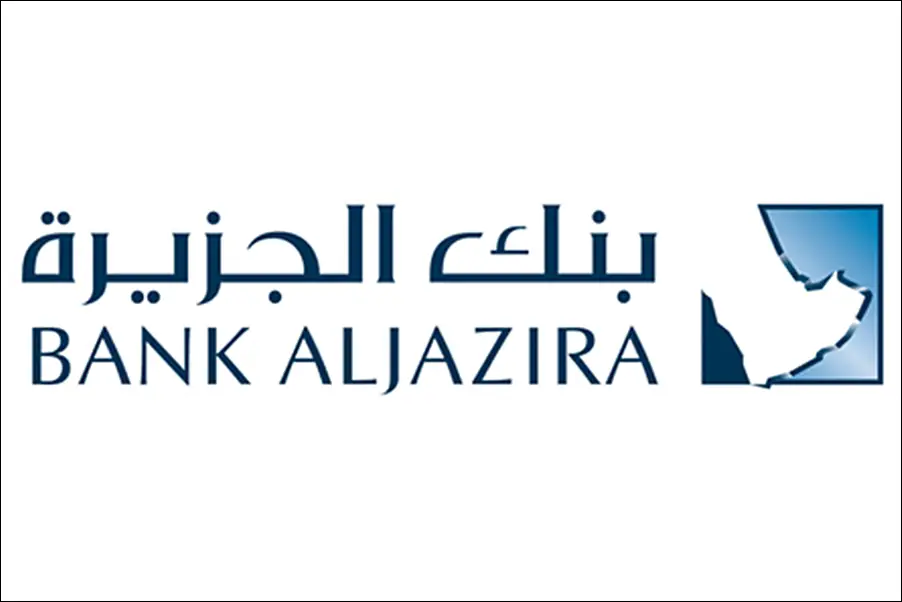 List of Bank Aljazira ATMs Locations in Riyadh, Saudi Arabia
Location: 8604 Prince Turki Ibn Abdulaziz Al Awwal Rd, Umm Al Hamam Al Sharqi,
Riyadh 12721 4576, Saudi Arabia
Location: 6989 Al Batha, Thulaim Riyadh 12645 2312 Al Batha, Thulaim, Riyadh 12645 2312, Saudi Arabia
Location: 3107 Abu Bakr Alrazi Street, As Sulimaniyah, 6816, Riyadh 12231 6816, Saudi Arabia
Location: Al Muruj, Riyadh 12284, Saudi Arabia
Location: Ibn Sina, Al Muruj Riyadh 12284 Saudi Arabia
Location: Ath Thumamah Road, 1st Floor، Riyadh 13315, Saudi Arabia
Location: Ad Dhubbat, Riyadh 12623, Saudi Arabia
Location: 3227-3291 Abdulhamid Ar Rafii, Al Muruj Riyadh 12281, Saudi Arabia
Location: النسيم،  Riyadh 12251, Saudi Arabia
Location: Abdulhakeem Al Jamhi، Al Amal Riyadh 12643, Saudi Arabia
Location: Abdulhakeem Al Jamhi، Al Amal Riyadh 12643, Saudi Arabia
Location: Al Anuz, Al Khalidiyyah Riyadh 12873, Saudi Arabia
Location: 7095 Eastern Ring Branch Rd, Ar Rayyan, Riyadh 14213 2808, Saudi Arabia
Location: Aljazira Bank, طريق الملك فهد الفرعي، Ar Rahmaniyyah,
Riyadh 12343, Saudi Arabia
Location: Terminal 3, King Khalid International Airport, Riyadh 13458, Saudi Arabia
Location: King Khalid International Airport, Riyadh 13447, Saudi Arabia
Location: King Khalid International Airport, Riyadh 13463, Saudi Arabia
Location: An Nada, Riyadh 13317, Saudi Arabia
Location: Jerash records, Ash Sharq, Riyadh 13616 8575, Saudi Arabia
Location: King Abdullah Dt., Riyadh 12451, Saudi Arabia
Location: Ash Shifa, Riyadh 14712, Saudi Arabia
Location: بوفية تغريده للوجبات السريعه، راجيه،، المونسية،، Riyadh 13246, Saudi Arabia
Location: As Suwaidi Al Gharabi, Riyadh 12993, Saudi Arabia
Location: 7160-7116 Abi Al Aswad Ad Duali, An Nasim Ash Sharqi, Riyadh 14245, Saudi Arabia
Location: Haroon Al Rashid Rd, Al Jazirah, Riyadh 14253, Saudi Arabia
Location: Ash Shifa, Riyadh 14712, Saudi Arabia
Location: Shams Ad Din As Salihi, An Nasim Al Gharbi, Riyadh 14233, Saudi Arabia
Location: 8409-8505 Usamah Ibn Zaid, An Nasim Al Gharbi, Riyadh 14234, Saudi Arabia
Location: حلاق رجالي، 2529 الامير بندر بن عبدالعزيز، الاندلس، الرياض 13212 8170، 13212 8170, Saudi Arabia
Location: تموينات، 3066 Southern Ring Branch Rd, Shubra, Riyadh 12799 6132, Saudi Arabia
Location: Al Abbas Ibn Abdumutalib, Al Izdihar, Riyadh 12485, Saudi Arabia
Location: 7924 Soliman Al Mouseli, Ad Duraihimiyah, Riyadh 12797 4944, Saudi Arabia
Location: 4073 Jabir Ibn Abi Sasaah, Dhahrat Al Badi'ah, Riyadh 12972, Saudi Arabia
Location: As Suwaidi Al Gharabi, Riyadh 12992, Saudi Arabia
Location: 6733-6751 Samiha, Al Wizarat, Riyadh 12626, Saudi Arabia
Location: 6784 Saad Ibn Abi Waqas, An Nasim Al Gharbi, Riyadh 14235, Saudi Arabia
Location: محطة وقود، 4485 الشيخ حسن بن حسين بن علي،، Al Hamra, 7370، Riyadh 13217 4485, Saudi Arabia
Location: Al Aziziyah, Riyadh 14514, Saudi Arabia
Location: BANK ALJAZIRA ATM, Al Balad Al Amin, As Suwaidi, Riyadh 12788, Saudi Arabia
Location: صراف بنك الجزيرة، Al Imam Abi Hanifah, Aluraija Al Gharbiyah, Riyadh 12975, Saudi Arabia
Location: Al Hasan Ibn Ali, Ar Rawdah, Riyadh 13213, Saudi Arabia
Location: 4296-4276 Al Mashtal, Alhazm, Riyadh 14964, Saudi Arabia
Location: King Abdullah Branch Rd, Al Quds, Riyadh 13214, Saudi Arabia
Location: Almanakh, Riyadh 14316, Saudi Arabia
Location: As Suwaidi, Riyadh 12793, Saudi Arabia
Location: Aljazira Bank, طريق الملك فهد الفرعي، Ar Rahmaniyyah, Riyadh 12343, Saudi Arabia
Location: بنك الجزيرة، 6824 Asma Bint Abi Bakr, Tuwaiq, Riyadh 14914, Saudi Arabia
Location: Bank Aljazira ATM, طريق الإمام مسلم، Al Marwah, Riyadh 14721, Saudi Arabia
Location: Aljazira Bank, طريق الملك فهد الفرعي، Ar Rahmaniyyah, Riyadh 12343, Saudi Arabia
Location: 2393 Imam Abdullah Ibn Saud Ibn Abdulaziz Rd, Al Qadisiyyah, Riyadh 13236 8613, Saudi Arabia
Location: مؤسسة اضواء الجولان للمقاولات، 6245 الشيخ حسن بن حسين بن علي، Ishbiliyah, Riyadh 13225 2936, Saudi Arabia
Location: صيدلية النهدي, Abi Said Al Khadri, حي الملك فيصل، Riyadh 13215, Saudi Arabia
Location: Badi Az Zaman Al Hamathani, Az Zahrah, Riyadh 12987, Saudi Arabia
Location: Bank Aljazira ATM, 6782 Al Aziziah Rd, Ad Dar Al Baida, Riyadh 14518, Saudi Arabia
Location: مركز نجد لإصلاح المسجلات وشاشات السيارات، 7588 الغرابي، العمل، الرياض 12643 2398، 12643 2398, Saudi Arabia
Location: Ishbiliyah, Riyadh 13225, Saudi Arabia
Location: Bank AlJazira, عبدالله بن سليمان بن عبيد، Al Fayha, Riyadh 14254, Saudi Arabia
Location: محطة وقود، Al Aziziyah, Riyadh 14515, Saudi Arabia
Location: صرافة بنك الجزيرة، 3443 Tanjah, Dhahrat Al Badi'ah, Riyadh 12783, Saudi Arabia
Location: طوارئ مستشفي دلة، An Nakheel, Riyadh 12381 87833, Saudi Arabia
Location: Petrol station Dsiiman, Al Nadwa, Riyadh 14813, Saudi Arabia
Location: مشغل فاتن، مطعم الرومانسية و بجانب بحر الأسعار، النهضة مقابل،، Riyadh Saudi Arabia
Location: Abi Jafar Al Mansour St, Ghirnatah, Riyadh 13241, Saudi Arabia
Location: Al Jazirah, Riyadh 14251, Saudi Arabia
Location: مؤسسة فارس للخضار والفواكه، شارع الشيخ عبد العزيز بن عبد الرحمن ابن بشر، أسواق المربع، حي الخليج، Al Khaleej, Riyadh 13223, Saudi Arabia
Location: ATM Bank Al Jazira, As Saadah, Riyadh 14257, Saudi Arabia
Location: Abi Jafar Al Mansour St, Ghirnatah, Riyadh 13241, Saudi Arabia
Location: King Khalid International Airport, Riyadh 13412, Saudi Arabia
Location: أسامة العمري للصرافة، Almarqab, Riyadh 12645, Saudi Arabia
Location: BANK ALJAZIRA ATM, Mohammed Al Barqi, Al Munsiyah, Riyadh 13246, Saudi Arabia
Location: 7400 Hail, An Nuzhah, Riyadh 12473, Saudi Arabia
Location: Salahuddin, Riyadh 12434, Saudi Arabia
Location: King Khalid International Airport, Riyadh 13412, Saudi Arabia
Location: شارع الخبيرة، King Khalid International Airport, Riyadh 13412, Saudi Arabia
Location: Al Abbas Ibn Abdumutalib, Al Izdihar, Riyadh 12485, Saudi Arabia
Location: خيال الملهم للاتصالات، Al Balqa, Al Munsiyah, Riyadh 13253, Saudi Arabia
Location: Al Abbas Ibn Abdumutalib, Al Izdihar, Riyadh 12485, Saudi Arabia
Location: Petrol Station, Al Munsiyah, Riyadh 13255, Saudi Arabia
Location: مانجو، Al Mathar Ash Shamali, Riyadh 12332, Saudi Arabia
Location: بول اند بير، LIBRE, Riyadh 12272, Saudi Arabia
Location: King Abdullah Dt., Riyadh 12451, Saudi Arabia
Location: Al Wizarat, Riyadh 12626, Saudi Arabia
Location: شركة مباني الرياض للعوازل، 8728 شارع خالد بن الوليد، الروضة، الرياض 13213 4197، Saudi Arabia
Location: قطونيل، 7959، حي الحمدانية، جدة 23743 2680، 23743, Saudi Arabia
Location: 3768-3696 Al-Imam Ahmad Bin Hanbal St, An Nasim Al Gharbi, Riyadh 14231, Saudi Arabia
Location: Prince Mamduh Bin Abdulaziz St, As Sulimaniyah, Riyadh 12242, Saudi Arabia
Location: Al Madinah Al Munawwarah Rd, Dhahrat Al Badi'ah, Riyadh 12982, Saudi Arabia
Location: Bank Aljazira, طريق أنس بن مالك، حي الملقا، Al Malqa, Riyadh 13522, Saudi Arabia
Location: Darma Saudi Arabia
Location: Glance Ad Agency وكالة لمحة للدعاية والإعلان، Anas Ibn Malik Rd, Alyasmin, Riyadh 13326, Saudi Arabia
Location: EZ TRANSFER, New Industrial Area, Riyadh 14331, Saudi Arabia
Location: مانجو، Al Mathar Ash Shamali, Riyadh 12332, Saudi Arabia