To help contain and prevent the outbreak, Saudi Arabia continues to take all the necessary measures, such as limiting public gatherings and imposing travel suspensions. More recently, the Kingdom has also released a set of guidelines for those who need to shop for necessities.
Although non-essential travel is currently restricted, citizens and residents are allowed to leave their homes if absolutely necessary, such as when buying food or medicines, or when there is a medical emergency, fire, or other unexpected situations.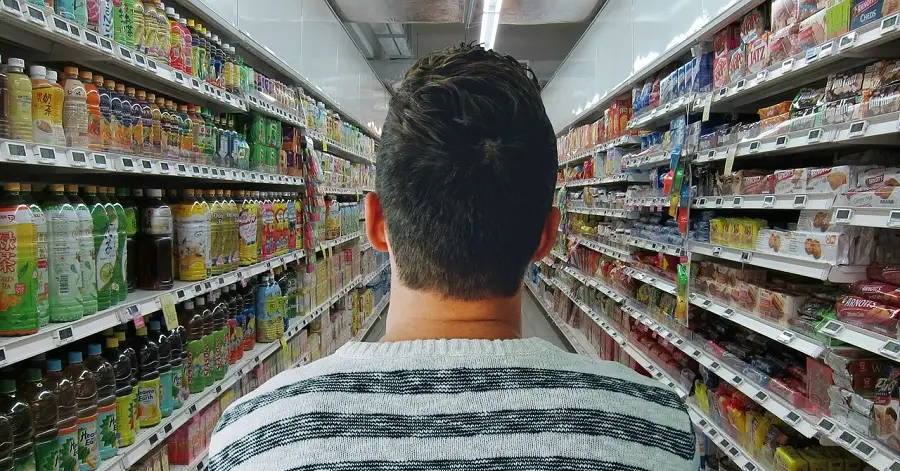 Guide to Shopping Safely Amid the Pandemic
Through a social media post, the Ministry of Health prescribed some shopping guidelines, the Saudi Press Agency (SPA) reported. That being said, the Ministry also suggested the use of delivery applications as an alternative to going outside for shopping.
"Delivery apps should spare you the trip to malls and supermarkets," the Ministry said through its official Twitter account. However, it also stated that if a person feels it is absolutely necessary for him/her to leave the house for some shopping, then certain guidelines should be followed.
These guidelines, presented through an infographic by the Ministry of Health, are as follows:
Avoid shopping during rush hours.
Sterilize the handle of your grocery cart using wet wipes.
Wash your hands with soap and water before and after going shopping.
Maintain a distance of at least one metre between you and other shoppers.
Do not touch products that you are not going to buy.
Do not touch your face while you are shopping.
Use your debit card or credit card to make your payments.
Sterilize your hands before leaving the store.
At home, sterilize the food cans you bought using wet wipes.
Wash the fruits and vegetables you bought carefully.
Here is the post by the Ministry of Health:
Leaving your house, even for a short period of time, increases your risk of getting infected. Avoid crowds and social gatherings for your safety and the safety of your loved ones.#COVID19 pic.twitter.com/Y6NP9VCWWa

— و ز ا ر ة ا لـ صـ حـ ة السعودية (@SaudiMOH) March 30, 2020
Moreover, the Ministry of Health called upon all citizens and residents to support the Saudi government's efforts in combating the outbreak. If you have any questions or concerns regarding the pandemic, the Ministry also urges you to call Health Center 937, which provides information and services 24 hours a day, seven days a week.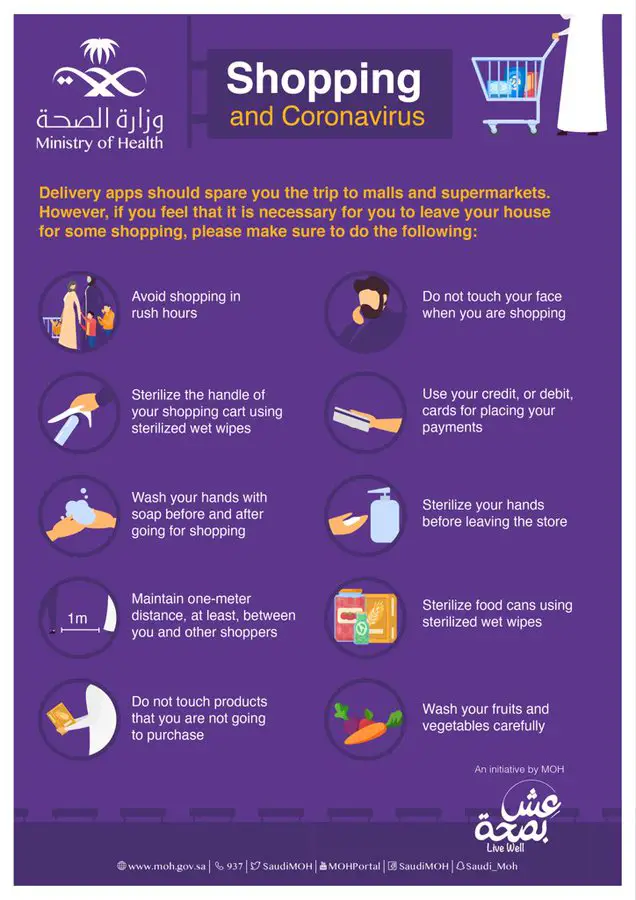 With all of these measures in place, let us hope that Saudi Arabia — along with the rest of the world — can eventually overcome this current outbreak. We can also do our part by staying home as much as possible, washing our hands, keeping a safe distance from others, and following official instructions. Check out these DOs and DON'Ts to prevent the spread of diseases.