On Saturday (September 21), the Philippine Embassy in the Kingdom of Saudi Arabia has released a statement regarding the case of a Filipina allegedly raped by six Saudi nationals.
The statement revealed that the Embassy had deployed a team to Saudi Arabia's Al Qassim region, where the alleged victim can be found, to verify reports of the said Filipina of having been raped by six Saudi nationals and subsequently sentenced to lashing and imprisonment, as circulated on social media on September 17, 2019.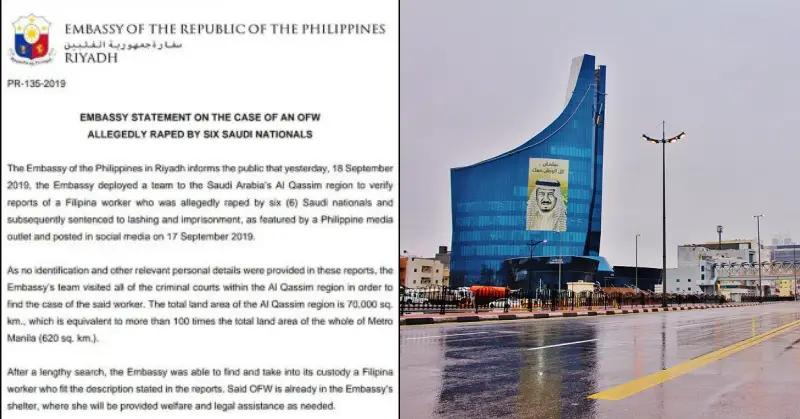 Public Urged to Report Cases Accordingly & Avoid "Sensationalizing"
The embassy shared that as there were no identification or other relevant details reported, the team had to scour the region and visited all criminal courts in the area in order to find the case of the said worker.
The Embassy reported that the entire Al Qassim region has a total land area of 70,000 sq.km, which is about 100 times the size of the total land area of Metro Manila, and therefore, their team had to conduct a lengthy search for the Filipina worker who fit the description as stated in the reports.
The identified worker is now in the custody of Embassy officials and is now staying in the embassy's shelter, where she will be provided welfare and assistance, as needed.
Given the difficulty in locating the said OFW, the Embassy strongly urges the public to direct all requests for assistance for distressed OFWs to the Philippine Embassy as soon as possible, with as much information as well to immediately locate and assist these OFWs.
Moreover, the Embassy also reminded the public to refrain from sensationalizing cases involving distressed OFWs. While the embassy acts upon such requests for assistance as quickly as possible, it also strictly observes confidentiality of the personal information and circumstances of distressed OFWs, and will only provide information on such cases to the immediate family members or persons authorized by the OFW involved.
Also, the embassy encourages the public to efficiently report such cases of this nature by providing them with direct information from the concerned and involved parties, as opposed to quoting second- or third-party sources.
The embassy shared that given its limited manpower and resources, providing verified and detailed information regarding such cases will help them greatly identify priority cases as well as to weed out those which turn out to be fake, exaggerated, or already resolved.
ALSO READ: PH Seeks to Create Labour Pact on Better Working Conditions for OFWs in KSA