Starting today, 7th November 2022, the deployment of overseas Filipino workers (OFWs) to Saudi Arabia has resumed once again. It may be recalled that last year, the Philippine Department of Labor and Employment (DOLE) suspended deployment to the Kingdom due to reports of unpaid salaries and abuse cases.
Fortunately, things are looking up. Both countries have agreed on new labor measures that aim to protect the welfare of OFWs. Through interviews and a press conference, Department of Migrant Workers (DMW) Secretary Susan Ople discussed the latest developments in employment contracts, among other measures.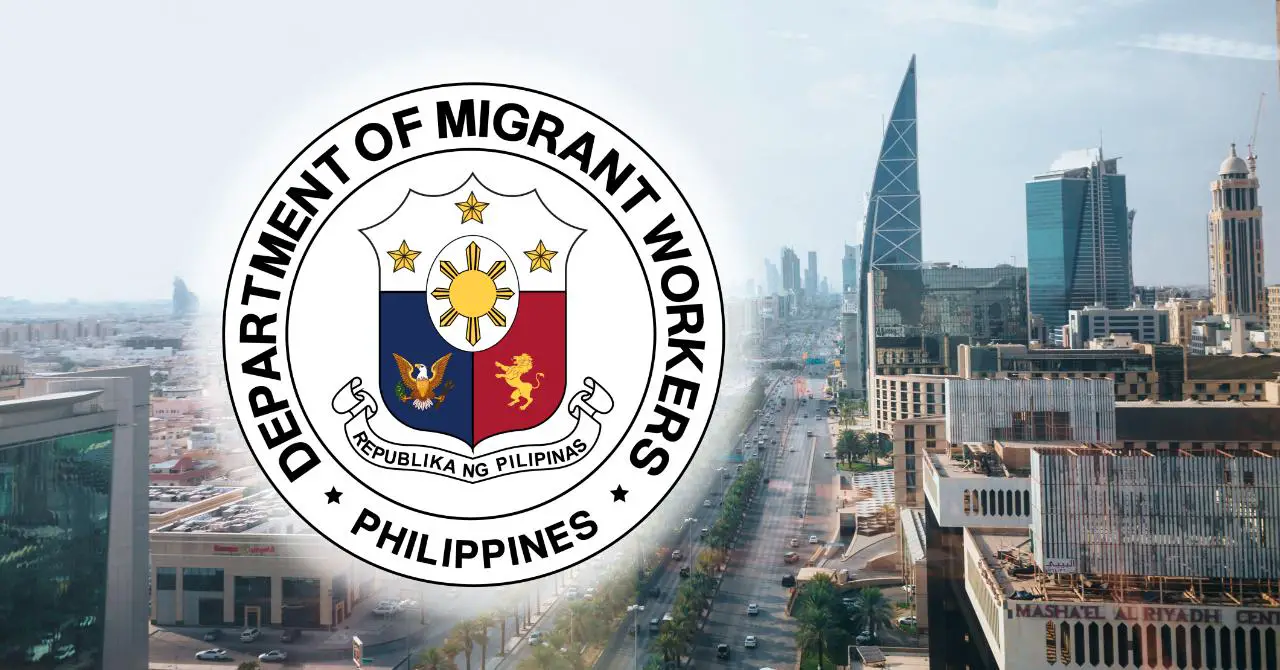 PH and KSA Agree on New Labor Measures for OFWs
"First time, iba na ang kontrata. May insurance para sa domestic workers at sa skilled workers. Hindi na mauulit na uuwing walang suweldo ang mga OFW (For the first time, the contract would be different. There will be insurance for domestic workers and skilled workers. OFWs will not go home without their salaries ever again)," Ople said in a press release, as reported by Philippine News Agency.
"Hindi tayo basta lang magbubukas ng Saudi deployment na walang malinaw at matibay na pundasyon para sa proteksyon ng ating mga manggagawa (We will not simply resume Saudi deployment without having a clear and strong foundation for the protection of our workers)," she explained.
The DMW Secretary added that this week, a delegation from the Saudi Ministry of Human Resources and Social Development (MHRSD) will arrive. In a bilateral meeting with the DMW, the delegation will talk about reviewing OFW salaries, automation of recruitment processes, and other important topics.
Greater Protection for OFWs in KSA
During an interview with Super Radyo dzBB, Secretary Ople stated that there will be a country-specific employment contract for OFWs bound for Saudi Arabia, GMA News Online reported. This is the first time that a country-specific employment contract has been introduced for OFWs.
What exactly are the new measures for OFWs in KSA? Secretary Ople, as well as DMW Undersecretary Patricia Yvonne Caunan, mentioned the following labor reform measures that have been agreed upon by the Philippines and Saudi Arabia:
1. Employment Contract with Insurance Coverage
First of all, the employment contract will include insurance coverage for domestic workers and skilled workers. The insurance will cover unpaid wages, airfare, refund or recruitment costs (in cases of unfinished contracts), and other related matters.
The insurance cost for Filipino domestic workers will be paid by their Saudi employers. Meanwhile, the insurance coverage for skilled workers, including construction workers, will be shouldered by the Saudi government.
2. Pre-termination Clause in Contract
Secondly, the employment contract will include a pre-termination clause. In particular, this clause would allow domestic workers to transfer to or change employers before a contract ends, based on specific grounds — such as as non-payment of wages and cases of abuse or maltreatment.
For instance, in case an OFW decides to change employers before he/she finishes the current contract, the insurance will cover deployment costs. The OFW would not be "hostaged" or forced to remain in his/her job, just to recover incurred costs.
3. Joint Alternative Dispute Settlement
The DMW and MHRSD will adopt a joint alternative dispute settlement mechanism. By doing so, employment disputes would be settled amicably, ensuring transparency and fair treatment for everyone involved.
4. Wage Protection Program
The Wage Protection Program will be implemented. This will help ensure the regular and timely payment of OFWs' salaries.
In relation to this, salary payments will be made through digital or electronic means. These methods can help OFWs monitor their salaries, and enable them to save concrete "evidence" in cases of delayed or incorrect wages.
Moreover, in case the employer/company goes bankrupt, the insurance will cover the unpaid salaries of their workers. Extremely delayed salaries — up to one year's worth or more — will no longer happen. These will be a thing of the past.
5. Confiscation of Passport to be Reported
In accordance with the latest labor measures, the MHRSD now considers confiscation of workers' passports as "a human trafficking indicator."
"So pag nalaman namin na binawi yung passport, ire-report sa ministry. Sila bahala magpatawag at magpapa-explain sa employer. Part ng partnership (If we hear a case of confiscated passport, this will be reported to the ministry. The ministry will summon the employer and ask them to explain. That's part of the partnership)," Secretary Ople emphasized.
6. Direct Referral of Trafficking Cases
Cases that involve human trafficking and exploitation will be directly referred by the DMW to the MHRSD. The ministry, through its anti-human trafficking department, will provide assistance to victims of human trafficking.
7. Welfare Desk Offices
Each Saudi recruitment agency will have its own Welfare Desk Office (WEDO).
Secretary Ople said, "Lahat ng Saudi recruitment agencies ay kailangang mag-hire ng sarili nilang WEDO. Kung wala silang welfare officer, wala silang job order (All Saudi recruitment agencies will be required to hire their own WEDO. If they don't have a welfare officer, they will not be given a job order)."
8. Blacklist and Whitelist Categories
And last — but certainly not the least — both the DMW and Saudi government will have blacklist and whitelist categories for foreign recruitment agencies, Saudi recruitment agencies, and Saudi employers. Guidelines on who can legally participate in the resumption of OFW deployment to KSA have also been made.
For instance, the "blacklist" will include employers and agencies who are abusive. On the other hand, agencies and employers who obey the rules and treat workers properly will be included in the "whitelist."
"Ngayon yung mga agency dapat nasa whitelist ng parehong bansa, bago magpadala ng Filipino worker (The agency should be on the whitelist of both countries, before a Filipino worker is deployed)," Secretary Ople said.
The "whitelisted" recruitment agencies is expected to be released within the week. "Dun sila makipag-deal kasi ang ibig sabihin non, matitino yung mga ahensya na yan ([Stakeholders, workers] should deal with whitelisted agencies because this means that they are legitimate entities)," she added.
We've all heard about cases of unfair treatment and abuse of OFWs before. Hence, it is a good thing that the Philippine and Saudi governments are now working hand-in-hand to ensure the safety and protection of Filipino workers in the Kingdom. The adoption of these latest measures is certainly a huge step in the right direction!
READ NEXT: How to Contact Philippine Embassy in Riyadh, Saudi Arabia