The establishment of the One Repatriation Command Center is a big step forward for the Department of Migrant Migrants (DMW), which has assumed leadership of agencies tasked with aiding overseas Filipino workers. The ORCC, as the name suggests, strives to streamline and optimize the process of repatriating stranded OFWs  and facilitating their safe return home.
As cases of OFW abduction, trafficking, and other forms of abuse continue to be reported, many see the establishment of this command center as a positive step forward. Nonetheless, what exactly does the ORCC do and how does it work? In an attempt to answer these questions, this article analyzes the ORCC's primary activities. Continue reading.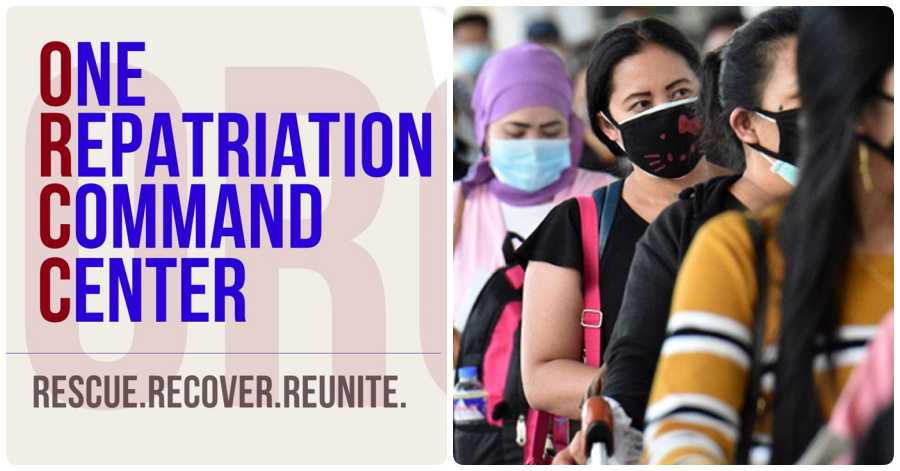 What is the Meaning of ORCC?
The acronym ORCC stands for One Repatriation Command Center. It is a government institution tasked with facilitating the repatriation of stranded OFWs. The ORCC will also assist in the safe repatriation of family members who have been victims of exploitation, abuse, or other forms of illegal behavior abroad.
This "command center" will supervise all repatriation-related matters under the DMW. It will be in charge of coordinating the activities of other agencies, such as the Department of Labor and the Overseas Workers Welfare Administration. The ORCC will also work with other government agencies tasked with assisting OFWs in danger abroad.
Purpose of ORCC
Despite the fact that several government agencies already deal with overseas Filipino workers (OFWs), there is no single organization in charge of overseeing their return when necessary. The ORCC is expected to solve this problem in its early stages. The ORCC will be the point of contact for OFWs in need of assistance abroad. It will also serve as a repository for information about Filipinos in distress and their work status in other countries.
As the number of OFWs in difficulty overseas grows, the ORCC will be able to better coordinate repatriation efforts. It will also be a one-stop shop for OFWs and their families looking for information on how to get help abroad. The goal is for the ORCC to eventually be self-sufficient from DSWD, which currently has a heavy burden. The ORCC will be in charge of meeting the needs and concerns of OFWs and their families, as well as protecting them from abuse. Furthermore, it must oversee the implementation of legislation that promotes their well-being.
Previously, many OFWs and their families sought help from various government agencies in the Philippines. They can now get help quickly thanks to the One Repatriation Command Center. This reduces the need for them to undergo a time-consuming procedure.
Functions and Responsibilities of ORCC
The ORCC is the national focal point for the repatriation of overseas Filipino workers and their families. It must also offer help to returning OFWs, including medical and legal aid. It should also assist OFWs in finding employment in the Philippines so they can sustain themselves when they return home. The ORCC is responsible for ensuring that all OFWs receive proper orientation before departing the Philippines.
The ORCC is responsible for promoting the welfare of Filipino migrant workers and their families as a vital component of the DMW. Additionally, it must ensure that they are well-informed of laws and regulations that will influence them abroad. The ORCC is responsible for assisting OFWs who have been victims of human trafficking, illegal recruitment, or other offenses relating to the OFW industry.
With this, OFWs will no longer be exploited, tortured, and mistreated. The ORCC must also ensure that all OFWs are legally protected abroad. It is tasked for assisting Filipino migrant employees with labor disputes, unpaid wages, wrongful termination, and other concerns linked to their employment contracts.
List of Programs and Services of ORCC
Given the organization's infancy, it has yet to announce its long-term initiatives and services. However, the organization has already begun its activities by establishing a hotline that OFWs and their families can call 24 hours a day, seven days a week for any assistance or information about their wellbeing abroad.
One Repatriation Center Hotline – 1348
Families of overseas Filipino workers who want assistance may use the services of the facility. They can get help by calling the One Repat-toll-free DMW helpline at 1348.
ORCC HelpDesk Office Operating Hours
You can also contact the agency through its help desk. The office is open from 8 a.m. to 5 p.m. Monday through Friday. Please be advised that the ORCC building office is closed on weekends; nevertheless, support is available by phone and email 24 hours a day, seven days a week.
ORCC 24/7 Hotline – 1348
Email – repat@dmw.gov.ph
You can contact the DMW by phone at 1348 or by email at repat@dmw.gov.ph. A representative will answer your phone call and assist you online.
If you are an overseas Filipino worker (OFW), you can also seek assistance from the POLO-OWWA offices in your country. You can, however, coordinate with the DFA in countries where there are no DMW-associated labor offices yet. These can be found in embassies or consulates near your location.
Video: Migrant Workers Dept. Launches 'One Repatriation Command Center'
In this video, the Migrant Workers Department establishes a new facility to respond to repatriation requests from our kababayans abroad as soon as possible.
According to DMW Secretary Toots Ople, the One Repat-DMW is open for walk-ins and may be reached via phone or email. OFWs and their loved ones will be able to acquire information on the latest developments in their cases and submit feedback to the government on what they require.
Frequently Asked Questions (FAQs)
1. How does the Centralized Command Center assist OFWs?
The DMW command center is a centralized network that will aid in the monitoring of distressed overseas Filipino workers' repatriation. It will also collaborate with government agencies and other relevant parties. All demands for the return of OFWs, regardless of their status, must be met.
2. What is the importance of One Repat-DMW?
With the DMW in charge, the government will be able to coordinate efforts across departments to aid the thousands of returning Filipinos.
3. What is a repatriated OFW?
The government gives emergency support to OFWs in the event of natural disasters or political instability. The OWWA Halfway House offers them lodging, transportation, and psychosocial counseling.
4. How does the One Repat-DMW manage repatriation cases?
If an OFW or their family members are experiencing difficulties with repatriation from overseas and require assistance, they can phone the One Repat-DMW hotline "1-348" and a team of case officers will assist them. Additionally, walk-in requests for assistance are accepted.
5. How does the ORCC address the issues of OFWs in distress?
In the past, OFWs and their families need assistance from multiple agencies.
With the ORCC, families from the provinces that go all the way to Manila would not incur unnecessary debts and expenses while waiting for government agencies to respond, as the organization will provide assistance instantly. They will also be able to receive assistance more quickly.
6. How does the ORCC help repatriate OFWs who are in distress?
If returning OFWs and their families require support, the agency will provide it. This includes providing assistance for OFWs and their dependents' repatriation. If they are currently employed but need assistance in returning home, the firm will also aid them in finding jobs.
7. What is the role of the OFW-focused agencies in the repatriation process?
The ORCC, POEA, and DOLE are government entities concerned with assisting OFWs. They provide free assistance with return trip tickets or other travel documents, as well as financial assistance for repatriation fees and job placement overseas if needed.
Final Thoughts
To address the multiple challenges confronting overseas Filipino workers, the DMW established the One Repatriation Center (One Repat-DMW). This facility is also intended to aid in the emergency repatriation of individuals.
The facility is located on EDSA, near Ortigas Avenue, inside the Blas F. Ople Building. It also maintains a branch office at the OWWA.
The DMW's establishment of the One Repatriation Center is a fantastic initiative to assist abroad Filipino workers. It will allow them to receive the assistance they require right away.
Monday through Friday, from 8:00 a.m. to 5:00 p.m. Its 1348 hotline is also open on weekends for enquiries. You can also email the facility at repat@dmw.gov.ph.
READ NEXT: Anti-Trafficking Programs in Saudi Arabia
Contact Information: One Repat Center
Address: 2nd floor of the Blas F. Ople Building, EDSA corner Ortigas Avenue
Operating Hours: Mondays to Fridays 8am to 5pm
Telephone Number: 1348 (available 24/7, even weekends)
Email: repat@dmw.gov.ph
Website: https://dmw.gov.ph/
Facebook Page: https://www.facebook.com/dmw.gov.ph
Google Map Location