In line with the upcoming National Day holiday, the Saudi government announced that it will observe a four-day holiday, with work to resume on September 24 (Tuesday).
Saudi National Day is celebrated every year on September 23, which marks the renaming of the Kingdom of Hejaz and Nejd to the Kingdom of Saudi Arabia, as it is known today.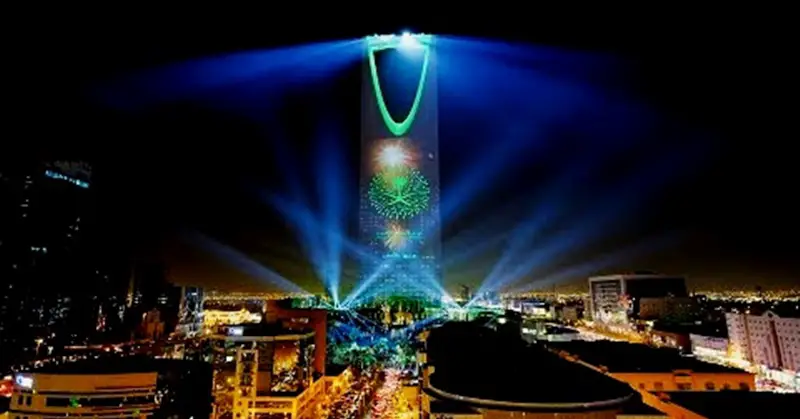 Saudi to Observe a Four-day Holiday for National Day
The Saudi Ministry of Civil Service announced that since September 22 (Sunday) comes between two holidays, the weekend and the National Day, it has also been declared an official holiday according to the law, as shared in a report by the Saudi Gazette.
For its part, the Ministry of Labor and Social Development announced that Monday, September 23 is an official holiday to be observed by the private sector, as well.
الخدمة المدنية :

إجازة اليوم الوطني ستكون ٤ أيام بدءاً من نهاية دوام يوم الخميس ١٩ حتى الاثنين ٢٣ سبتمبر.
.#السعودية #اليوم_الوطني

— أخبار السعودية (@SaudiNews50) August 19, 2019
https://platform.twitter.com/widgets.js
The Kingdom will commemorate its 89th National Day, which is celebrated with folk dances and traditional festivals. During this period, roads and buildings are decorated with Saudi flags, and the people go out in green attires to lend harmony to the celebrations.
The Kingdom's National Day
The holiday traces back its roots to September 23, 1932 when the country was renamed to the Kingdom of Saudi Arabia (formerly Kingdom of Hejaz and Nejd), as enacted under the royal decree of the former King and founder of Saudi Arabia, Abdulaziz ibn Abdul Rahman ibn Faisal ibn Turki ibn Abdullah ibn Muhammad Al Saud, also commonly known as Ibn Saud.
Although this year's National Day would technically be counted as only the 87th, the number of years is counted based on lunar and not on solar years following Islamic traditions thus marking the event's 89th year.
On the holiday itself, Saudi residents dress up in green and white colors of the flag of the Kingdom and host exciting festivals just for the day.
Many people also take the event as an opportunity to further educate themselves on the history of the Kingdom they live in. This involves understanding its heritage and culture to the legacy of its ruling family and the House of Saud – the national day is considered to be a celebration as well as a learning experience every year.
With a number of the Kingdom's achievements realized this year, Saudi residents have much to celebrate and be excited about moving forward not to mention the big projects set to begin in the Kingdom in the next few years.
ALSO READ: Saudi to Host World's "Baddest" Roller Coaster Ride Soon