Did you know that there's a theme park in Saudi Arabia that is exclusive for females? The recently opened AlHokair Time AlAzizyah in Al Khobar caters to women and girls only.
ALSO READ: Women Now Driving the Streets of Saudi Arabia
The theme park is the first of its kind; designed for women and managed by an all-female staff, the Saudi Gazette reported. It was opened by Al Hokair Entertainment, the largest leisure and amusement chain in the Kingdom, with 91 entertainment centres and 35 hotels in Saudi Arabia and the UAE.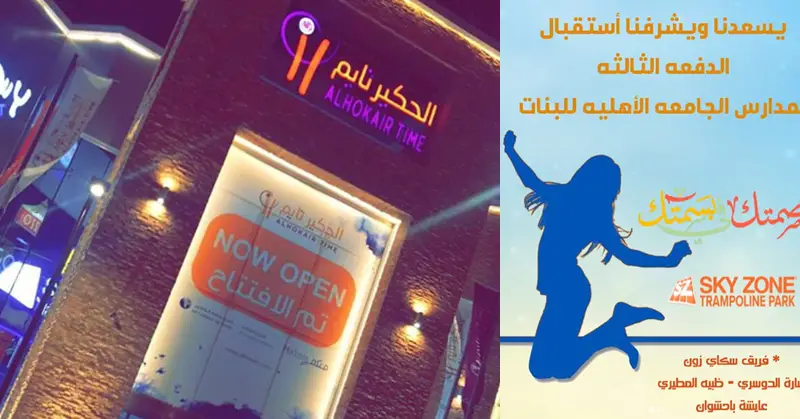 Theme Park in Al Khobar Exclusive for Females
"AlHokair Time is the largest theme park destination in the region that offers a unique family entertainment experience," according to Mishal Al Hokair, the Executive Vice President and General Manager Al Hokair Group's Entertainment Sector.
"Al Hokair Group is committed to offering the highest quality and safety standards for customers within the unique entertainment experience, enabling them to have a great time with their beloved ones," he declared.
Indeed, this latest addition to AlHokair Time focuses on women, offering them the leisure and privacy they need. What can you expect to see there? Well, AlHokair Time AlAzizyah:
Is open to girls age 5 years old & above;
Features the Sky Zone Trampoline Park;
Includes Snow Forest, where guests can enjoy snowball throwing, skiing, camping, huge mazes, & other activities; and
Children between 2 to 10 years old may enter Snow Forest.
Here is a video about the "women only" theme park, shared by @ht_aziziyah on Instagram:
ALSO READ: Saudi Women Can Now Join the Army
Indeed, the opening of AlHokair Time AlAzizyah is great news for all women in Saudi Arabia. It shows how the government and other organizations across the Kingdom are opening more opportunities for them to explore their potential and enjoy life to the fullest!