Last week, King Salman issued a decree allowing women to drive, and the people of Saudi Arabia are still celebrating. On social media, Saudi men have been posting selfies — with their mothers, wives, and sisters at the wheel.
Award-winning Saudi director Fahad Al Sharif has taken the lead. Smiling widely at the camera, he captured a memorable photo while his mother was driving their car from Al Raqe'i border crossing in Kuwait to Saudi Arabia.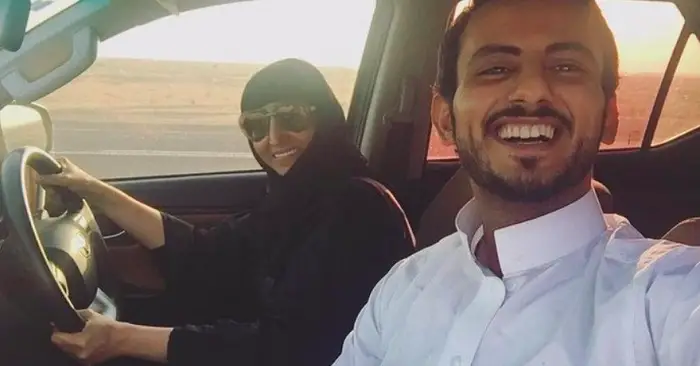 Saudis Share Pictures of Women Drivers
"I expect my mother to be the first Saudi woman to drive through Al-Raqe'i checkpoint," Al Sharif posted on his Twitter account. "Thanks to security men!"
His post immediately went viral and was "re-tweeted" over 3,000 times. Social media "followers" commended his mother's driving skills. Likewise, many Twitter users urged Saudis to share more photos with a hashtag supporting female drivers.
Notably, Al Sharif is a young Saudi director with a master's degree in film-making. He is known for the films "Cockroach" and "The Arab Swan," which have garnered several awards.
Meanwhile, here is another selfie shared by Faisal BaDughaish on Twitter:
بدأت بتدريب زوجتي في أحد المواقف الخاصة بشكل آمن وقانوني استعداداً للنظام #السماح_بقيادة_المرأة #لنقود_معاً #الملك_ينتصر_لقيادة_المرأة pic.twitter.com/2EswQU5cBE

— Faisal BaDughaish (@badughaish) September 30, 2017
A Life-Changing Royal Decree
Through a royal decree, King Salman bin Abdul Aziz announced last week that Saudi women shall be allowed to drive. This includes the issuance of driver's licenses to men and women alike. Analysts predict that more Saudi women will join the workforce because of the decision.
Here are more social media posts affirming and celebrating the decree:
Congrats to our sisters in Saudi Arabia! Let the road trips begin! #السماح_بقياده_المراه #KSA #freedomtodrive #bazaar pic.twitter.com/GwcOqTZA2y

— bazaar kuwait (@bazaartweets) September 27, 2017
#Women2Drive #قياده_المراه_للسياره pic.twitter.com/tAge3Jyrix

— منال مسعود الشريف (@manal_alsharif) September 26, 2017
Women in Saudi Arabia have just been granted the right to drive. They've been protesting the ban and calling for #Women2Drive for some time: pic.twitter.com/sV4yNMofpE

— badass woman alert (@badass_w) September 26, 2017
Aside from this latest decree, the people of Saudi Arabia have been seeing other changes. The government lifted the ban on Skype, WhatsApp, and VoIP services just recently. In the coming months, we can expect to see more interesting social and economic changes in the Kingdom.