Many people who come to Saudi Arabia, be it for work, business or travel purposes — usually buy gold during their stay in the country. After all, the Kingdom is known for selling this precious metal at cheaper prices than in most other places. The fact that there's no VAT or sales tax makes buying gold here even more appealing!
In an earlier post, we talked about where to buy gold here in Saudi Arabia. Specifically, we talked about physical stores, including malls and "souks" (markets). But what it you prefer to shop online? In this article, we'll be discussing the best websites where you can buy gold from Saudi Arabia online.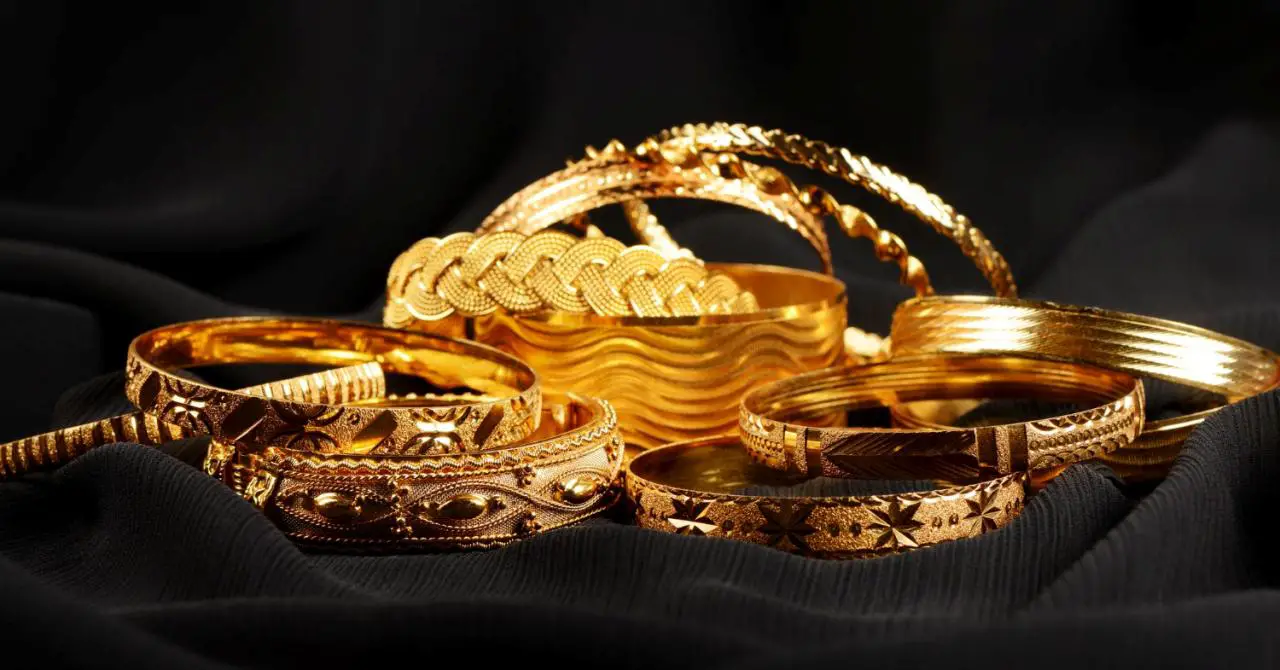 Top Websites to Buy Gold in Saudi Arabia
If you don't have time to go out and buy gold in malls or souks, don't worry because you can always buy online. We have gathered some of the top stores in Saudi Arabia where you can buy high quality gold. Most of these stores have physical as well as online stores, with branches across the Kingdom, too.
1. Alfardan Jewellery
Established in 1992, Alfardan Jewellery is one of the most popular and trusted jewellery stores in the country. Offering an extensive range of gold jewellery, diamond jewellery, and high-end watches, Alfardan Jewellery has three high-end showrooms in three cities: Jeddah, Khobar, and Riyadh.
The store carries famous jewellery brands such as Casato, Chopard, Maria Gaspari, Paolo Piovan, Riviere, Schoeffel, and Yeprem. It also features world renowned watch brands, including Chaumet, Corum, Dior, Blancpain, Breguet, Faberge, Franck Muller, Greubel Forsey, Harry Winston, Vacheron Constantin, and Zenith.
If you are looking for bridal pieces, engagement rings, wedding sets, diamond jewellery, watches, and pearls — visit the nearest Alfardan Jewellery store or shop online through their official website.
2. Al Kaki Gold & Jewelry
Established in 1863, Al Kaki Gold & Jewelry has been around for many generations! Located in Jeddah, this store features an impressive jewellery and bridal collection, including earrings, bracelets, necklaces, wedding bands, and wedding rings.
Head to the stores' official website to see more of their amazing pieces.
3. Al Romaizan
Having been around for more than 60 years, Al Romaizan is one of the leading gold and jewellery companies in the GCC. Headquartered in Riyadh, this brand has become an industry leader in the design and manufacturing of gold jewellery.
At present, Al Romaizan has branches in these locations: Dubai, Abu Dhabi, Sharjah, Fujairah (United Arab Emirates); Doha (Qatar); Muscat (Oman); London (United Kingdom); and of course… Riyadh (Saudi Arabia). You can also browse and shop online through their official website.
4. Fitaihi Jewellery
The history of Fitaihi Jewellery goes back to 1887, when it was established by the grandfather of Sheikh Ahmed Hassan Fitaihi. Today, the store is known for featuring fine jewellery, gold, leather goods, home decorations, apparel, fashion accessories, antiques, crystals, porcelain, and many more.
Fitaihi Jewellery has stores in Riyadh and Jeddah, along with an official website where you can buy their products. They also have mobile apps where customers can browse, buy items, and access the company's services.
5. Hasan Al-Nemer Jewelry
Founded in 1962, Hasan Al-Nemer Jewelry is among the leading gold and jewellery brands in the eastern region. Aside from gold jewellery, this brand also offers diamond jewellery, precious stones, semi-precious stones, and pearls.
Choose from their wide array of necklaces, rings, anklets, earrings, bracelets, and many more at Hasan Al-Nemer Jewelry's showrooms in Dammam, Al Khobar, Qatif, Al Ahsa, and Jubail. You can also shop through their official website.
6. Joyalukkas
When it comes to gold jewellery, Joyalukkas is among the most popular names in the region. Today, it has 8,000 employees working in 128 showrooms across 11 countries, including Saudi Arabia.
Notably, Joyalukkas is the first jewellery retailer to have received ISO 9001:2008 and 14001:2004 certifications. It has also been recognised as Retailer of the Year in the Middle East, as well as the Dubai Quality Awards Certification from the Prime Minister of the UAE and Ruler of Dubai, His Highness Sheih Mohammed Bin Rashid Al Maktoum.
Visit Joyalukkas' official website to view their amazing collection of gold jewellery, diamond jewellery, precious stones, pearls, and bridal sets.
7. Lazulii9
Aside from having a physical store in Riyadh, Lazulii9 sells gold and jewellery through its official website. The store sells a wide range of necklaces, bracelets, rings, earrings, and jewellery sets.
Interestingly, Lazulii9 is popular among the Filipino community in Saudi Arabia. Hence, the store's customer service is available in English and Tagalog languages! The store also offers free delivery to any location in Saudi Arabia, and has a return and exchange policy, along with a fix and repair policy. How impressive!
8. L'azurde
L'azurde is the biggest gold and jewellery designer, manufacturer, and distributor in the Middle East and North Africa (MENA) region. It also happens to be the fourth largest jewellery manufacturer in the world!
Every year, the brand produces more than 3,000 unique jewellery models, including 18-karat gold, 21-karat gold, and diamond jewellery. It has several stores in Saudi Arabia, including Al Nakheel Mall in Riyadh, Daharan Mall in Dhahran, and Red Sea Mall in Jeddah. Customers can also purchase through their official website.
9. Malabar Gold and Diamonds
Malabar Gold and Diamonds is another renowned brand in the industry. It is the flagship company of Malabar Group, which is a leading diversified Indian business conglomerate. Established in Kerala, India in 1993, this company now has more than 300 outlets in 10 countries, along with design centres and factories across the Middle East, India, Far East, and the United States.
With 12 exclusive jewellery brands and 14 manufacturing units in India and the GCC, Malabar Gold and Diamonds is among the world's biggest jewellery retailers. It is particularly known for featuring beautiful bridal collections. Check out the company's official website to see its pieces and shopping options.
10. Ounass
In 2016, Ounass was launched as the first exclusively digital, luxury e-commerce site of Al Tayer Group. These days, it has more than 600 luxury brands, including clothes, bags, shoes, jewellery, homeware, and accessories.
Based in Dubai, Ounass provides delivery service across the UAE, and also delivers to Saudi Arabia, Kuwait, Bahrain, Oman, and Qatar. Come and see their official website to see their extensive collection of luxury items.
11. Sona Gold and Diamonds
Established in 1984, Sona Gold and Diamonds is among the leading gold and diamond jewellery brands in Saudi Arabia. Notably, it was the first to introduce 22-karat gold ornaments in the country.
Today, the company has more than 200 employees in seven outlets located across Saudi Arabia. It also has a factory in Fozan Industrial Estate, where amazing jewellery pieces are designed and created.
For online shoppers, Sona Gold and Diamonds' official website features amazing jewellery collections that you can choose from.
12. The Luxury Closet
As the name says, The Luxury Closet is an online boutique for buying and selling new as well as pre-loved luxury items such as clothes, shoes, bags, jewellery, accessories, and watches. It features famous brands, including Cartier, Chanel, Celine, Gucci, Hermes, Louis Vuitton, Prada, Rolex, and many more!
The Luxury Closet has an official website that can be accessed not only in Saudi Arabia, but other countries including Kuwait, Qatar, Lebanon, Oman, Italy, United Kingdom, United States, and the UAE. Indeed, the store delivers worldwide!
Some Final Thoughts
Whether you are planning to buy gold as an investment, as a gift, or for personal use — you will definitely enjoy shopping for gold in Saudi Arabia. Even if you are busy and unable to shop in physical stores, you can buy gold through trusted online shops, as featured above.
Aside from gold jewellery, you are probably wondering what else you can buy online. If so, check out this list of the best online shopping websites in Saudi Arabia. Happy shopping!