To make sure you plan your days properly, here is a schedule list of holidays in the Kingdom of Saudi Arabia in the year 2015. It is good to plan ahead to make sure that you are able to maximize your time for vacation or other priorities.
Please review the information below and be advised that the timings may vary depending on the sighting of the moon so the dates listed may vary. It is always best to stay updated for the official announcement by the KSA government.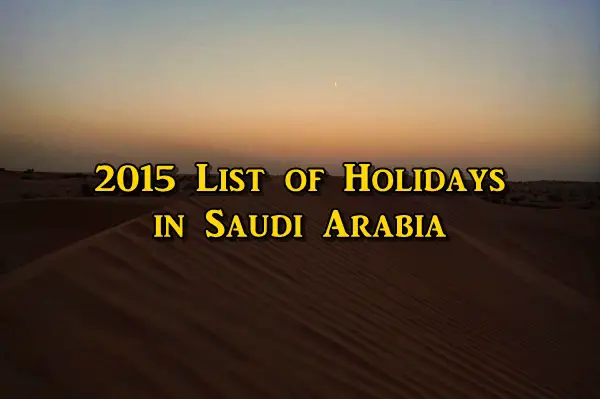 holidays Saudi Arabia
Saudi Arabia Public Holiday Schedule in 2015
So how many holidays are there in this country? Check out the details below to find out.
| Date | Day | Holiday |
| --- | --- | --- |
| Jan 3 | Saturday | Prophet's Birthday |
| Mar 20 | Friday | March equinox |
| Jun 18 | Thursday | Ramadan begins |
| Jun 21 | Sunday | June Solstice |
| Jul 18 | Saturday | Eid-al-Fitr (End of Ramadan) |
| Jul 19 | Sunday | Eid-al-Fitr Holiday |
| Jul 20 | Monday | Eid-al-Fitr Holiday |
| Jul 21 | Tuesday | Eid-al-Fitr Holiday (public sector only) |
| Jul 22 | Wednesday | Eid-al-Fitr Holiday (public sector only) |
| Jul 23 | Thursday | Eid-al-Fitr Holiday (public sector only) |
| Jul 24 | Friday | Eid-al-Fitr Holiday |
| Sep 19 | Saturday | Eid-al-Adha Holiday |
| Sep 20 | Sunday | Eid-al-Adha Holiday |
| Sep 21 | Monday | Eid-al-Adha Holiday |
| Sep 22 | Tuesday | Eid-al-Adha Holiday |
| Sep 23 | Wednesday | September equinox |
| Sep 23 | Wednesday | Saudi National Day |
| Sep 23 | Wednesday | Eid-al-Adha Holiday |
| Sep 24 | Thursday | Eid-al-Adha (Feast of Sacrifice) |
| Sep 25 | Friday | Eid-al-Adha Holiday |
| Sep 26 | Saturday | Eid-al-Adha Holiday |
| Sep 27 | Sunday | Eid-al-Adha Holiday |
| Sep 28 | Monday | Eid-al-Adha Holiday |
| Sep 29 | Tuesday | Eid-al-Adha Holiday |
| Oct 15 | Thursday | Muharram (Muslim New Year) |
| Dec 22 | Tuesday | December Solstice |
| Dec 24 | Thursday | Prophet's Birthday |